Dear Artist,
In 1962, Neo-Dada collagist Ray Johnson, along with some of his Fluxus friends, started sending small works of art to other artists through the United States Postal Service. Dubbed the "New York Correspondence School," Johnson included instructions to "please add to the artwork" and return it, or send it along to someone else. This creative system, called exquisite corpse, follows the principles of collective assemblage, whereby multiple artists add to a work of writing, collage, drawing or painting in sequence, either by following a rule or instruction, or by only being able to see the last item added by the previous person. Said to have been invented by André Breton as a parlour game in 1925, exquisite corpse started out as a playful, stream of consciousness pastime for Paris' 1920's Surrealists but endures today as an enriching creative exercise.
Ray Johnson began sending his mail art to circumvent the insular gatekeeping of the New York gallery scene. He wanted to encourage participation amongst as many artists as possible and disseminate the auteurship of the works created. Always on the fringes but wildly popular amongst its practitioners, mail art continues to populate mailboxes globally. In fact, during lockdown, new mail art projects have sprung up all over, with calls to artists and templates you can print out and add to, and even re-issues of Ray's original drawings and invitations available on social media. Books, exhibitions, catalogues and libraries of the stuff are even popping up in swanky art spots.
Perhaps the most wonderful thing about mail art is that anyone can participate. You have to embrace the collaborative, never-ending-destination zen of it, and keep a sense of humour. I once met a mail art master at a small vernissage, which spilled into a sidewinding street behind Montmartre. By the time I'd returned to New York, a logroll of portraits, booklets, photocopied zines, postcards and a persistent instruction to send them all back with my additions, sat patiently, secured with a rubber band by the mail carrier, at my doorstep.
Sincerely,
Sara
PS: "The most radical aspect of the New York Correspondence School is the attempted overturning of the American art market through free distribution of art. Johnson's mail-away art can't be bought or sold but only received—whether the recipient wants it or not." (David Bourdon for Art International, 1969)
Esoterica: Screen-free connection is there for the cultivating, just as long as you can get it through the postal system. Envelope-sized works seem to be the standard. "It's compact. It's social and also socially distanced from its audience. That makes it exceptionally relevant today," wrote artist and gallerist Jason Pickleman. Since 2018, Pickleman has issued an open call for mail art and held an annual exhibition in his Chicago gallery, Lawrence & Clark, with the gallery's mailman jurying a "best in show" and awarding the winner a book of Forever Stamps. And this week, Brooklyn-based artist Christina Massey, in an effort to try to offset threats of cuts to the post office, has issued a call to action on Instagram. So far, Massey has shared over 600 pieces of collaborative mail art on her page. Once a way of circumnavigating the clubby nature of the gallery system, the galleries are now joining in. The Pelham Art Centre in upstate New York, the Ely Center for Contemporary Art in New Haven, Sunset Art Studios in Dallas and Art Gym Denver will show Massey's collection, which she's still adding to, this Fall. "Just by the act of doing it," said Massey, "you are participating in art activism."
Have you considered a Premium Artist Listing?  With each letter, an artist is featured at the bottom of this page. The Premium Artist Listings are a means of connecting artist subscribers through their work. Proceeds from each listing contribute to the production of The Painter's Keys.  
"Anybody can be a mail artist and become part of that network. Even if you don't feel like a mail artist, you are a mail artist." (Johanna Rietveld, a manager at the non-profit artist organization, Printed Matter, which is dedicated to the dissemination and appreciation of artists' books.)
Featured Workshop
August 31, 2020 to September 3, 2020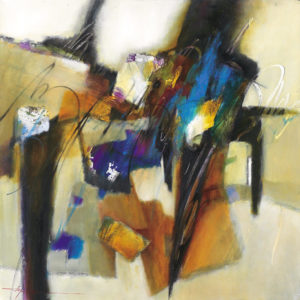 Powerful Design, Sensual Edges put Together with Exciting Color
Design is the foundation of any painting and you want your paintings to have powerful designs filled with exciting color. In this course we will discover designs two hidden meanings around where you put your center of interest plus how to use neutrals to make your paintings glow and finally add sensual edges that are the soul of the painting.
This workshop will be a live virtual event. I will be there with you during the entire four days. I can't wait as I am excited. Please email me if you have any questions….gwen@gwenfox.com
August 31 – September 3, 2020, Location…Online
Register here: https://gwenfox.com/retreat/powerful-design-sensual-edges-put-together-with-exciting-color/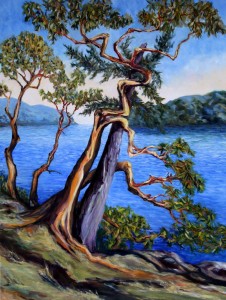 Southern Gulf Islands Afternoon 48 x 36 inch oil on canvas by Terrill Welch
Featured Artist
I am a landscape painter exposing the mystery in an ordinary day.