Dear Artist,
Yesterday, Marjorie Ewell of Cape Coral, FL and Galloway, NJ wrote, "How do you get yourself into a right brain mode? How does a right-brained person translate that into painting? I've experienced it in working with oils. Time disappears and one is totally in the present. Watercolor is another matter. There are so many things one has to think about in the process that I find myself much more left-brained than I want to be."
Thanks, Marjorie. Shifting into right brain, while automatic and unavoidable for many painters, is a skill that can be learned. Your mention of the planning that goes on in watercolour as compared to the relatively brain-free nature of oils (and acrylics) gives a clue to right brain access.
The objective is to get into a dreamy flow where the subconscious interacts with the inevitable march of practicalities. Here are a few ideas:
While painting, try an unrelated and contrapuntal distraction — perhaps the telephone or the radio. Surprisingly, input that occupies one part of the brain can open the creative gates in another.
Try to put so much basic technique and creative formula into your process that some of it becomes second nature. Like automatic writing or speaking in tongues, confidence builds and a right-brain rush occurs. This is a key to dipping down into the deep well of imagination.
Repetition of strokes or motifs also serves as a hypnotic beat. Similar to counting sheep at bedtime or chanting a mantra, a variation is to focus on the movement of your brush. Brush-tip fascination has the additional benefit of building stroke quality and painterly élan.
As you mentioned, the ideal is to become simply and naturally lost in your work. The sense of timelessness is one of its markers. Your carefully planned design and composition (often in the form of your unique stylistic tendencies) are the structure on which the right brain's spirit feels the confidence to come out and play. Right-brained joy begins when structure is safely in your pocket.
Best regards,
Robert
PS: "At one time, human nature was split in two, an executive part called a god, and a follower part called a man. Neither part was consciously aware." (Psychologist Julian Jaynes, in The Origin of Consciousness in the Breakdown of the Bicameral Mind, 1976)
Esoterica: Current research indicates that true creativity doesn't spring from the right brain alone, but rather from a rapid interplay between our two hemispheres. Statistics show that women are better able to access this ability than men. In "complete brain theory," god and man (or woman) are combined in one. Think, therefore, of a shift to right brain mode as shifting to the goddess (or god) within.
This letter was originally published as "Shifting into right brain" on August 28, 2009.
Have you considered a Premium Artist Listing?  With each letter, an artist is featured at the bottom of this page. The Premium Artist Listings are a means of connecting artist subscribers through their work. Proceeds from each listing contribute to the production of The Painter's Keys. 
"The idea is in my head – to put it down is nothing." (Milton Avery)
Featured Workshop
September 12, 2020 to September 17, 2020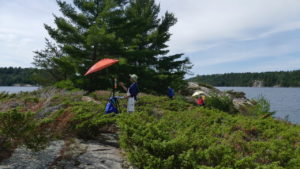 The Killarney are of Ontario is in what is called the 'near north'. The landscape is wild and rugged. Giant granite cliffs plunging deep into the glacial lakes. There are no roads leading to our painting locations. We travel by a large, sturdy pontoon boat. This is a self-catered retreat. You bring your own provisions and cook your own meals in our fully equip cabins at a northern camp. Our instructor, Keith Thirgood, has been teaching artists his own unique approach to painting for over 12 years. Learn how to find order in the chaos, control your colours and create paintings that work. Learn modern colour theory, values, shapes and lines, what makes for a good painting. This retreat is suitable for beginners wanting to learn to paint in a fun, outdoor location, as well as more experienced studio artists who want to try plein air, plus artists who are looking to loosen up and paint in a more post-impressionist style. To find out more and register, please visit www.wilsonstreetstudios.com
Featured Artist
We all need beauty, especially at a time when it appears to many that the world is in chaos.
Painting is the way I view my life, and it helps me keep my mind straight and my eyes on the positive. I look for beauty wherever I go. For that reason, I know that my life will not be long enough to paint all the ideas that I have.
I am painting because the Lord put the passion and desire in my heart to glorify Him in this way.
I have dedicated my life since 1983 to creating a body of work that testifies of His Creation, majesty, power, beauty, life and love.
Light and how we see it on the earth is the subject of all of my paintings.
I paint the landscape because I believe that we can see the Creator in His Creation, if we just look for Him there.
Since all who are sighted may see our surroundings, I believe this is one of the most evident ways we may see Him.
If I were to give a name to my entire portfolio of paintings, I would call it "The Sight of Heaven Touching Earth."This Scripture, Romans 1:19-20, is foundational to all of my work: For what can be known about God is plain to them, because God has shown it to them. For his invisible attributes, namely, his eternal power and divine nature, have been clearly perceived, ever since the creation of the world, in the things that have been made, so they are without excuse."
 Beauty, order, and the possibility to love is all around us—all we have to do is want to see it.