Dear Artist,
A young friend, who has this fall begun an art degree, received a gut-punch crit. Up until now, due to the open-plan nature of the school's studios and her ability to overhear the crits of her neighbours, she'd been feeling pretty good about her progress. This week, the feedback took a serious turn. She even wondered how much, perhaps, she needed to learn about painting.
Upon hearing this news, my heart both panged and doubled down. Like my Dad had with me, I'd laid low to watch her trailblaze her own experience and I spared her my prejudice. I waited to learn of her discoveries and the enrichment that would blossom from her new milieu. The crit, as it was always going to do, would merely be but a jumping off point for the hard work of reinvention, but these things rarely arrive without a reckoning. I took my bicycle out amongst the moving morning shadows and thought of how I could be of service. Here are a few ideas:
Life is school, and each period is just one semester. Find the value in this semester, however uncomfortable.
You are in school to find out what you don't know and gather skills and experience.
Your milieu is just that——a collection of people to draw inspiration from and to find out what you are and are not.
You are on the first page of being on a first-name basis with your materials. The breadth of technical skills and media you can explore are limited only by your curiosity.
Release your attachment to one medium.
Release your attachment to the subject matter and style you're currently inhabiting.
Release your attachment to selling.
Resist allowing your work to be determined by conventional assumptions about the limitations of your studio space, your living situation, your bank account, the materials you think you need or the time you believe has been allotted to you.
Give yourself the gift of a blank slate.
Make as much terrible work as possible.
Your dreams, your ideas, your vision for life, your needs, your requirements, your path, your expectations and your soul are yours and yours alone, are subject to change, should be free to change and are completely your responsibility.
Sincerely,
Sara
PS: "My illustrious lordship, I'll show you what a woman can do." (Artemesia Gentileschi)
"Remember that all is opinion." (Marcus Aurelius)
Esoterica: "I hate it, I hate it, I hate it, I hate it, I hate it. Erase it immediately," said my first-year painting prof in my first crit. The painting was part of a series of work I had already sold in galleries 4000 kilometres away, in my hometown. It happened moments after I'd heard the other painting prof unleash on my neighbour, "Are you colourblind? You will fail for sure." In the dim din of my corner cubicle, I slashed the outlaw and surrendered to a long, sunless journey. My Dad once told me that artists are often motivated by one of two feelings: "I'll show you," and "I love the world"——and we can fluctuate between these two realms in a matter of minutes, while alone in our rooms with our staple guns. To the best of my knowledge, this syndrome never, ever goes away——this has perhaps, something to do with accepting that we are students of life, for life. Twenty years after she hated it, my old prof, out of the blue, sent me a message after reading some news about my work online: "You made it," she wrote. I read the message from the West Village, my heart in shambles, my stomach tight and empty but my easel still erect in the corner of my one-room, five-story walk-up, my work having transformed only a million times or so, so far. "My dream is to be an artist and to live in New York," I whispered to myself in my solitude and failures. "I'm living my dream."
"Squeeze your paints out like a millionaire and you'll be one." (Robert Genn)
Have you considered a Premium Artist Listing?  With each letter, an artist is featured at the bottom of this page. The Premium Artist Listings are a means of connecting artist subscribers through their work. Proceeds from each listing contribute to the production of The Painter's Keys. 
"As long as I live I will have control over my being." (Artemesia Gentileschi)
No Featured Workshop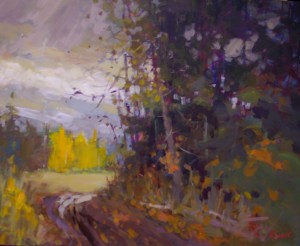 Turn In The Road
24x30 acrylic
Featured Artist
My art represents an artistic journey that has been on-going for more than thirty-five years with help and guidance from many wonderful artists. Now, with years of plein-air painting experience, study and solo exhibitions, I believe that my current work has reached its highest level, reflecting the depth of my absorption in the wonder and beauty of the world around me.  I have learned that, as an artist, I will never stop looking for better ways to express my feelings in art and that struggling to more fully understand myself is integral to my painting; a philosophy that was part of every workshop I taught. Still is.