Dear Artist,
Recently, an aspiring screenwriter friend told me she'd quit her day job. "I tried to just reduce my hours, but they kept creeping back to full time," she said. "It was really hard to let go. I realized I was afraid of losing something I might never get back, instead of facing forward and going for what I truly wanted, which is to be a writer." We agreed that committing ample space for a creative venture is a common barrier for would-be pros. "If I don't go for it now, I'll never know," she said. We made a toast to the extravagant void in front of her.
Japanese organization guru Marie Kondo wrote a 2011 manifesto, The Life-Changing Magic of Tidying Up, where she advises clutter-bugs to only hold onto things that spark joy. By discarding everything else, she writes, our lives can become more highly realized. For artists, while our room may need tidying, it's another "space" that can benefit from life-changing magic. "The space in which we live should be for the person we are becoming now, not for the person we were in the past," writes Kondo. Think of this "space" as everything you want to achieve creatively and its route of becoming. Is it possible to tidy up? Here's a method for artists:
Rule 1. Commit yourself to tidying up. Is there something in your life that's taking up the time, space and energy you could be devoting to your creative goal?
Rule 2. Imagine your ideal lifestyle. What does a day working on art look like? Do you have a clear, functioning ecosystem that works for every stage of the creative cycle?
Rule 3. Discard something. Thank it for its service and say goodbye. In all great stories, something must die in order for something else to be born. What are you making room for?
Rule 4. Tidy by category: Time, quality of work, priorities, space, distribution, relationships.
Rule 5. Follow the right order. In Kondo's world of decluttering and organization, she recommends tackling less emotional areas first (like clothes) and saving the tricky stuff (like sentimental items) for after we've honed a few purging skills. The artist's tidying might begin with getting rid of a time vampire.
Rule 6. Does it spark joy? "You are not choosing what to discard, but what to keep," advises Kondo. "It's like resetting your life and settling your accounts so that you can take the next step forward."
Sincerely,
Sara
PS: "But when we really delve into the reasons for why we can't let something go, there are only two: an attachment to the past or a fear for the future." (Marie Kondo, from The Life-Changing Magic of Tidying Up)
Esoterica: We've all held onto something for too long, only to finally let it go and witness something come rushing in its place that is more focused, more pointed and more aligned with our dreams. Making a decision is not difficult. Understanding and implementing how to let go and why takes a concerted effort. An accomplished artist-friend recently wrote to tell me that after years of hesitation, he retired a gallery that no longer aligned with his professional goals. "It was terrifying, because what if I never got another gallery? What if I'm just lucky to be here?" Within a few weeks, a more like-minded dealer approached him for representation. "All I needed to do, all this time, was to clear space," he sighed. Like a new course of a river, we need only give the water a place to run. Our attachments are the stimuli that shape our world. "Keep only those things that speak to your heart. Then take the plunge and discard all the rest." (Marie Kondo)
The Letters: Vol. 1 and 2, narrated by Dave Genn, are now available for download on Amazon, here. Proceeds of sales contribute to the production of The Painter's Keys.
"And the day came when the risk to remain tight in a bud was more painful than the risk it took to blossom." (Anaïs Nin)
Featured Workshop
September 10, 2018 to September 14, 2018
Join me for a 5-day outdoor painting workshop vacation on the beautiful South Shore of Nova Scotia.
My workshops offer a good balance between friendly interchange and education. They will be a relaxed, yet informative experience for all participants.
You will learn how to see like an artist, what to look for and how to understand what you see – drawing as it applies to painting, the importance of values (more important than colour), edges, colour temperatures and more. I have developed a few exercises that will help you better understand the different aspects, by isolating them.
Days will include demonstrations, personal instruction, exercises, encouragement and positive critiques for personal growth.
Home location: 8 Fort Point Road, LaHave
Call to reserve your spot today! (902) 693-2093
https://jamesmiddleton.ca/page/4656/plein-air-workshops-in-nova-scotia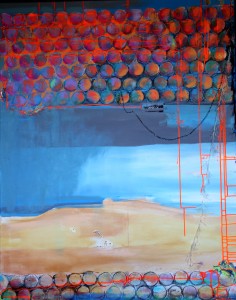 Hurricane
Featured Artist
I'm a contemporary painter who loves to travel the world over finding pictures to paint, and capture on photo…check out my website and travel with me on my blog "The Traveling Artist Blog."  http://www.meljosieart.com