Dear Artist,
Leading up to 2013, Dad had been working on a passion project called, "The Audio Letters." Inspired by the knowledge that easel work goes well with listening to things, he decided to have some fun and join the ear waves. The first attempts involved my big brother Dave, a musician, composer and record producer, who set up a fancy rig with a mic and headphones in Dad's studio, near the easel, in an area informally known as the "contemplation zone." This would allow Dad to take passes at recording without needing to put his brush down.
Soon, Dave checked in on the progress: "Too laborious, too much lip smacking, too much fogeyism," Dad reported. The project stalled. In Fall 2013, Dad was given the devastating diagnosis of pancreatic cancer with his doctor's words: "Perhaps a year." Along with organizing his archive, writing and continuing to paint, the audio letters idea still quietly percolated in the rig. Dave moved the project to his own studio in Vancouver — and took the mic. By the time the first chemo treatments had begun, Dave's first few letters were in the can and ready for listening. We slid the big, padded headphones over Dad's ears and watched his eyes drift into wonder, then mist. "He was hearing his own words, read by his own son and set to his favourite music," remembers Dave. "He had always dreamed of releasing downloadable audiobooks of his writing, but at the time I was producing these recordings solely and exclusively for him."
Dave set out to record a few dozen, but how to choose from more than a decade's worth of material? "I started with his most recent letter and proceeded backward chronologically, reading each one carefully. When I happened upon one that I felt would lend itself to the format I would begin recording, often reading through each paragraph as many as a dozen times in an attempt to get the nuance right," he says. "Generally, the criteria I used in picking which letters to record were based on whether I felt there was a visual element that transported me to a specific place that I could imagine, or if there were autobiographical elements that provided little windows into Dad's nature and experience. I tended to shy away from letters that were overly technical, attracted instead to those that spoke of the muse, or explorations into the mystery and magic of creativity. Most important, I tried to choose letters that I found inspiring in regard to my own creative life, and that Dad would enjoy."
Dave's 50 Audio Letters, recorded between 2013 and 2016, are now ready to share. The Letters, Vol. 1 and 2 are available in digital format and can be downloaded here. We sincerely hope you'll find them beneficial.
Sincerely,
Sara
PS: "Art is a form of love. Art is the ultimate gift. Art heals life." (Robert Genn)
Esoterica: "After Dad's passing in May, 2014 it took me over a year before I was able to pick up the project again. I was raw, and I felt that my grieving process would not allow for me to continue reading through hundreds of his letters and speaking his beautiful words aloud. However, when I did finally feel strong enough to resume I was overwhelmed by the catharsis it provided me. Dad shared his knowledge and insight so selflessly, so generously, and to complete his vision of audio recordings of his letters has been an absolute honour. For me, the reading of these letters has truly been a labour of love, just as it was for Dad to write them." (Dave Genn)
Download the new audio book, The Letters: Vol. 1 and 2, narrated by Dave Genn, here. Proceeds of sales contribute to the production of The Painter's Keys.
With many thanks for your friendship and our best wishes for the holidays.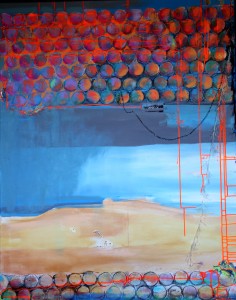 Hurricane
Featured Artist
I'm a contemporary painter who loves to travel the world over finding pictures to paint, and capture on photo…check out my website and travel with me on my blog "The Traveling Artist Blog."  http://www.meljosieart.com