Dear Artist,
A subscriber wrote, "I have recently been given an assignment by a mentor to paint, without restraint, 20 or so small abstract pieces that express the emotions of an illness I have been managing for years. I find myself stuck, stuck, choked with fear…emotion. I find myself not knowing how to visualize, begin to 'show,' express emotion. Usually it seems that feeling or emotion just shows up. To invite, command the same has me stuck. Does one just begin?"
Yes. Just begin. Without knowing the nature of your illness or how you've been managing, it's been my experience that if you're feeling frozen, it's best to begin with a thaw. Suffering is a human experience that carries the potential to be one of art's most powerful channels. Who are we, as artists, if not strivers to make the ineffable — our universal human truths — somehow visible so that others may see them too, and not feel alone? Instead of trying to identify and decipher feelings to paint, consider just painting, with no particular feelings in mind. Here's an idea, I'll call it, "M.E.L.T:"
M – Make paintings automatically: Allow the unconscious mind to take over, suppressing your reticular activating system — the network of neurons in your brain that, when aroused or stressed, including from pain or illness or when thinking about these things, trigger a "fight or flight" response. Your studio, instead of being a place of paralyzing fear or "flight," can blossom into a comforting sanctuary. Once relaxed, the limbic system — your brain's emotion and memory bank — can tap into its sympathetic nervous system mode: "rest and digest." This "digesting" is the key to accessing the insight you're looking for.
E – Exorcise/Exercise fear: Turning negative emotions into art can bring meaning to suffering. Just remember the emotions are what you're using, not the suffering or illness causing the emotions. Emotions are powerful springboards because they're dynamic, evolving and temporary. If artists are professional feelers, why not put our feelings, including fear, to work? "Feel the fear," wrote '80s self-help guru Susan Jeffers, "and do it anyway."
L – Put love into it — love for yourself, for others, for your resilience and creativity. If you can respond to your circumstances with creative productivity and love yourself through difficulty, you have a vehicle for moving through experiences with tenderness, purpose and a connection to others.
T – Think, last. Contemplate your output after a period of subconscious activity. Look for pathways, like intuitively chosen colours, strokes, gestures and objects that point toward feelings. This is the opposite of trying to identify feelings first and then painting what you think they should look like. These paths can then guide you to a more illustrative representation of what's inside, if that's where you want to go.
Sincerely,
Sara
PS: "Where you stumble, there lies your treasure." (Joseph Campbell)
Esoterica: During a rocky time in my own life — a time I can look back on now and describe as "suffering," I turned to the creative instrument that had been with me the longest — my piano. Like twenty or so small abstracts, the sketches came out at first as tonal, mood pieces, then later fleshed into capsules I can revisit with tenderness and appreciation. I comforted myself with an aspiration to make the most beautiful thing I could muster. I wanted to break my own heart with its beauty, in the hope that it would, in turn, repair my broken heart. I am, perhaps, still trying. My dad called it, "paddling the great rivers," and when he was given a terminal diagnosis, he painted until the last weeks of his life, when the meds made his hand too shaky and he began to dictate his letters to me, to send to you. He made his most dream-like, maybe even idealized, paintings of his life then. For him, these works were not literal representations of his intense, rushing, crushing emotions, but rather an expression of his spirit and values, now heightened and soaring.
"All the world is full of suffering. It is also full of overcoming." (Helen Keller)
My album 'Lifedrawing' is available to stream or download on Amazon , Apple Music and Google Play.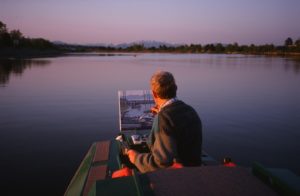 Have you considered a Premium Artist Listing?  With each letter, an artist is featured at the bottom of this page. The Premium Artist Listings are a means of connecting artist subscribers through their work.  Proceeds from each listing contributes to the production of The Painter's Keys. 
"Start where you are, use what you have, do what you can." (Arthur Ashe)
Featured Workshop
August 14, 2020 to August 16, 2020
A 3 day Non-Objective Painting Workshop with Cat Tesla and Julie Schumer
in Santa Fe, New Mexico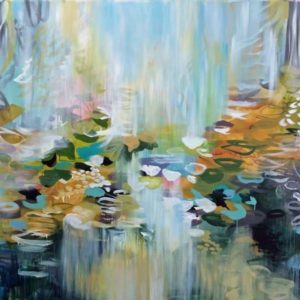 Explore and develop your personal voice in the inspirational environment of Santa Fe.   We will explore composition, color, value and how to work on multiples at the same time.  Find your own signature with different mark making tools and learn how your marks enliven your paintings.   Learn how to harmonize any palette, move from analysis paralysis to painting success and to trust your artistic choices. This intensive 3 day workshop is perfect for the beginning artist who has some experience using acrylic paint.
August 14, 15, and 16
9 am to 4:30 pm
$950  Bring a friend and save $50 each
https://artbycat.com/page/1-Workshops-Prints.html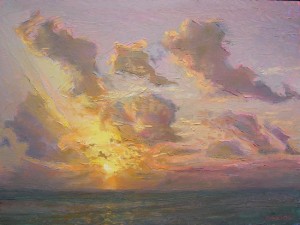 Shining Through
oil 12 x 16 inches
Featured Artist
Capturing the beauty of nature and expressing those impressions in oil paint is a joy. Every hour of the day presents new possibilities and keeps even the same landscape location, same composition, an ongoing and beckoning challenge. For this reason, I love painting series: it is exploration made visual.