Dear Artist,
Outside the Bolshoi Theatre in Moscow, a crowd mingles under swift June rainclouds before funnelling inside for speedy champagne and to take their seats. Red velvet armchairs secured to the floor tip forward only slightly, sloping from the royal box down to the orchestra. Five stories of golden balconies climb up to the trompe l'oeil ceiling like the tiers of an Imperial wedding cake.
This night at the Bolshoi, the ceremony for the Prix Benois de la Danse — an international juried ballet prize and showcase of this year's nominees — is about to begin. And after the trophies are handed out, a succession of performances unfurl in a delicate eye massage of movement and form, bathed in the tinted half-light of an otherwise blank stage. Without sets or company, the soloists and duets hold the house breathless with their pure guts.
The winners — the best ballerina dancers, choreographers, composer and director — are those who've scaled art's juggernauts. Korean ballerina Park Sae-eun, tonight's best ballerina, is among only five percent of the Paris Opera Ballet's foreign members, becoming the first Korean to join in 2011 and promoted to premier danseur in 2016. "I've been living in Paris for seven years now, but because ballet is all I think about, I haven't even been up the Eiffel Tower."
Twenty-seven-year-old Mexican dancer Isaac Hernández won for his performances with the Rome Opera Ballet and the English National Ballet under the direction of Mikhail Baryshnikov. "Being the first Mexican in history to win this important prize is proof that everything can be achieved if we persevere with our dreams," he said. "Everything is possible."
Vladislav Lantratov also won for his leading role in The Bolshoi's contemporary ballet about the life and work of dancer Rudolph Nureyev. The ballet Nureyev won for best composer and best choreographer, as well as for best production design by Director Kirill Serebrennikov. Last July, days before it was to open, the Bolshoi's management postponed Nureyev's premiere, saying the production wasn't ready, while Director Serebrennikov was investigated for fraud and his supporters wondered if the charges weren't politically motivated. The ballet includes a lyrical pas-de-deux depicting Nureyev and Danish dancer Erik Bruhn falling in love in 1961 (they would be romantic partners for the next 25 years), artistic material that could be seen as confronting Russia's "LGTB propaganda law" passed in 2013. Nureyev did finally open in late 2017 under a replacement director, with director Serebrennikov under house arrest where he remains, awaiting trial. Tonight, the ballet's composer Ilya Demutsky, along with receiving his own prize for best composer, accepted the award for best production design on behalf of his friend.
Sincerely,
Sara
PS: "What is art? It is not just nature, it is nurtured nature. It is intelligence applied to what physical ability you have." (Rudolf Nureyev)
Esoterica: In 1773's Imperial Russia, a dance school was created for orphans in Moscow. Prince Ouroussoff, looking for a venture, partnered with English theatre manager Michael Maddox to form a company and the dancer orphans were hired. After their home at the Petrovsky Theatre burned down, Ouroussoff and Maddox built the Bolshoi. At first, the company struggled to compete with St. Petersburg's Imperial Russian Ballet, later called the Kirov and now known as the Mariinsky Ballet. At the turn of the 20th Century and with the Russian Revolution in 1917, new Ballet Master Alexander Gorsky steered the company to distinction, cultivating what continues today as one of the foremost ballet companies in the world.
"Then came a moment of renaissance,
I looked up – you again are there,
A fleeting vision, the quintessence
Of all that's beautiful and rare." (Alexander Pushkin)
The Letters: Vol. 1 and 2, narrated by Dave Genn, are now available for download on Amazon, here. Proceeds of sales contribute to the production of The Painter's Keys.
"Please, never despise the translator. He's the mailman of human civilization." (Alexander Pushkin)
Featured Workshop
June 23, 2018 to June 30, 2018
The Amalfi Coast, a World heritage site, and one of the most spectacular vistas to be found in Italy.  Stay at our four-star hotel on the waterfront of Amalfi; all rooms with private bath and with Mediterranean Sea views.  Elevator available.  Small groups or painters with guests. Paint in Amalfi, Ravello, Positano, and Capri.  Work in oils or other media; beginners to advanced welcome.  Demos and individual instruction.  Breakfast each day along with 2 lunches & 5 dinners.

See www.SamDAmbruoso.com for further details.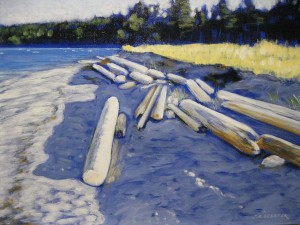 The late afternoon sun on the tip of Savary Island's Indian Point highlights the design elements of the logs and the summer surroundings of the island.
Featured Artist
My enjoyment in representing the beauty of our world with strong design and bold colours is what drives my passion for my landscape painting of Savary Island and other parts of our amazing planet.