Dear Artist,
When we first arrived on the Big Island we were greeted by some of the highest winds and roughest seas in several seasons. Veteran surfers were turned away by the lifeguards. Saffron finches huddled in low hedges behind lava walls. Standing on our own seawall, I easily named a future big one, "Storm on the Kona Coast."
Pressing against the wind under the roar of the breakers, the following days provided time for notes: Foam that whitened the ocean for half a mile out. Great curlers where no boogie-boarder dared. A black line that straddled the horizon. Loaded with cliches (the translucent, green-lit wave, smoking tops, Neptune's grasping claws) the scene would bring a sense of awe to the most jaded. But here in this cinemascope diorama of power, the love of small stuff is confirmed.
Make your mistakes with less on the table.
Have low commitment for courage and creativity.
Catch the wisdom of series and set.
Make variations on themes and motifs.
Build proficiency on the personal game-board.
Overcome the natural tendency of preciousness.
Feel the energy of the portable smug.
Use natural selection to drive potential larger work.
Just as the digital revolution has sped the learning of photography, painting "smalls" in series speeds creative progress. Because digital imagery need not be sent out for developing, the travelling photographer can test settings and see results on the spot. In the same way, learning on the go, the series painter sees each variation develop. In either a linear or in simultaneous (multi-tasking) process, a better way is often found. Like the digital photographer, she crops, tints, fills, glazes, sharpens, softens, revisits — and makes the ultimate decision to keep or delete. It's the time-honoured wisdom of the sketch.
It's good to be small and portable in the midst of greatness. The act of remaining on location (unlike taking the tourist snapshot — then back on the bus) has the effect of "burning in" the experience and making it your own. It may be small stuff you're doing, and your inadequacies may revisit and haunt you, but the artist's life is big stuff indeed.
Best regards,
Robert
PS: "It is only a little planet, but how beautiful it is." (Robinson Jeffers)
Esoterica: Small work fits in with the pace of modern life. In the time where the one liner, the quick fix, instant gratification and short concentration-spans rule, small stuff works. Life burgeons — family, friendship, fellowship, dining and watching long-neglected DVD's like Al Gore's witness to global warming, An Inconvenient Truth. All becomes part of the matrix. Like an impossible jigsaw on the coffee table, the paintbox is always there with its permanent invitation to frustration, understanding and joy.

Sense of urgency
by Len Sodenkamp, Boise, ID, USA

There is a sense of urgency to record and study this amazing speck of cosmic love we call earth. The need to make a remark on the place in a way no one else can. Perhaps we are a bit egotistic to think we must do this. It becomes, however, necessary. We must put paint to canvas and take our cameras and click hundreds of images. In this way we honour the magnificent essences of It, and how It makes us feel.

Memories
by Lisa Schaus, Kalispell, MO, USA

After reading your note from Hawaii, I reflected on being on the coast also, in a storm on Lanai, feeling less a part of the island and more entwined with the sea winds and sheets of rain. I remembered this quote of Corot's and thought I would share it:
"The sun sinks more and more behind the horizon. Bam! he throws his last ray, a streak of gold and purple which fringes the flying clouds. There, now it has entirely disappeared. Bien! bien! twilight commences. Heavens, how charming it is! There is now in the sky only the soft vaporous color of pale citron — the last reflection of the sun which plunges into the dark blue of the night, going from green tones to a pale turquoise of an unheard-of fineness and a fluid delicacy quite indescribable… The fields lose their color, the trees form but gray or brown masses… the dark waters reflect the bland tones of the sky. We are losing sight of things — but one still feels that everything is there — everything is vague, confused, and Nature grows drowsy. The fresh evening air sighs among the leaves — the birds, these voices of the flowers are saying their evening prayer." (Rofcrofters book… Little Journeys to the homes of eminent artists, 1902)
Brings our great Montana painter R. Chatham to mind…

Importance of small
by Lynn Harrison, Toronto, ON, Canada

We live in a consumer-oriented culture that's confused about what's really "big" and what's really "small." All artists need to affirm the importance of single, often unnoticed, creative acts and to keep doing them, even when (especially when) the culture around us says they don't matter. When the art is small (noticed by few, selling for low prices, not trumpeted in major media) it is an act of generosity and gratitude, born of positive energy that becomes a life-changing force for the artist and a world-changing force for others. Last week, a small flawed sketch I had once given to a relative was displayed at her memorial, and it struck me that that small act of drawing her home and giving it away may have been one of the most important artistic achievements of my life.

Danger of fumes
by Mike Jorden, Langley, BC, Canada

The letter from Virginia Wieringa in the last clickback prompts me to write with a warning about mouth atomizers. If I understand the device correctly, the liquid is placed in a jar and sprayed onto the surface by blowing through a tube which is affixed to the top of the jar. The great wildlife painter Robert Lougheed used this method for applying his finishing varnish coats to his oil paintings. Although a lifetime non-smoker, he died prematurely from lung cancer and the speculation was that inhaling solvents from this device may have caused the disease. I imagine it would be safe enough for water solubles but it sounds like it should be avoided for solvent based paints.

Clockwise direction
by Jim van Geet, Australia

I'm just catching up with all your letters after having been away on a painting trip to Northern Australia. I noted your query in response to Direction of flow by Sue Johnson. You were correct in questioning the flow direction in the southern hemisphere. We do indeed work our way around in a clockwise direction in galleries and supermarkets, etc. — just like the water that swirls down drain plugs Down Under.

Value of art
by Denis Chernov, Ukraine

Regarding your letter A painting's progress, I am an artist from Ukraine and a Lecturer in drawing at Kharkiv Academy of Design and Arts. In my view, the price of your picture ($6.000,00) seemed to me a bit fantastic, because in our country the market of art is undeveloped and the prices of the majority of our artist don't exceed $ 300 (even for a very elaborate work). The common level of prices is about $ 50-200. I would say it is difficult to get on living in Ukraine by your own art. Actually, many nouveau riches in our country seem not to wish to acquire a piece of art. They seem not to understand the value of art at all. I am very regretful to say that. Some of art dealers who wish to buy our works usually pay very little. They seem to be baulk at buying a good piece of art for proper price. I regret very much now about those works I sold practically for nothing.
(RG note) Thanks, David. The price of art in all jurisdictions is a function of liquidity. The more liquidity, the higher the prices paid. All cultures can only spend what they've got. Having said that, we too have many nouveau riche who would squander their liquidity on anything but art.

Colour choices
by Karl Leitzel, Centre County, PA, USA

The earliest known painters were generally limited to yellow and red ochre (the actual soft rock, not tubes of paint), charcoal, and perhaps white chalk. Nevertheless, they produced some fascinating work. The issue of colors, and even medium, on your palette is not whether one combination is better than another, but what the chosen palette will allow the artist to do, and how easily. Any palette that can't reach the full spectrum of colors (and all fall short in some way) will create limitations. Limitations for an artist are not always bad, and sometimes are critical in helping to create outstanding art. On the other hand, if the artist has a great idea in his or her mind's eye, but the current palette or medium will not allow it, then there is a problem.
Versatility in technical competence, media, and stylistic approach is critical, even if most of an artist's work at any given time is in a very limited range. An artist should never let "I can't do that" take the place of "I choose not to do that."

Reproductions
by Bruce Ricker

My art publisher was giving me 50% of "wholesale" on my originals but then wholesale was only 40% of retail. On prints I was getting 10% of "wholesale" but it appears that the prints were selling (World Wide Art, unframed) for 4 times the wholesale price that shows on my royalty statement… They call it "Royalty Base Amount" which means I was credited with 2.5% of the retail price. Does this sound like a standard business practice in the print publishing business? If I self-publish, should I expect wholesale buyers to demand a price of 25% of retail? Is that universally agreed on?
RG note) Thanks, Bruce. While there is no universally agreed way to cut up the cookies in the reproduction business, yours is fairly typical. Publishers have lots of expenses, and let you know it. Check your royalty statement against others who deal with the same outfit. A phone call to competitors can also be of value. Artists can sometimes cut a better deal just by checking around. Regarding the sale of original art through middlemen, I don't believe in it. Proper dealers and galleries want mostly to deal directly with the artist. It's better for everybody.

Dealer quandary
by Sue Cowan

Do you have any advice for me on how long to stay with a dealer who isn't selling much? We started out well last March, the dealer selling four paintings right away. However he discounted the price without asking me. One other painting sold over the summer and nothing since then. My paintings are not on the walls now but put away on the shelves in the back room. Should I be moving on or is this normal?
(RG note) Thanks, Sue. Think of your dealers as places to store your paintings. Take them out of storage after a year of nothing happening. Concentrate on your life as a worker.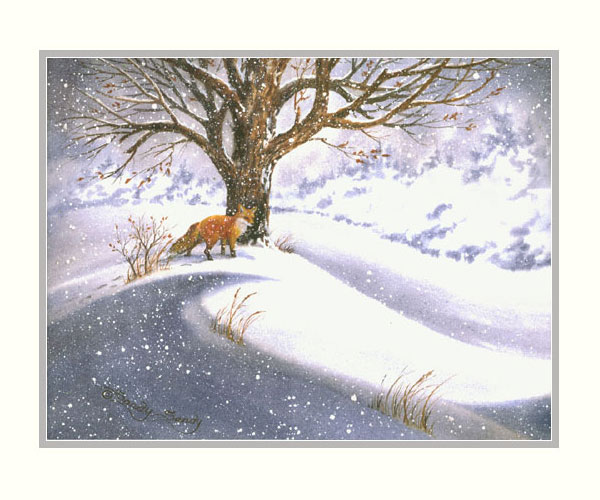 original painting 
by Sandy Sandy, Tabernacle, NJ, USA
You may be interested to know that artists from every state in the USA, every province in Canada, and at least 115 countries worldwide have visited these pages since January 1, 2013.
That includes Josephine Siedlecka of the UK who wrote, "As a tired journalist currently working long hours in a basement office here in London, your piece came as a big breath of fresh air and encouragement. I shall go on a new trip soon."
And also Moncy Barbour of Lynchburg, VA, USA who wrote, "At one time I thought larger works were somehow more important. I have found that smaller works are fun, challenging and worth the while! A good work is a good work, the size does not matter."
And also Joseph Askew of France who wrote, "How do you write such corny stuff week after week?"
(RG note) Thanks, Joseph. 'Cause I love getting notes like yours. You can see even better ones at http://painterskeys.com/remarks/
No Featured Workshop
No Featured Workshop