Dear Artist,
A survey conducted by artists' emergency fund Artist's Relief found that 95% of the artists who responded have lost income due to the pandemic, on average, about $27,103.00. The coalition of seven U.S. arts grantmakers and their co-presenter, the non-profit Americans for the Arts has discovered that 62% of responding artists have become fully unemployed because of COVID-19. A startling 66% are unable to access the necessary resources to do their work and 80% of them do not have a plan for recovery. The survey, launched on April 8th, 2020, initially provided unrestricted emergency relief grants to artists and has since updated its questionnaire to continue tracking the economic realities facing artists in 2021.
In the meantime artists, trying to survive along with galleries, museums, art fairs and so many other cultural spaces (if they have the means to even do it) have been forced to adopt a thing called an Online Viewing Room (OVR.) An OVR is really an extension of the old-fashioned photo slide. It just happens now online and includes other contextual features: installation views, light sources, 3D modeling, video tours and in its fanciest form, digitally enhanced or totally simulated immersive experiences not possible In Real Life (IRL.) This is all in an effort not only to continue to create and offer aesthetic experiences but to find new ways to market them.
If you haven't already tried OVRs, the easiest way to begin is to take a photo or video of your artwork in situ and post it on social media. OVRs don't try to mimic the aesthetic experience of visiting a gallery or studio, but rather to create a new kind of aesthetic experience that strives to provide an alternative route to soul-stirring. How does one do that? It depends on who you're trying to reach. Consider your creative life, your work and environment, the slickness or simplicity of your ideas, process, product and its message. Try to build upon and enhance that energy in your new, second medium — the OVR. To those in it to make a profit, a glossily-lit photo of a bag of money hanging on the wall should do better than, say, a virtual reality low-tide land art experiment. Remember though, that the OVR world, like IRL, needs more than just what can be merchandised.
Mega galleries like David Zwirner and PACE and art fairs like Frieze, Basel, FIAC, Art Busan and Taipei Dangdai, along with creating slick and pricey OVR experiences have also experimented with old-school collaborative and collector-friendly approaches like price transparency and ghost booths — where scrappier galleries can still have a presence at a fair, for example, without travelling, insuring and staffing. Many galleries report that OVRs have encouraged the discovery of new work and that collectors have stuck with them through the pivot. This new art world, real or otherwise, is staying alive. Hopefully because of this, artists will, too.
Sincerely,
Sara
PS: "Hard times arouse an instinctive desire for authenticity." (Coco Chanel)
Esoterica: Now that we're a year in and some of the novelty of OVRs has worn off, artists and galleries are taking stock of their new lives as photographers and coders and deciding how they might one day return to IRL while holding onto what they learned from OVRs. Social media has been a lifesaver to many, providing affordable global marketing, collecting imagery on a few platforms and gathering and democratizing accessibility to art and design professionals, collectors and creators. One day, we may all meet each other in person. Personally, as a maker of IRL art, I'm in the IRL camp, though I can't dispute the immeasurable value of OVRs during this time of stay-at-home and beyond. We will probably never, ever go back to pure, IRL-only art consumption, though wouldn't it be wonderful to just go to the beach?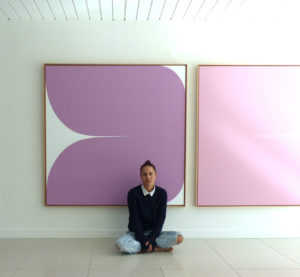 "Best keep yourself clean and bright; you are the window through which you see the world." (George Bernard Shaw)
My IRL exhibition, Shelter in Place continues at Winston Wachter Fine Art, 203 Dexter Avenue in Seattle, Washington. The paintings are actually, physically there and you can be with them in person, by appointment until March 13th.
No Featured Workshop
Featured Artist
The way that I interpret what I see
is my Way.
I paint, because it's the most satisfying way that I've found
to be myself.
Fish swim.
Birds fly.
I paint.
Boldly.
On canvas,
with acrylics.