Dear Artist,
In 1872, businessman, racehorse enthusiast and former governor of California, Leland Stanford, commissioned photographer Eadweard Muybridge to prove a theory about a horse's gait. Until then, equine painters, including Western painters, had been depicting horses at a trot with one foot on the ground and in a gallop with all four legs sticking out — like a hobbyhorse. Muybridge set up 12 cameras and photographed Standford's own Standardbred trotter, Occident, trotting. Amongst the 12 frames was a single, groundbreaking photographic negative showing Occident with all four feet off the ground.
For the gallop, Muybridge designed his study, "Sallie Gardner at a Gallop." Also known as "The Horse in Motion," Muybridge placed large, glass-plate cameras in a line along the edge of Stanford's Palo Alto Stock Farm racetrack (now Stanford University.) He laid a thread on the track — enabling Sallie to trigger the shutter of each camera as she passed — and lined the track with light-reflecting cotton sheets for a good exposure. He copied the resulting images onto discs that could be viewed in quick sequence through a machine he made, called a "zoopraxiscope." He didn't know he'd built an early movie projector.
As for Sallie Gardner, she did, in fact, prove the theory of "unsupported transit" while galloping — just not when her legs were extended to the front and back, hobbyhorse-style, as previously imagined. Instead, it was when her feet were tucked beneath her, before pushing off the ground with her hind legs and pulling forward with her front, that Sallie took off.
Sincerely,
Sara
PS: "Only photography has been able to divide human life into a series of moments; each of them has the value of a complete existence." (Eadweard Muybridge)
Esoterica: Thanks to the camera, American Impressionist Frederic Remington was one of the first American artists to paint a horse's true gait in motion. Soldiers, cowboys, ranchers, Native Americans and their horses became Remington's signature subjects — his mastery peaking when he exaggerated the action originally sourced from photo reference. Though criticized by some for using photography, Remington's depictions of a disappearing American West, with heightened drama and anatomical accuracy earned him acclaim as an illustrator, painter and sculptor. "The artist," he said, "must know more than the camera."
"I knew the railroad was coming — I saw men already swarming into the land. I knew the derby hat, the smoking chimneys, the cord binder, and the 30-day note were upon us in a restless surge. I knew the wild riders and the vacant land were about to vanish forever… and the more I considered the subject, the bigger the forever loomed. Without knowing how to do it, I began to record some facts around me, and the more I looked the more the panorama unfolded." (Frederic Remington)
The group exhibition "The Intercepting Nature of Colour + Form" is on view at Gallery Jones, 1-258 East 1st Avenue, Vancouver, BC until February 22nd, 2020. 
The Letters: Vol. 1 and 2, narrated by Dave Genn, are available for download on Amazon, here. Proceeds of sales contribute to the production of The Painter's Keys. 
"He is, of course, one of the most typical American artists we have ever had, and he has portrayed a most characteristic and yet vanishing type of American life. The soldier, the cowboy and rancher, the Indian, the horses and the cattle of the plains, will live in his pictures and bronzes, I verily believe, for all time." (Theodore Roosevelt on Frederic Remington)
Featured Workshop
May 1, 2020 to May 3, 2020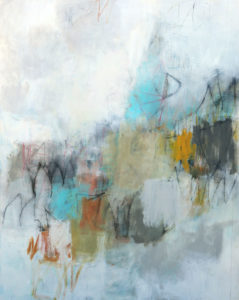 Experience beautiful early spring in Santa Fe, NM.  Develop your own unique marks and painting vocabulary in this 2 1/2 day abstract acrylic workshop.
We will work on paper, and for those who like, unstretched canvas, using conventional and unconventional mark making tools and drawing media.  Via guided exercises you will practice a variety of marks and learn how to create a work rich with history and depth through the process of layering these marks with acrylic paint.
This class is suitable for beginning and intermediate painters.  Cost is $595.00  Materials list provided one month prior to the workshop or can be provided at an additional cost of $100.00
https://julieschumer.com/julie-schumer-workshops/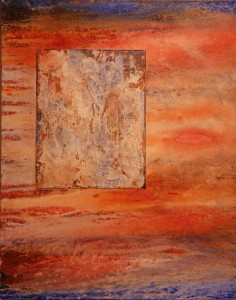 Transition
Featured Artist
Painting is my passion and joy.  My process is intuitive, though informed by good composition and design principles.  I paint what I remember, or think about, or feel, or just what comes off my hands to the brush to the canvas.  Texture and color are of primary importance to me.  I typically choose my support, texture it, select my palette, and go.  There is nothing more satisfying to me than watching paint run and move.  I love the surprises. I experiment and learn constantly.  It is a remarkable journey.  One I am pleased to share with you.