Dear Artist,
This past summer, a few months before his 70th birthday, Bruce Springsteen released his 19th studio album. Western Stars he said, would be a character-driven collection of songs that spoke to the themes that had always driven his work — the loneliness of the highway, the cowboy sky, isolation, family and work, and life's small miracles that keep us going. Set in California and reminiscent of the 1960s anthems of some of his childhood musical heroes and orchestrated with sweeping, elegiac string arrangements, Springsteen's stories are laid out as a metaphor for an artist's quest and the quiet, inward revelations that arrive in life's last chapters.
In lieu of touring his new album, Springsteen converted the loft of a horse barn on his New Jersey property and invited a handful of friends to be there when he performed the record live, in its entirety, with an orchestra. Working with his longtime collaborator — director, Thom Zimney, Bruce filmed the hyper-intimate performance and interspersed each song with a voice-overed vignette set in Joshua Tree National Park.
During the introductory vignette to his song Chasin' Wild Horses, Springsteen describes the anger he felt as a young man. "I've spent thirty-five years trying to learn how to let go of the destructive parts of my character," he explains. "I still have days when I struggle with it." He offers that love is our only tangible evidence of a miracle, and that it's our job to nurture it in our lives as best we can. He acknowledges life's heartbreak, then tenders his flickering hope and gratitude to his family in the form of this wistful, sweeping, aching masterwork. I wept at the miracle of his creativity and my own devotion to making things as a tether to hope. "Life's mysteries remain and deepen," says Bruce, "its answers unresolved."
Sincerely,
Sara
PS: "The supreme question about a work of art is, out of how deep a vision of life does it spring?" (James Joyce, Ulysses)
Esoterica: "A fingernail moon in a twilight sky
I'm ridin' in the high grass of the switchback
I shout your name into the canyon
The echo throws it back
The winter snow whites out the plains
'Til it can turn you blind
The only thing up here I've found
Tryin' to get you off mind
It's like chasin' wild horses" (Bruce Springsteen, Chasin' Wild Horses)
Bruce Springsteen and Thom Zimney's film, Western Stars, is currently in theatres.
You can download the album Western Stars here.
The Letters: Vol. 1 and 2, narrated by Dave Genn, are available for download on Amazon, here. Proceeds of sales contribute to the production of The Painter's Keys.
"Talk about a dream, try to make it real." (Bruce Springsteen)
Featured Workshop
June 7, 2020 to June 16, 2020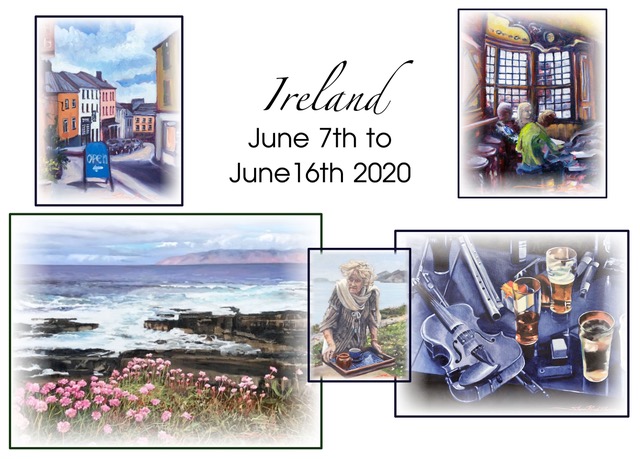 Join award-winning Plein air painter Sharon Rusch Shaver as she conducts her next exciting workshop to the Dingle Peninsula of Ireland. Painting daily in your chosen medium: oil; watercolor; pastel; pen and ink artists as well as photographers will find plenty of inspiration where the sea defines the life and creates excitement on this amazing Island. Daily demonstrations and one-on-one help will be provided for those wanting to learn how to work quickly capturing that changing light and color in their paintings.
Delicious chef prepared gourmet meals and a well-appointed ensuite rooms, as well as all ground transfers are included. All-inclusive* 9 nights accommodation, transfers, meals, and instruction. Go to: Adventure-Artists.com
Artist Sharon Rusch Shaver has postponed the Ireland Adventure until 2021. If you would like updated information about this an other upcoming adventures, you can get on her mailing list by visiting: Adventure-Artists
Join us!
Featured Artist
Candace studied at the Ecole des Beaux Arts in Angers, France but it is her travels in the deserts of Africa and Oman, Antarctica and the Arctic, and sacred sights of Machu Picchu and Petra that serve as her true place of learning. A desire to combine these experiences with a deeper understanding of her own spirituality has provided the underlying focus and inspiration for her paintings.