Dear Artist,
At the top of the staircase at the National Gallery in Budapest hangs what many agree to be the last Hungarian historical painting. Commissioned for Budapest's bicentennial and finished in 1896, it depicts the moment two hundred years earlier when the troops of the Holy League, led by Commander Prince Charles of Lorraine, took the city back after 150 years under Turkish rule. At over 23 feet long and 11 feet high, the painting puts me at eye level with the iridescent pink flag and golden boots of an unknown colour guard, who has been crushed beneath the slain body of the Turkish pasha Ali Abdurrahman. They lay strewn across the painting's almost dead-centre foreground.
Part of what makes the whole scene feel so dramatic and believable is a shadowy figure at the far left of the picture. This armoured horseman, his back to us, holds up his sword in the direction of a parade of triumphant leaders. On the picture's right side is a distant group of soldiers, colourblocked in blue and grey, who also motion toward the centre with their weapons drawn and showing us where to look. This, along with the foreground slaughter, heightens an illusion of depth and pushes the other objects and figures to a position of compositional importance.
A favourite of the French Mannerists and 17th Century Dutch landscape painters, this device, called "repoussoir," or "pushing back," became the de facto method for framing drama and drawing the eye toward a painting's narrative and spiritual essence. In your own work, you may have been practicing repoussoir without knowing. If you're just starting out or want to be conscious of the technique, here are a few ideas:
In landscape: use trees, machinery, foreground rocks, faces, figures, birds or branches to anchor and frame a central feature.
In portrait: use mirrors, drapery, a window or a backward glancing puppy tossing a ball into the lap of your subject.
In abstract: control the eye with your edges. Push back, push in, push out, pull around. "Get the art of controlling the observer," wrote Robert Henri. "That is composition."
Sincerely,
Sara
PS: "A well-composed painting is half done." (Pierre Bonnard)
Esoterica: By the time he was commissioned to paint The Recapture of Buda Castle in 1686, Gyula Benczúr was well established as a Royal portraitist, a prize-winning historical painter, a member of the Academy and a Professor of Art. It was 1896, and history painting as a genre was falling out of favour for more style-driven and internal directions. In France that same year, Claude Monet had been living at Giverny for thirteen years and Vincent had been gone for six. Cruising today through Gyula Benczúr's masterworks at the National Gallery, I saw much human drama, golden light and fleshy sensuality. At nose distance, drapery, collarbones, shoe buckles, wagon wheels and picnic blankets are whispy swooshes of single-stroke élan. "One instant is eternity; / eternity is the now. / When you see through this one instant, / you see through the one who sees." (Wu-Men)
Sara Genn: New Paintings runs until November 2, 2018 at Voltz Clarke Gallery, 141 East 62nd Street, New York City. If you're in the neighbourhood, we would love to see you there.
https://voltzclarke.com/exhibitions/sara-genn-exhibition/
"You have to understand the purpose of life; the purpose of life is to do something which will live forever." (Yogi Bhajan)
Featured Workshop
February 20, 2019 to March 6, 2019
I am very happy to be teaching two workshops at Casa Buena Art Retreat Center again next year.  Register for one or stay for both.
THE FIGURE – Feb 20 – 27, '19. Enjoy working with a live model using dry media. We will deal with proportion, measurement and likeness.
PLEIN AIR – Feb 27 – Mar 6, '19. Paint authentic Mexico – village life, beaches and landscape. We will deal with composition, light & shadow, color, value and more.
Cost: CAN $1800 + GST. Includes instruction, some art supplies, accommodation, all meals, transportation to and from Puerto Vallarta airport, visits to surrounding areas, a jungle boat ride and a lot of fun.
Contact Jane Romanishko janerom@shaw.ca for the extra 3 day "no-pressure" painting option.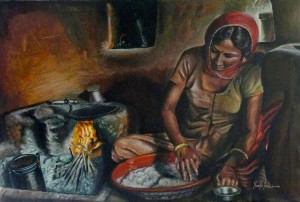 Woman preparing chappaathi
oil painting
Featured Artist
I, Ramya Sadasivam, have been practicing art since 2006. I so love to portray Indian culture, customs, day to day chores of the hard-working laborers, happy village life and life of women. I love to capture the difference in values between the shadows and bright light and also I like to capture genuine emotion.