Dear Artist, "Should I go to an art school, should I take a workshop, or should I just work on my own?" Questions like this come in here every day and they're often tough to answer. Needless to say, I always appreciate a few photos to help me with a properly considered opinion. Sometimes my answer is, "Take a workshop." But that's when the fun begins. Sometimes it's difficult to find the right one. While students often choose courses that take them in new and uncharted directions, it's also valuable to invest in instructors with a somewhat similar vision to yours. If you don't know her work personally, it's a good idea to thoroughly check out the website. Some instructors are whiz-bangs at plein air, others excel in colour theory or drawing, still others can be counted on for foundation basics. For folks who are not sure what they want — but just feel the urge to get going — a week in a church basement with an enthusiastic pro can really charge up your lithium-ions. Fact is, many part-time workshop instructors are simply dynamite at hands-on awakening and enabling. "The supreme art of the teacher," said
Albert Einstein
, "is to awaken joy." Working artists tend to know a bit about joy. Here are a few thoughts: First-time students need not fear the prospect of judgment and comparison. Individual boundaries are respected. Most instructors I know are fully loaded with humility and empathy. The greatest teachers are perennial students themselves. "Every professional was first an amateur," said
Ralph Waldo Emerson
. That quote, widely repeated, helps. One of the most effective types of workshop is where two or more instructors or mentors alternate between different groups on different days. Students positively buzz with excitement as they vacuum up a bit here and a bit there. Then there's location. The idea is to get your brush around new places. North American painters lug their stuff over to Brittany and Provence — and European painters hang out with cowboys in New Mexico. Go figure. Notwithstanding volcanic eruptions, the world's your canvas. These days, many who take workshops are already top-notch painters. New challenges and the benefits of group dynamics are the main reasons these folks join in. Just another reason why workshops are so enriching. Great places to make buddies for life. Best regards, Robert PS: "The art of teaching is the art of assisting discovery." (
Mark Van Doren
) Esoterica: A couple of days ago we put up a new feature on the Painter's Keys site. It's called
The Workshop Calendar.
  We've kicked it off with four events where I happen to be part of the action. Instructors, teachers and associations can now take advantage of our large readership to advertise their own. We're charging a fee for this service, but needless to say we can pretty well guarantee your workshop announcements will be seen. It's self loading so you can do it yourself here.
Editing out the losers
by Anonymous There are too many instructors out there who do not know what they are doing themselves. I know, I got stuck for a whole week with a person who fiddled with very basic stuff that she herself did not fully understand. Her own work showed it. She was unable to make a living with her work and yet she had been at it for a decade. I should have been more careful. Actually, apart from the fact that you can't socialize and meet new people, books are as good as anything. With books you can edit out the losers. If you can find a book written by an instructor who also gives workshops, and you can see depth in the method, (Stephen Quiller and Scott Burdick come to mind) then you might consider going there.
Fumble fisted paintings
by Frederick Winston, Havelock, ON, Canada Yes, a good teacher imparts joy in a subject, but I think a good teacher goes one step further. A good teacher implants a vision and a faith in the learner, that she/he can achieve great things. When I was in Barbados, and was as near to being a total beginner as imaginable, my art teacher walked up to me and asked me if I could see myself as an artist, a real artist, painting and selling my works in galleries? This was in my 3rd lesson. I looked down at my clumsy little drawings and fumble fisted paintings and looked at her and said. "I can't imagine saying this for I don't even know how to hold a brush in my hand." She planted a seed or a vision within me and within five years I realized that in every way; in sales, in having my works in a gallery and in my development of skill. She gave me a dream and a vision and that has made all the difference.
There are 2 comments for
Fumble fisted paintings
by Frederick Winston
Aiming to learn
by Dorenda Watson, Columbus, OH, USA My advice to students is to monitor a class for one session before actually taking the class if you are unsure of the instructor's reputation or methods. Normally this is free, however you may not be able to work, just observe. Most programs are receptive to this. I also inform students that you will never produce your best work in a workshop situation; in a workshop your job is to glean info and practice what you are learning, ask questions, converse with others, and enjoy yourself. There is much too much going on in the room and in your head to create a masterpiece. I then pray that they will go back to their homes and that will be where the spark really ignites, where the real work is done, and that they will bring these works in to share with the rest of the class; which, in turn, sparks a few more students to do the same.
Horror stories
by Ilene Rubin, USA Just read your post and imagine my excitement as I applaud and say YAY while I read your letter. Please do take a look at my website to see what we do and how we do it. We provide a service that takes the taking out of the house of the artist so WE take care of the details. We heard so many horror stories from artist students — "He showed up drunk" "(He/she) didn't show up at all" "He didn't have a plan B and it rained all weekend" "The hotel was terrible" "The hotel didn't have the reservation for all of us only half of us" "The students whom the artist knew took all the attention and time of the instructor" etc, etc, etc.
Incorporating feelings
by Jean Nelson, Oregon City, OR, USA I have just registered for my first workshop, a little nervously. Your comments have helped to ease the butterflies. I just started painting about 5 or 6 months ago and wanted to learn more about plein air painting. I travel, and would like to paint what I see along the way. I have always taken pictures, being an amateur photographer, but sometimes felt there was something missing in the photos, no matter how good they turned out. I realized one day, that what was missing was what I 'felt' about the scene, that intangible something which I remembered but the photo didn't convey. So I took up painting. I am hoping that I can begin to put the 'feeling' into the pictures by gently manipulating the scene.
There are 2 comments for
Incorporating feelings
by Jean Nelson
Contact with the artist
by Sandy Gorski, Australia Yes, good question. I tend to take workshops now, as working, teaching and creating take up most of my time. I find I can choose a subject that I need more skills with and find the appropriate teacher and workshop. Then I have the ability to be in contact with the artist if I need more info on the subject.
Plan B: DVDs and Videos
by Judi Pedder, Comox, BC, Canada Speaking of workshops: I recommend research and asking people who have been ahead of you before signing up. I have in the past wanted to work with a few well recognized artists and later found out none of them actually teach anything. They are there, paint, but do not help unless asked, and then stick just to the question. Fine, if you are happy with that approach. Fortunately most of the workshops I have attended have been reasonable, good and a few really excellent. Another idea that works if you cannot dash hither and yon on expensive trips is to spend your money on DVD's or videos. They are better than books because you hear the voice and see the hand and brush movements. Again, some are better than others and Stephen Quiller's are fabulous.
Narrowing your options
by Gwen Fox, Colorado Springs, CO, USA Taking a workshop to learn new skills, regain your creative edge or to just get away and see things in a different way — all these are important elements in an artist life. I have been teaching art workshops in Taos, New Mexico for many years and I love it. I love my students, I love teaching but most of all I love watching artists grow. Students arrive from different environments and thought processes yet they all come to learn, to stretch beyond where they are, be inspired while discovering their unique creative voice. Here are a few suggestions I would make when trying to decide which workshop to take. Decide what you want to learn and in what medium, don't be afraid to pick a workshop that is beyond your current ability, decide how far you want to travel, go to the instructors' website and read their philosophy, look at their art. Call or email the instructor and talk to them, ask questions. You want an instructor who will push you to another level in your art, one who is knowledgeable, understanding and one who will give you a good honest critique of your work. You want an instructor that encourages you to honor yourself as an artist. Once you have decided on your workshop, go with a beginners mind no matter your current artistic ability. Don't try and paint to impress the instructor — this workshop if for YOU. Be willing to get out of your comfortable creative box, explore, and be willing to fail. Smile. Workshops are a gift we give ourselves when we are serious about our dreams.
There are 3 comments for
Narrowing your options
by Gwen Fox
Trust your instincts — damn it!
by Alice Helwig, Calgary, AB, Canada I just got home from your talk at the Leighton Centre. I'm glad I went. Your talk reinforced an epiphany I had earlier on in the studio. That was — to Trust my instincts. A few years back I had one gallery owner (also a painter), who wanted to mentor me. I now know and understand the advice she gave but at the time it impeded my work. I couldn't paint without her voice in my head. I now realize that we both work differently. She is much more analytical throughout the painting process. I find that I need to learn and read and absorb the material. But then I go to paint and reach down deep and work very intuitively. If that's not happening I know I'm not committed to the painting. I have now established a mid-way checklist for myself where I can access how things are going. I'm now thankful for the experience I had with her, even though it meant that I couldn't paint for a couple of months. In the end it made me a better painter as I had to examine my own painting process. I know of another artist who paints in the latest style of the workshop he has attended. In fact, this was so blatantly done, that the artist who gave the workshop mistook the student's work for his own. Lately I've noticed his work tightening up, but it doesn't seem natural. And so at my easel today with brush in hand I thought — I'm just going to do what I do. I'm having a good time. I am going to paint what I want to paint. Later I'll choose to market whatever painting to where-ever. I should trust my instincts. The line was drawn — I will sometimes refine the work but I'm not willing to add more detail. It's not what I'm interested in. My work that gallery owners are drawn to doesn't have a lot of detail. It does have a lot of texture though. I'm realizing that part of being an artist is to develop a stubborn individualistic backbone. I'm going to do what I do-damn it!
There are 4 comments for
Trust your instincts – damn it!
by Alice Helwig [fbcomments url="http://clicks.robertgenn.com/right-workshop.php"]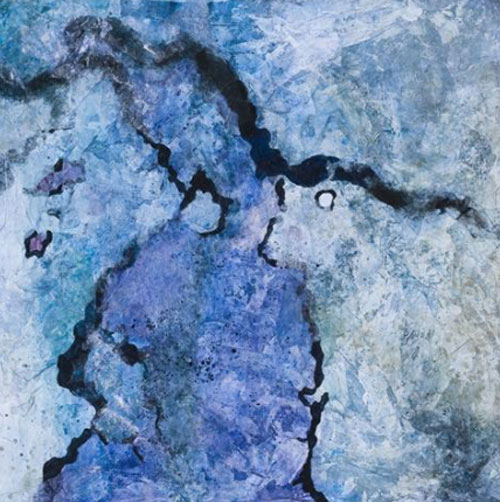 Dance of Blues
mixed media painting by Bonnie Tomlinson
You may be interested to know that artists from every state in the USA, every province in Canada, and at least 115 countries worldwide have visited these pages since January 1, 2013. That includes Norman Ridenour of Czech Republic, who wrote, "I have a motto — 
Teaching is impossible but learning is not. The job of the so-called teacher is to aid the learning.
" And also Isa Benson who wrote, "Come on folks. How to hold the brush indeed. None of you ever seen any of the mouth or foot paintings? Just do it!"
Archived Comments
Enjoy the past comments below for Choosing the right workshop…