Dear Artist, I'm laptopping you from a 27-foot sport-fishing boat near the mouth of Quatsino Sound on the Pacific side of Vancouver Island, B.C., Canada. Right now we're being slammed around in 10-foot swells while a moderate Southeaster whistles foam from the wave-tops. It's difficult to paint in these circumstances, but not impossible.
Kenneth Grahame
, from
The Wind in the Willows
) Esoterica: The viewpoint from boats moving past subject matter, no matter how erratic the boat, is one of the great events. The surf, as it climbs and descends in white rivulets from black rocks, ancient bearded cedars and hemlocks triumphing from sea-stack tops, pale and weathered veterans of the forest — the permutations and combinations seem endless. In wild places such as this, the elements contrive to present themselves as they've always been. The early English and Spanish explorers of this coastline and the aboriginals who called it their home would have been party to the same vistas, the same details. Such are the privileges of those who bounce and look. The painter kills nothing, leaves the place as it was found, and honours it for having been there.
Coast of wonders
by Carmen Mongeau, Nanaimo, BC, Canada You might enjoy a related good read:
Fishing with John
by Edith Iglauer, a journalist from New York, who ventured west to our Pacific Coast in search of new territory and subjects for The New Yorker Magazine. She met John Daly, maverick veteran, commercial salmon troller fisherman who skippered "The More Kelp." The story is of two exceptional people and the life they shared in the enchanted world of the British Columbia coast.
There are 2 comments for
Coast of wonders
by Carmen Mongeau
Poetry in motion
by Bill Erlenbach, Edmonton, AB, Canada I have wished I was painting while fly fishing, but I don't recall wishing I was fishing while painting, though I enjoy both. Your comment about painting leaving the landscape untouched (my paraphrase) struck a deep chord in me. It reflects my own preference to paint over fishing, even though fly fishing is in its own way, poetry in motion.
There is 1 comment for
Poetry in motion
by Bill Erlenbach
Lubricating the support
by Donna Adams You talk about a well lubricated support. What do you use to do that? I am an oil painter trying to convert to acrylic, and find the dryness of acrylics hard to deal with. Maybe this is the secret. (RG note) Thanks, Donna. I currently paint mostly in acrylic. Before I start I take a rag and spread a lightly diluted thin coat of clear acrylic medium over a grey-primed surface. Where conditions are hot and dry I use Golden Open (slow drying) medium. In normal conditions, such as on the boat, I use regular Golden medium. When working in oil I use a light coat of linseed or other oil medium. For those who asked if I lubricated myself before painting, it is not currently my habit, but is used sparingly with close friends as a modest reward for the occasional job well done.
There is 1 comment for
Lubricating the support
by Donna Adams
River cruising
by Bill Kerr, Courtenay, BC, Canada I find river cruises allow interesting painting opportunities. You can see the shore and shore details far more clearly than on an ocean cruise. Progress is slow enough to allow a sketch in watercolour. I am a rather messy acrylic and extremely messy oil painter so on cruise vessel decks I use watercolour. You can get the general idea down quickly and you either end up with a nice postcard or the basis for future work when backed up by a photo for reference. (RG note) Thanks, Bill. Rivers are the ultimate boat painting opportunities. Readers may recall my daughter Sara and I took two summers to paint down the
Mackenzie River in Northern Canada
. I've also written of a similar situation
on the Nile
.
Not meant to be an artist?
by Wendy Travis, Bancroft, ON, Canada I am an inexperienced artist and I live in an area where it is difficult if not impossible to receive training. I find it hard to "know" what to paint as I feel stuck due to inability and lack of focus. I'm not sure where to start. Maybe I'm just not meant to be an artist. Do you have any suggestions? (RG note) Thanks, Wendy. The better artists are often self-taught. With the exception of excellent workshops worth traveling to, books and the Internet now take the place of Academies and tutors. Rather than the traditional model of accessing a professional educator, the aspiring seek the counsel of those who have succeeded.
There is 1 comment for
Not meant to be an artist?
by Wendy Travis
Painting from a kayak
by Randall Cogburn, Alvin, Texas, USA I used to kayak and take a small pochade box with me that fit in the kayak. I did oil painting. Had a tripod, and gear bag also and would go out to islands in Galveston Bay to paint. I've been through some rough weather. You have taken it to another level. Hope you got something out of it. Just out of curiosity when did you start writing these letters? Do you ever write them on paper first or is it always on the computer? (RG note) Thanks, Randall. My first letter was on July 10, 1999. It was written in an Internet café in Spain. I love my laptop. It is a nice change from painting and it helps me think about things.
Easy access to water
by Patricia Katz, Saskatoon, SK, Canada I'm just back from a visit to a nearby prairie lake where I spent some time sketching and painting from my kayak. There were no ten foot swells — just the rolling wakes of speed boats hauling tubes and kneeboards up and down the lake. However, still, after 90 minutes or so working 'on the water' I found myself somewhat nauseous and seasick and decided to head for shore. It was that same feeling of having read too long in a moving vehicle. Also, since I'd moved past the initial sketching and larger scale splashing of foliage and needed to get a bit more controlled in my last few additions to the painting, stable ground seemed like a better idea. However, the thing I loved the most, other than the off-shore perspective, was having the entire lake in which to swish my WC brushes and access fresh water. So fun!
There are 2 comments for
Easy access to water
by Patricia Katz
Wet equipment
by Anonymous I'm wondering how you get this information from the boat without putting your computer in jeopardy. Technical equipment seems the least likely to have in a boat. It must be protected in some kind of covering and the camera also. (RG note) Thanks, A. Yes, dangerous. I've learned the hard way. Most camera warranties do not cover water damage. A couple of years ago a big wave came over the windshield and took out a brand new Nikon SLR and I had to pay for a new one myself. Computers are particularly vulnerable. A splash down the keyboard and the screen goes dark brown like an oozing cuttlefish. Keep 'em dry.
Hoarding
by Dorie , Chicago, IL, USA Further to your recent piece on hoarding. Some of us hoard our work because we feel it represents a time we felt relatively creative. For the record: my full blooded sister who was adopted at birth and found me 30 years ago… had a completely different childhood than I. Yet when meeting for the first time and staying at her home, it was observed that she and I have the exact same habits of disorganization and hoarding. There are some experts in the field of human behavior who feel that everything negative cannot be attributed to childhood trauma. That the way our brains are wired plays a part. After I met my sister, I felt less guilty about my scattered ways. She is a trained musician and poet. I still 'create' at my work to some degree. So our genes are similar. Know that those of us who hoard are compulsive and not happy about it. But it could be worse! I genuinely feel if I ever got to 'normalcy' I may have less creative thoughts. Not worth it.
Archived Comments
Enjoy the past comments below for Rocky shores…
 Featured Workshop: Carole Mayne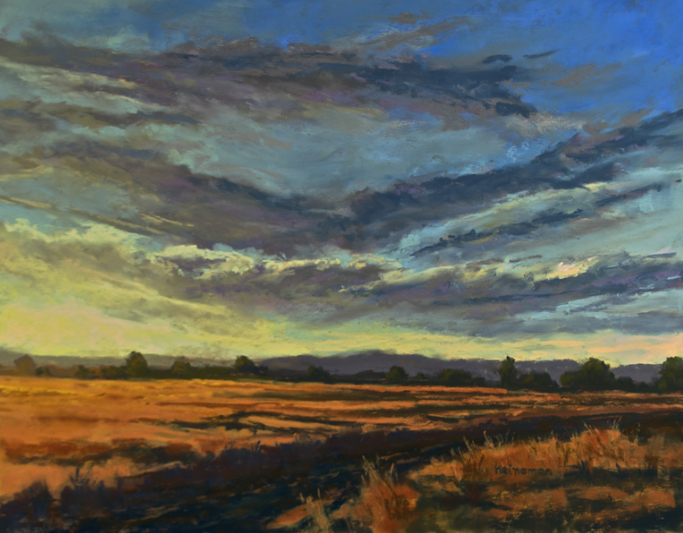 Orange Dusk
pastel painting, 14 x 18 inches by Peter Heineman, Conifer, CO, USA
You may be interested to know that artists from every state in the USA, every province in Canada, and at least 115 countries worldwide have visited these pages since January 1, 2013. That includes Carol Mayne of Leucadia, CA, USA, who wrote, "Seeking an elusive interpretation of the scene is the goal, and there are no guarantees of what you will get! Maybe painting IS a lot like 'fishing,' because that's why they don't call it 'catching'!!" And also Nigel Wimberley of Staines, UK, who wrote, "Thames barges are excellent when parked." And also Debbie Harmel Puia of Facebook who wrote, "A great catch of the day!"
Focusing on a canvas while in a boat that rolls heavily can cause the chucking of cookies, so the necessity of keeping an eye on the horizon conveniently slows down your work. Heavy seas also invite the use of larger brushes and definitive, fully-loaded stroking. Little brushes are harder to use and can jerk unwanted lines in inappropriate spots. A well-lubricated support helps facilitate control and fluidity. It's also necessary to grasp forms, subjects and motifs before they move on. The waves crashing on rocky outcroppings and fleeting light-effects (this coast is fully loaded) necessitate developing quick habits. The screen on the back of a digital camera also chips in as reference. I discover acrylics can be effectively dried using the boat's windshield fans. Further, because the motifs are fleeting, the work tends more toward ideas and feelings. In the action between brush and canvas, desirable abstract elements present themselves somewhat automatically. All this time we're supposed to be fishing. I find the painting-fishing combo to be particularly fine. Fishing can be 10% action and 90% sitting around. Charles Williams of South Carolina, my fishing partner for today, is currently landing salmon and halibut from both rods. Another nice thing about painting in fish-boats is that you don't personally kill a lot of fish. Delicate stuff like signing and final varnishing can be done back at the lodge. I like to accumulate them in my room day after day. Sticking to smaller canvases — 11″ x 14″ and 12″x 16″ — I find the obvious material comes in the first days; the more interesting, fresher stuff toward the end. The worst thing is running out of canvases, something that's going to happen early in this trip. My buddies (eight of us altogether) welcome my return to rod-holding as I've been neglecting to take part in the betting. Best regards, Robert PS: "Believe me, my young friend, there is nothing – absolutely nothing – half so much worth doing as simply messing about in boats." (