Dear Artist, Amidst the day-to-day supply and demand of painting and deliveries, solo shows are an opportunity to build something bigger. Think of it as your own personal advancing of the whole history of art — a strengthening occurs, with multiple works holding together a larger, commemorative statement. This is a chance to be loud and proud about whatever it is that turns your crank. "Never underestimate the power of a little pressure," said Dad. Set to work for the cause, possessed in the hope that something magnificent will emerge. The process is the fun part.
Robert Frost
, regarding his use of iambic pentameter, said, "I think I play better tennis because the court is there." If you're thinking of setting up a few parameters for show building, here are some ideas: Introduction: Your first show is an introductory moment. Is there evidence of merit? — quality, skill, originality, intention. Answer the question, "Who am I?" Reserve the right to change. Reactive measure: You're the pulse of your times, and you want to comment — politically, historically, or about the ladybugs in the backyard. Canadian artist Janet Morton once sat in a gallery window for a month knitting a giant cozy — for a house. Theme choice: Recent travels, new inspiration, revision of old, your blue period, water lilies, ballerinas, small stuff, tall stuff. Thematic group shows are perennial gallery and curator stand-bys, but solo-show themes allow you to be extra specific — on your own terms. Never apologize for an obsession. The world depends on those who are curious and committed enough to follow through. Site determination: John Baldessari's
Six Colorful Inside Jobs
, 1977, makes the point. Much earlier ​site-determined paintings can be seen
here.
Size selection: Be intuitive and build up a good supply of paintings in different sizes as if there were no show. Then, select ones showing an overview of your latest and greatest. This way, your gallery gets a variety to work with and collectors get a variety to consider taking home. A dealer once extolled the virtues of "suitcase sales" (small ones). She appreciated being able to offer smaller, more affordable pieces, while still presenting larger works of gravitas, anchoring themes and ideas. Retrospective show: It's like summing up the whole contents of the human heart in one sonnet. "I love the gallery, the arena of representation. It's a commercial world, and morality is based generally around economics, and that's taking place in the art gallery," says Forbes-named famous-for-being-expensive
Jeff Koons
. This summer, Jeff's arena is the Whitney Museum of American Art. His retrospective runs until October 19th. Sincerely, Sara PS: "The solo show, while often a vexing experience, is nevertheless a catalyst that can bring out the best of what is currently in you. Shows help to define an artist." (
Robert Genn
) Esoterica: "It would be a very bad idea," wrote
Claude Monet
to his Paris dealer Paul Durand Ruel, "to exhibit even a small number of this new series, as the whole effect can only be achieved from an exhibition of the entire group." "There is a wonderful feeling when you walk into your own exhibition," said Dad. "You see the work as a true extension of yourself. Win or lose, your interests have led you to an accumulation of your personal expression, signed lower right, mounted to best advantage."
Jeff Koons: show-building arena
[fbcomments url="http://clicks.robertgenn.com/show-building.php"]
Featured Workshop: Mark Mehaffey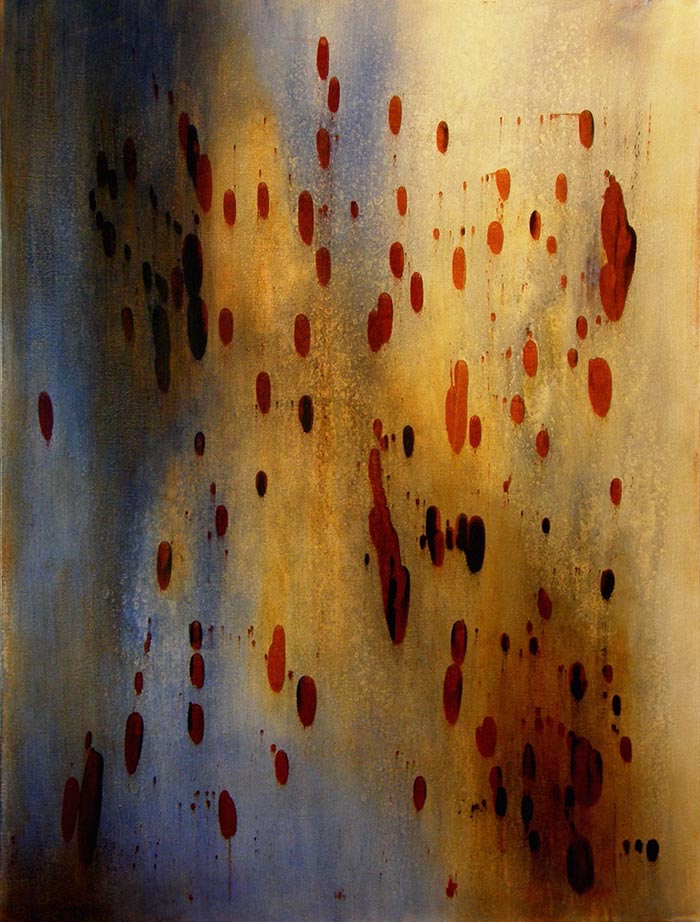 Quiescent

acrylic on canvas, 40 x 30 inches by Carolyn WarmSun, San Francisco, USA

You may be interested to know that artists from every state in the USA, every province in Canada, and at least 115 countries worldwide have visited these pages since January 1, 2013.