Dear Artist,
One of the fun things about Blackberry co-dependency is the ability to send and receive emails pretty well anywhere. Up here in the Rocky Mountains, however, the little darling is as mute as a dead gopher. Missing those soft vibrations of the pocket, I sent my unit with a day-tripping friend who was off the mountain overnight. The machine came back fully revived, her tiny cheeks bulging with fresh seeds.
Ed Abela of Markham, Ontario, asked, "Do you ever have the inclination to make pen and ink sketches on your travels? I find it a useful tool. A few felt pens in different sizes and a small sketchbook can reap rewards. The drawings can be developed into paintings once I'm back in my studio, but can also be left as stand-alone vignettes."
Thanks, Ed. No, I don't, not these days, and I'll tell you why. While I've no complaints with pen or pencil sketches, I prefer to cut directly to the chase. I suppose it's somewhat a commercial decision — my effort goes directly to an eventually more collectable item — but there are artistic considerations as well.
When they make a drawing, many painters find that while they may gain a deeper understanding of the subject, they also lose some of the impetus for more ambitious work. I find worthwhile subjects need to be caught and held in a final, definitive form during the initial wave of connectivity that takes place during that "wow" moment.
Further, the convention of line is much different from the convention of the painterly brush. One tends to be thin and delineatory, the other a juxtaposition of patches. Too much early attention to line can baffle the discovery of an effective pattern. Drawing can run interference on composition.
Also, you may have noted that many seasoned painters simply don't draw, perhaps because they've done so much of it that lines and forms are more or less projected where needed.
Looking back, I've been through all kinds of drawing phases. There's nothing like a beautifully rendered drawing. Many of the not-too-bad ones I did thirty years ago are still in dealer's drawers. Maybe someday I'll get them all back and put them into a book. Maybe that's a good place for them.
Best regards,
Robert
PS: "Drawing is not the same as form." (Edgar Degas)
Esoterica: It may come as some satisfaction to readers that most everybody disagrees with me. "Drawing is the basis of art," said Arshile Gorky. "A bad painter cannot draw. But one who draws well can always paint." And Robert Henri notes, "The sketch hunter moves through life as he finds it, not passing negligently the things he loves, but stopping to know them, and to note them down in the shorthand of his sketchbook." Also, Jean-Auguste-Dominique Ingres: "Drawing contains everything except the hue." And Sir William Orpen: "A painting well drawn is always well enough painted." But then, none of those guys were in love with Blackberries.

Edward Abela's sketches

Artists' customs
by Belinda Bather, UK

A friend subscribed me to your twice-weekly letters and I find it most interesting and often inspiring! With regard to today's letter, I must tell you that it is the custom of most artists here to always carry a sketch book of a convenient size plus pen, pencil etc and often a small paintbox and brush. When artists exhibit here in the West Country in the UK their sketch books often form the most important part of their exhibit. Some of them are fantastic I can tell you.
Teaching tools
by Michael Chesley Johnson, AZ, USA / NB, Canada

As an artist, I find I rarely draw or sketch as an end in itself these days. However, as an outdoor painting workshop instructor, I've found that carrying my sketchbook around with me helps liven up the dead moments when the students are off on their own, merrily painting and not in need of immediate attention. (I also use the sketchbook, of course, to illustrate points I want to make regarding composition and value if a student doesn't quite "get it.")

Joy of painting
by Hank Cecce, Corning, NY, USA

This article hits home with a few of us who can't really draw. I love painting, but have become dependent on using a projector or the grid method of putting a subject on to the canvas. For a long time I felt as if I were cheating and then decided that we are artists because it gives us joy. Whether it is in drawing, painting or just looking at others' work.
There are 2 comments for Joy of painting by Hank Cecce

Charcoal foundation
by Paul deMarrais, TN, USA

I am a pastel painter and do my rough-in drawing with vine charcoal. I love how this thin little stick feels in my hand and glides on my sanded board. While only a 'map' of where I am headed, the charcoal sketch tells me right away if the subject has the potential to yield a nice painting, or not. It shows me the shapes and patterns and more importantly the path the viewer's eye could take in the painting. If my focal point is confused, I am in big trouble. I force myself to spend not more than a minute or two on this sketch but it is a very important minute. With a strong foundation provided by the drawing, I can confidently plow ahead with pastel. All of us artists started with drawing so it is good to stay connected with this skill.

Sketches not for sale
by Jan Blencowe, Clinton, CT, USA

Whether or not sketches are beneficial to an artist at any given stage of his or her career is an interesting topic for discussion. But I have an entirely different reason for loving my sketchbook filled with pen and watercolor sketches. As an artist who sells both in galleries and from a blog and website, pretty much everything I create that passes muster is out there for the whole world to see and purchase, and quite honestly some of those paintings are hard to let go of. My sketchbook though is my own, and while I may share some of the sketches on my blog, they're not for sale; they are my own private collection that I will never have to part with. They are a very personal record of where I've been, and what I've seen and felt. They may or may not become the basis for a painting, and that doesn't even really matter to me. They are enormously fun to make and I treasure being able to page through sketchbooks from years past and remember the people, places and events recorded in the sketches.
There is 1 comment for Sketches not for sale by Jan Blencowe

Mapping out structure
by Theresa Bayer, Austin, TX, USA

My guess is that you'll get responses favoring both kinds of approaches — jumping right into a painting, or planning it out with a sketch. Each has its merits. I'm a firm believer in the preliminary sketch — old illustrator's habit. Furthermore if you use pencil or paint, it's possible to create sketches that are painterly and have more to do with value pattern than with line. If I go straight in to a painting without doing a preliminary sketch, I struggle with composition; whereas if I've planned my composition out in a sketch, the painting goes swimmingly. I also go back and make a second drawing if I get stuck in some part of the painting — this works especially well for portraying difficult parts of the figure, like hands. I get the structure mapped out and then it's far easier to go back and get it right when I resume painting.
There is 1 comment for Mapping out structure by Theresa Bayer

Sketching re-learned
by Kimberly Santini, Lake Orion, MI, USA

After several years of very little sketching (not sure if it was laziness that pushed me straight to the canvas or a desire to capture spontaneity), I set out one weekend with my pencils and sketchbook. I was surprised to learn that I no longer thought in terms of line but more so in terms of shape. While these shapes were easy to quickly capture with a variety of brushes, they were far more difficult to do with pencil. It would seem that I had progressed beyond mere value studies/sketches, and now my comfort zone was in blocking out shapes and establishing values directly with paint; an interesting dilemma for one camping in the woods with only a couple charcoal pencils and a warm kneaded eraser for entertainment. I re-learned how to sketch that weekend.

Working with light and color
by Dennis Marshall, Paterson, NJ, USA

For many years I have gone outside with just sketching pencils and/or colored pencils and a spiral bound 9×12 Strathmore 300 charcoal pad. I have found these drawing sessions to be some of my most rewarding and productive work sessions. Looking back through my collection of sketch books, I find myself remembering where I was that day. Being outside with just a few pencils I feel a direct immediacy with nature. The act of drawing has enabled me to build up a reservoir of images that are very helpful in the studio. I agree with you that there is a different visual experience that happens depending on whether one draws or paints outside. I think that it is important to experience both approaches. I usually draw outside but I can see from my plein air trips this year that working with paint outdoors is just as important. While I work with acrylics both in the studio and in the field, paint could also refer to dry media such as soft or oil pastels, colored pencils or markers. The key is working with color and how light affects color since drawing basically deals with value and composition.
A journal of ideas
by A. Robert Malcom, Tampa, FL, USA

I agree, and indeed, in most all of my years, have rarely done such sketching. Instead, there is a pile of papers with written notations, descriptions, ideas, etc., from which develop my renderings — my 'journal of ideas' (now about two feet high covering from the late '60s), the image described remains in my head, and it is from that I derive the final compositions and it has always worked for me. I must add, though, that it is good to see others having done much the same, as had always thought my way quite 'weird' for being an artist.
There is 1 comment for A journal of ideas by A. Robert Malcom

Problems with oils
by Carol Morrison, Oakville, NS, Canada

I am so glad to hear about another artist who does not draw! I have always been told that it is very valuable to sketch on a regular basis but, like you, feel no inclination to do so. I was also interested in the photographs you supplied in your last letter, where you were doing large plein-air paintings. I have always used oils, which seem to have more body and blend more easily than acrylics. However, they definitely cause problems for plein-air painting since, of course, they have to be brought back wet. I have had many interesting trips trying to get a painting back in one piece from one of my plein-air excursions up the banks of streams, through woods etc. I have attached an image of one such painting.
There is 1 comment for Problems with oils by Carol Morrison

Choosing your own path
by Angela Lynch, Toronto, ON, Canada

To draw or not to draw, that is the question. Actually, it is more "that is the choice." I for one sketch very loosely and minimally while people I know sketch to the point of being able to publish a book on the subject. They have beautiful images filled with crosshatching, strokes and curves. They know what they have to do before facing the easel. I on the other hand have a harder time with it. Took a drawing class once thinking it was the answer but was so bored, I dropped out. I think I'll stick with what works for me, throwing watery paint into the sketch at the day's end as these sometimes turn out better than the finished painting. Perhaps one day I'll change but I doubt it. Hats off to everyone who sketches loosely or detailed, or who don't sketch at all. The ability to choose your own path in painting is what it is all about.
There is 1 comment for Choosing your own path by Angela Lynch

Internal source material
by Cora Jane Glasser, New York City, NY, USA

Your points do not apply to abstract and non-objective art when source material is internal and not the sunset of the moment. The "location" can therefore be anywhere. Recently I was robbed (I thought) of a studio day, stuck at home with my foot up after a medical procedure. I grabbed a small moleskin book and a couple of the handiest markers and ended up with glorious hours of sketching — yes, forms and lines. These drawings and that theft-turned-gift triggered larger drawings done in the studio and an entire new series of paintings. With non-objective art even the sketch is not the object. The idea is not to copy and improve upon but to use as a reminder and as part of a process. Thanks for your reminder; another of those little books is coming with me on my long weekend vacation. I no longer feel that it will rob me of studio time.

False boundaries
by Mary Moquin, Sandwich, MA, USA

It is this kind of thought pattern that limited me in the past; the separation of drawing from painting. The belief that they are mutually exclusive from each other, that somehow a painting is better than a drawing, more complete, more sale-able. One of the biggest aha moments I have had in the last two years is how limiting this belief is. One doesn't have to search very far in contemporary art magazines to see that valid expression isn't limited to paint, in fact, believe it or not, it is perfectly okay to incorporate line and drawing into paintings! Why did this come as such a revelation to me? Why do we limit ourselves? True expression is not limited by materials. Drawing is a valid art form that is gaining attention beyond the idea of preliminary studies. Through drawing we can move from superficial knowledge of the subject matter to profound wonder. We can create art that moves beyond the predictable and the pedestrian. In order to create real art, we must remove the belief barriers we have created, we must set aside all these second hand rules and bear witness to our own direct encounter with the landscape with whatever tools and marks are required.
There are 4 comments for False boundaries by Mary Moquin

Initial drawing
by David Nielsen, Calgary, AB, Canada

My parents have long encouraged me in my pursuits as an artist. Yet every once in a while my Father, who is not short on opinions, will quip "Why don't you sketch more?" or "Shouldn't you sketch more?" It's funny, a comment like that can really get the hackles up, especially when it's a father to a son thing. I've tried to explain for years what you've summed up quite neatly. I think I will print your letter, or maybe forward it off to him. Perhaps I will allow your words to percolate in me, and meditate on the larger issue of sketching outdoors. After-all, with me and my work, every piece begins with a drawing.
I believe that the fate of my paintings lie in the first minutes. Underneath all of that pigment there lays a drawing. If my drawing isn't clicking, I'll be fighting the canvas until one of us comes out the other end. What I do is pretty simple: all of my canvases are tinted with a Venetian Red. When I arrive on site, and I have chosen my spot to paint; the first thing I do is sketch directly on the canvas with a white Conte stick. A few lines here and there, helps me organize my thoughts and prepare how I will approach this painting. This can be viewed on film. My website has a short film where I am clearly doing this. I began using conte, simply because I work in oils, and I do not want any sketching I have done with pigment to interfere with my final piece.
There is 1 comment for Initial drawing by David Nielsen

A valuable tool
by Mark A. Rue, FL, USA

I almost always agree with you. But as far as sketching on location goes I have to side with Ed Abela. Sketching is a very valuable tool. Why? Because it forces you to focus on the composition. The foundation of a successful painting is a good composition. Get the design wrong — then don't even think about picking up a brush. Now, you've probably been painting since before I was born. And as an impatient person I understand why you would "cut directly to the chase." You get it. You've been there. You know a good composition when you see one — whether it's roughed out in paint or done with a felt tip marker. But many of us don't have your level of experience, so a good sketch can be a very worthwhile exercise. Now, granted, drawings are not worth as much as paintings. Painting always trump sketches or drawing — just ask any gallery owner. But, they serve a very useful purpose. They have value.

No Drawing? Are you serious?
by Steve Atkinson

I often agree with you, but this time I believe you are dead wrong, and I'll explain why I think so. Unless I read you wrong, your argument against drawing is that you don't make any money at it. That you can just skip that step and go straight for the money shot. Listen, you couldn't have missed the boat more if you tried. There are so many reasons to take the time to draw, and not all of them have to do with the almighty dollar. But, in the end, you will be a more successful artist, and therefore make more money! And just so you don't get me wrong, I'm a capitalist through and through. Though I'm a fine artist and painting full time now, I was an illustrator for 25 years before I made the switch. Here are just a few of the reasons I try to draw every day:
1) Drawing is the best way to train your eye. The more a person draws, the better their perception will be with spacial relationships. Positive/Negative shapes. Values. Composition. You can't correct something if you can't see where you've gone wrong. There is nothing better to train our eyes to see spacial relationships than drawing.
2) It forces you to see things differently. Thumbnails are an excellent way to explore a subject to quickly see if something is worth your time to paint. I've saved myself countless wasted hours on plein air paintings, by taking 5 minutes before I jump in and paint, to do 3 to 5 thumbnails. Often it keeps me from painting the same scene everyone else would, since after doing the first thumbnail (that one's usually the ordinary one), I'm forced to be more creative. I try verticals, horizontals, squares, and other compositional elements suggested in Edgar Payne's wonderful book, Composition of Outdoor Painting.
4) Drawings can sell. I admit, there is not a great market for drawings. But they can sell. Robert Shoefelt has proven that. As long as they are very good, presented professionally, and priced accordingly.
3) Sometimes you just don't have the opportunity. I don't always have my paintbox with me. Or would rather not carry it on a hike up the side of a mountain, when I'm out on a stroll. But I can carry my small sketchbook and jot down a quick impression of the scene. Even when I have my camera with me, I still can do a sketch, moving mountains or trees with the stroke of my pencil. God doesn't always give us the perfect subject, or I should say, almost never gives us the perfect subject.
5) It keeps me from being day old bread. One of the most important reasons to draw, is that it keeps me from becoming stale. I'm the kind of artist who needs to change things up and always push myself to be better. I find that I have a new perspective on things when I come back to painting, after having done a drawing. Every painting isn't successful, of course. That's just not how it works, at least for me. Some are just better than others. Drawing keeps me fresh, and my paintings fresh.
6) It's like a deep massage. Aside from all the other benefits I get from drawing, it keeps me invigorated. Once you get over the "drawing is hard work" syndrome, drawing becomes more and more fun. And when it's working, it's magic. There is nothing more basic to this artist's identity than a good free flowing sketch. You don't have to labor over them. You can spend as much or as little time on them as you would like.
Well, that's about it for now. I hope I've been able to sway your opinion at least a little. When young or aspiring artists ask me how they can become more successful, I always tell them the same thing. Draw, Draw, Draw. There is nothing like it to train your eye to see. If you don't believe me, then listen to what Sergei Bongart had to say on the matter.
"Never become an artist if you can't learn to draw." (Sergei Bongart)
There are 5 comments for No Drawing? Are you serious? by Steve Atkinson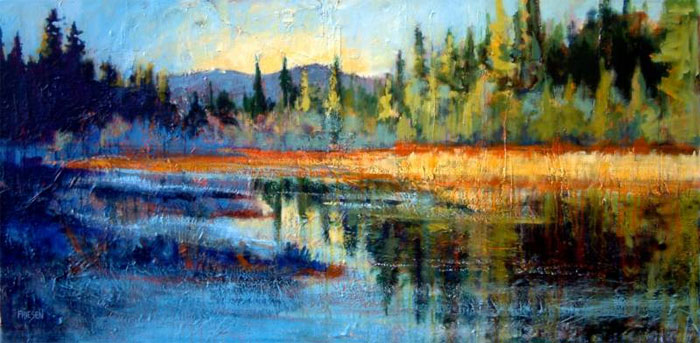 Dissolution
acrylic painting, 30 x 60 inches
by Holly Friesen, Quebec, Canada
You may be interested to know that artists from every state in the USA, every province in Canada, and at least 115 countries worldwide have visited these pages since January 1, 2013.
That includes Victoria Zalatoris of Springbrook, WI, USA, who wrote, "I couldn't agree with you more. My favorite sketch media is my camera. I hate to draw. It's the process of painting that turns me on."

Archived Comments
Enjoy the past comments below for Sketches on location…
No Featured Workshop
No Featured Workshop