Dear Artist,
Last Thursday night I opened an exhibition in our local Museum. It's a non-selling retrospective called Small Stuff, — a collection of smaller paintings, mostly 11″ x 14″ inches, old and new, that will remain on display for three months. I've never done anything quite like it before, and now that it's up and running and people are coming through, I don't think it's such a bad idea.
A modest little show in a modest room, of no consistent theme, it nevertheless has a few twists. The paintings are all framed identically — an austere and simple pewter-finished wood. They're connected to the walls with security hangers that were so tricky to install we had to have outside "preparators" do it. Last week I didn't know what preparators were, but now I know they're needed. The two guys cost $90.00 per hour. The 36 paintings are hung in a perfect row, not too tight, but not sparsely either. Each painting has a tab hanging from it with the title, the year painted, and approximately 100 words.
I wrote the info myself. Apart from briefly telling when, why, where and how, I tried to add a shot of anecdotal input, humour, personal stuff, philosophic points, or in some way tried to get the visitors to think about things. I got in my bit about ecology, and made a point or two about the struggles and joys of outdoor work. I consciously avoided being arty or pretentious. Today I surreptitiously slipped into the space for a minute and was surprised to find people slowly working their way clockwise around the walls and appearing to read darned near everything I'd written. Perhaps the secret is that a 100-word note is not too long and daunting, nor is it too short and likely to be trite. I've never believed in explaining things — I think paintings should talk for themselves — so this was a departure for me.
A month from now I'll be giving an "Artist's Talk." There may be feedback for you at that time. In the meantime, as in the postlude of all openings, I feel like a giant weight has been lifted from the top of my head, and, like everybody else, I can now crawl back into my sanctuary and re-boot the circular process of dream, think, prime, commit, contemplate and dream again.
Best regards,
Robert
PS: "Every artist should be an exhibitionist." (Egbert Oudendag 1914-1998)
Esoterica: We assembled the show from the collections of friends and added a few unsold from galleries. To these we added some more recent paintings, one of which just happened to be painted the previous day. While a few may be above average, I have the sinking feeling that the better ones have been left out. One of the downsides of regular sales is that you lose track of personal favorites. Like the philatelist who has a stamp shop, if you're not careful there's nothing left for the personal albums. On the other hand, this should be a no-pressure show. It was very nice to say to people, "Nothing here is for sale."
Small stuff
Support system at the White Rock Museum and Archives Left to right: James Genn, Tamara Taggart, Executive Director Meagan Kus, Carol Genn, David Genn, Robert Genn, Mayor Judy Forster, and Curator Lindsay Thompson. The non-clapping individual in the middle is Stanley. Photo by Glen Browning
Sara and I each painted 24 small paintings on our trip down the Mackenzie River. The specially built flat-bottomed boat and floating studio, Alexander Mackenzie, has this cockpit in the bow where one can comfortably paint. Sometimes Sara ran the boat while I sat up front, other times it was her turn to paint. Often we just bumped along the shore and did what we could with the interminable pines. Funnily, in a vast place like this you tend to look for anything different—a lone tarpaulin-teepee, an unusual rock formation, a precious islet. On many days it was the sky that held our interest.
Bert was my good friend. He worked alla-prima on grey-primed Masonite panels with a very limited palette. Much of his work was done on location. Moving to Canada from Holland in 1952, he eventually found his way to White Rock. Bert had strong opinions on art, politics, religion, life, women and human nature. He did not suffer fools. Bert gave me some of the best advice I ever received. One day when I was complaining that I couldn't draw or paint, he looked me straight in the eye and said, "Robert– you are an ass."
I received a commission for a large painting that was to be of a historical view of Victoria's inner harbour. This was one of the sketches for that painting. Working from photos from the Provincial Archives, I realized once more the value of working from black and white reference. Local colours can only be guessed and you soon find them secondary to tone values. I frequently run colour-photo reference through the black and white photo copier to see how they work. Colour, in my opinion, ought to be arbitrary. The now ubiquitous digital revolution is for the painter a great and promising slave as well as a dangerous and problematic master.
In our family we have a tradition of moving slowly through a landscape. In the car we call it "mosey driving," in a boat it's called "drifting." Silently and gently, Nature discloses herself in a passing diorama. I look for timeless design and counterpoint beauty. Here, along the shore of Treaty Island at the western end of Lake of the Woods, there was an abundance of these opportunities. In the off-season — late Fall and just before freeze-up — there are no water-skiers to rock the boat. To paint is to collect and to collect is to honour. As Robert Louis Stevenson said, "The world is so full of a number of things, that I'm sure we should all be as happy as kings."
North Africa is a painter's paradise. Subject matter is at every turn. There was enough reference in Tunisia to keep me going for several years. In Morocco I managed to plunk myself down in the same spot that Winston Churchill had painted in 1938. It was a view of a pathway and a small mosque on the grounds of the Mamounia Hotel in Marrakech. I had a big Cuban cigar in my paintbox that day too, and during the afternoon I sucked it up. People strolled by and said hello in several languages. At times like this, alone and yet not alone, I feel an overwhelming sense of history and I'm very much thankful for the private creative act.
I watched this Capuchin Monkey in a private zoo in Costa Rica for some time. Chained to a narrow radius with a barrel for a home and not interested in its food, it seemed in a state of extreme anxiety and depression. When I moved away, it screamed at me to come back. When I drew very close, it was relatively quiet and appeared to be reasoning with me. Its eyes were sometimes pleading, sometimes coquettish, but most often sad and dejected. I figured it was trying to get me to present its case to some sort of World Court for the Welfare of Animals. Freedom, however imperfect, is still superior to confinement.

Understanding gallery dynamics
by Richard Rabkin, New York, NY, USA

I'm not so sure that text accompanying art is a good idea. People are drawn to text and spend time reading it, but still spend, I understand, about 8 seconds looking at the art. So your positive reaction to people reading everything you wrote, while clearly having some merit, makes me wonder if the reading made the reader glance up at the art a few more times or whether they still just did the quick look thing. I see this 8 second look often at the Frick Collection here in New York. At the Guggenheim's show of Spanish artists, the text was separated from the art. The art was in the middle of an alcove and the text was at the side, often hard to find.
(RG note) Thanks, Richard. The dynamics and timelines of how people look at works in galleries have always been of interest to me, too. It varies a lot with the type of visitor's school children with teachers operate differently than lawyers on lunch-break, to say nothing of how painters and other creators act in galleries. But you're right… about eight to ten seconds is standard for many public gallery goers. Audio guides — those instruments that have people walking around like zombies — when well prepared, really slow people down and have proven to be a great aid to both the ignorant and the informed.

Need for more information
by Terry Thornton, Fulton, MI, USA

Wouldn't you like to have a chance to explain to the law enforcement person that you were speeding because you had to go to the bathroom? Or should your actions be explanation enough? Of course I would read every word you wrote about your paintings — once I looked at the painting and formed an instant evaluation of it based upon all that I bring to the looking, it would be nice to read your words that might explain what you brought to the placing of paint on the canvas. I always wish for more information from the creator when viewing works I admire and respect.

People want to know the story
by Jean Bradley, Kauai, HI, USA

My husband and I are both professional working artists and this 100 words letter is very appropriate to what we have been discussing in the past few weeks. There is a story behind artwork that people want to know. Several of our collectors want to know the inspiration behind the art. Rik Phillips sees a curled wood shaving on the studio floor and creates a whole fabricated metal piece from that small seemingly insignificant item. The collector wanted the wood shaving when she heard the story. I, on the other hand, will see some wonderful expression plus a great light and shadow display on a person's face. Next thing you know I have a painting that reflects what I saw around and in that person. We all have our inspirations and that is our story. Thanks for the confirmation.

Type of small stuff fundraiser
by Don Getz, Salem, OH, USA

I was on the Monterey Peninsula in northern California this past November, teaching a watercolor journaling workshop when one of the participants invited my group to the opening of a miniature works exhibit/fundraiser at the Monterey Museum. There was an eclectic variety of small (up to 8 x 10 inch) works in a variety of media, almost all of exceptional quality. All had been donated by the artists to raise funds for the museum. In the manner that many western galleries use when selling works, there was a box under each work where you could insert your bid for the winning draw. Each 'vote' cost $5 and I ended up spending $30 on coupons. The show ended January 1st and I guess that I didn't win anything, but it certainly was fun trying! Each year, the museum raises substantial funds with this show. Although the donating artists received none of the funds, they certainly reaped a great deal of excellent publicity.

Bigger not necessarily better
by Manuel E. De Leon, Tucson, AZ, USA

Small paintings can and do have as much aesthetic creativity as large paintings. So often the artist feeds his own ego in the false belief that massiveness augments quality. Size does attract attention, which can sometimes be detrimental to the success of the composition.
Looking at the massive 10 x 15 foot canvases at the Los Angeles Art Museum, I often wondered, WHY? In my struggle I realized that "bigger" is not related to "better." The Rubens' studio in Antwerp put out massive canvases, commissioned by churches throughout Europe, that were to sell Christianity to the masses. He had 52 assistants to do the job. The size was not related to the quality.
(RG note) Thanks, Manuel. "If you can't paint good, paint big." We're going to send a free Painter's Keys book to the first person who tells us the author of that quote. No one can think of it here.

Words draw in viewers
by Jan Ross, Kennesaw, GA, USA

Our local museum, as well as the Georgia Watercolor Society, includes a brief statement, written by the artist, about their inspiration for the piece on display, which is hung below the work. Most recently, I had a representational painting entitled, Baggage Claim, featuring a young mother with a child on her hip, both looking forward, quite intently. I explained how I saw this scene at the airport carousel and the mother told the child to look for a 'black bag.' Of course, the child was non-stop saying, "Is it that one? Is it that one? Is it that one?" So many mothers visiting the show told me they loved the comment and could relate even more to the scene. So while the picture was worth a thousand words, the words also helped draw in the viewers.

Words lead to half page article
by Mary E Whitehill, Newburgh, NY, USA

For the very first exhibit I held many years ago, I typed the titles on 3″ x 5″ cards and added explanations of how and why I had painted the subject. I was anxious to educate all the public about all the exciting things I had discovered about watercolors. I was amazed that a news reporter was so impressed with the comments that he gave me a half page article and photographs.

Small works less intimidating
by Raymond H. Lindsay, Sidney, BC, Canada

People are attracted to small formats, maybe, like us, because they have space limitations and want to include more artists in their collections, or maybe because they have budget limitations. But also I think some people may at first feel less intimidated by smaller works and then over time begin to appreciate the artistry and complexity that the artist is able to create in small gems!

Hidden layers of meaning
by Myra Mandel, Moshav Hemed, Israel

On the one hand a painting must have a visual statement of its own to make which needs no explanation. However, the same painting can have additional layers of hidden meaning and symbolism that the casual viewer might not be able to discern until it is revealed to him by the artist. In my paintings I include such "hidden" layers of meaning in order to add a dimension beyond the physical — instead of being "just" a pretty, 2-dimensional picture, it represents a spiritual idea.

Really small stuff
by Jim Clark, Ann Arbor, MI, USA

I have been a miniature potter for over thirty years, a watercolorist since 1998, and started painting watercolor miniatures about three years ago. When you said small stuff, I got my hopes up. It's a kick painting something that is 1 1/2 inches by 1 inch in size, and, per square inch, brings in ten times what I get for a full sheet painting. The hard part is finding frames and developing your fingers to the size of a kielbasa so that photos look more impressive.

No title or explanation
by Lilian Valladares, Belgium, Switzerland

My last exhibition was placed at the Academy of Fine Arts of Kinshasa, RDC last September. Among a heavy political crisis, bombs and gunfire passing through the air, heavy UN tanks filled with men armed to their teeth at every corner in town, this expo was a doughtily execution of cultural armament against violence and war. Just two days before the expo, I decided not to give explanations on the subjects painted. Twelve large canvases 100 x 140 and two 200 x 180 oil on canvas panels. Not one single title or explanation was given to the paintings; the idea was to get from the visitors the most outspoken impressions they could give me in return. After 15 days of show, 550 people got into the tiny gallery from the art school, most of them young people from 15 to 35 years old, all Africans. The Europeans and Americans visiting the expo were mostly working for International institutions, Embassies or Consular representations in the Congo. Young as these people were, they frankly expressed the most tragic related impressions, living under war and poverty since their birth, never knowing any other status quo in their lives. The older they were, the more hope and desire of change were manifestly uttered. My paintings made them call out for peace, and discuss politics and freedom.

Admitting second rate work
by Curtis Long, Austin, TX, USA

I'm surprised that you have the nerve to write, "While a few may be above average, I have the sinking feeling that the better ones have been left out." Doesn't that statement imply to the owners of the pieces in this show that the work they chose (and own) is not your best? While I've often wanted to express such candor about my work, I've always feared insulting a friend or collector by saying anything negative about one of my originals–no matter how I may feel about it personally.
(RG note) Thanks, Curtis. I hear ya. My collector friends actually fight with me over my self-depreciation. They go around saying things like, "Genn doesn't think so, but I've got the only good ones he ever painted." It seems to me there's honesty in humility at the feet of the Great Goddess Art. Also (he said slyly), I've noticed that it works for others, too.

How to live
by Reba Wauford, Nashville, TN, USA

'Small stuff' seems like an excellent idea. I understand the unrelenting focus and how great you feel to crawl back into your sanctuary. You will relate to how I feel so very often teaching art daily to a crowd of middle school students. As much as I give to daily work, I am unable to carve out enough time for myself. Art is on the back burner and creative writing is the forefront of my personal time. I am happy with writing because it aligns me and "cleans the cobwebs out inside." I truly miss creating and am sure that my personal style is that much stronger for the sabbatical. One day, I will get to resume but need to do it now in this new year of 2007. The one thing I am sure of is that the identity of me is ART whether it be in writing or painting. I am solitarily artistic, creative, and loyal to my passion. I tell my students often, the gifts given are many. I live my passion with the greatest gift of all, teaching others. There is a time for everything and following your destiny is how to live.

So little time, so many nudes
by Malcolm Tuffnell, Santa Barbara, CA, USA

I paint the nude and semi-nude figure. Figures don't sell as well as landscapes, but I love the female figure. It is a great challenge to capture all the nuances of the figure, the anatomy, the way light falls, etc. I have been lucky to have some beautiful, curvy but not perfect (i.e. boring) models. I become immersed in the process of decisions and interactions with the paint. My creative time, since it is so short, becomes more precious than gold and I am forced to make quicker decisions than before and to focus harder without distractions. Then it is time to leave, and I feel sad and I yearn for the next time. Fortunately, my art association is going to hire a bookkeeper. More time to paint!

Big decision
by Corrie Scott, Hastings, Christ Church, Barbados

Reading the quotes from Rainer Maria Rilke so cleared my artist's brain from a big decision to take up an offer from a partner, who shares the running of a gallery with me, to take it over entirely. It would be a wonderful opportunity, but I am an artist first, a gallery curator second. This last year has seen me as a curator first. To take the gallery over entirely would so add to my workload that I would never get to my studio to paint. To paint and photograph is the reason I live. Reading your Rilke made me realize I need to be true to myself and that money is not my god. I will go back full time to my creativity. I will live a simpler life and be clearer, and more creative.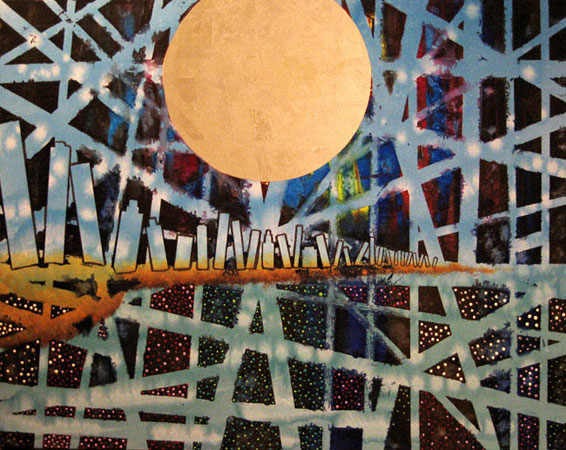 Who's telling the story
oil painting
by Mike Center, Beverly Hills, CA, USA
You may be interested to know that artists from every state in the USA, every province in Canada, and at least 115 countries worldwide have visited these pages since January 1, 2013.
That includes Peter Berndt of MD, USA who wrote, "In the last clickback you mentioned burning work in your fireplace. Drawings could certainly be burnt in the fireplace but I would be concerned about burning paintings. Would you really want to have cadmiums, leads and other heavy metals float about in your living room as paintings go up in smoke?"
And also Odette Nicholson of Saskatoon, SK, Canada who wrote, "Even from the URL photo I was too distracted by your write-ups. As you said, paintings should stand alone. A journal style booklet or exhibition catalogue is a better place to compile background information."
And also Kelly Borsheim of Florence, Italy who wrote, "I found it interesting that you mentioned people moved around the room clockwise. I thought most people start by moving to their right and circling around to the left."
(RG note) Thanks, Kelly. A lot of it has to do with the shape of the room and what's going on when you walk in. If people happen to get started moving in one direction… the flow often goes that way. This particular room may lend itself to a clockwise flow.
And also Ruth Hynds who wrote, "Those 'small' pieces don't look as small as I had hoped. How about really small? – miniatures. Then you could cut the words down to 50, or 25, or maybe just a quote?"
And also Nancy Bea Miller of Philadelphia, PA, USA who wrote, "I love that you have some of your writing along with the paintings, not explanations but little expositions relating to them. Humans are story-tellers and story-listeners by nature."
And also Sylviane Le Cann of Paris, France who wrote, "I print your letters for reading while on the Paris Metro, it helps me to improve my English."
And also Anna West who wrote, "When you are helping artists, how do you know who to support and who is just wasting your time?"
And also Bernard Victor of the UK who wrote, "It was interesting to see what Robert Genn actually looks like."
No Featured Workshop
No Featured Workshop