Dear Artist,
Subscriber Lynda Pogue wrote, "Can you advise me please? I'm mad about Gerhard Richter. How does he mount the canvas to the wall so it doesn't move when he paints?" She includes a video of Richter dragging a homemade squeegee over a large wall-mounted painting. The act requires a bit of force, but his pressure is methodical and even. To give you an idea, have a look at Richter's video.
Thanks, Lynda. You'll need screws, a long ruler and a level. Put the screws into your wall securely (use plastic anchors if you need to), lining them up in a row along the top of where the canvas will be. The idea is the canvas support has a lot of fixed points to hang from. They need to be the right distance apart to not interfere with cross bars, and not so long they poke into the canvas from behind. The more screws, the more secure it's all going to be. A little trial and error should get you a row that works for a variety of sizes and weights. This system's also good for working on wood, mounted on a stretcher support — in fact the heavier the support, the less movement you'll have.
Working on the wall instead of an easel has benefits, such as saving space and allowing large work to stay in place. And if you have lots of wall, you can work on more than one piece at a time. A variation is mounting a flat easel to the wall so the painting can be moved up and down for height. I once knew a painter who built a moving cage for working on the floor. She hovered over her canvas and was able to move around the painting without her body touching it. My personal system for large canvases is to use a heavy floor easel and tie off the stretcher bar from behind with a bit of wire. This simple thing stops the whole wet painting from falling on me mid-stroke. For the largest work, you can use two easels side by side, or just lean it against the wall and let the painting tower over you. The support is heavy enough to not move, and you get to play the humble servant to her mighty grace.
Sincerely,
Sara
PS: "With a brush you have control. The paint goes on the brush and you make the mark. From experience you know exactly what will happen. With the squeegee you lose control." (Gerhard Richter)
"The true method of knowledge is experiment." (William Blake)
Esoterica: An artist develops his or her own system for working by working. Trial and error in your studio will determine the method that fits you best for the places you're going. Your easel, your supports and your painting instruments are yours to fine tune over a lifetime of experimentation and play. I tie off my large canvases because the hack works well enough for my needs, as needs arise. What are yours?
[fbcomments url="http://clicks.robertgenn.com/studio-hack.php"]
Featured Workshop: Bruce Stebner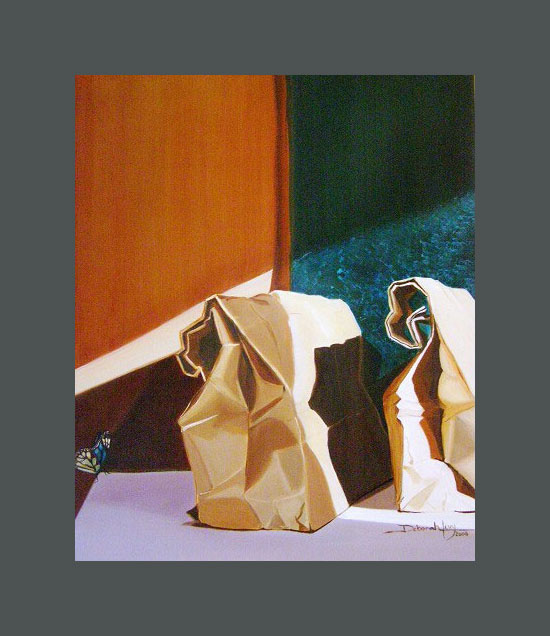 Soul between Brown Bags
oil painting on canvas
Deborah Levy, Highwood, Illinois, USA
No Featured Workshop
No Featured Workshop