Dear Artist,
Painters paint, writers write, and sculptors make a lot of chips. No matter what our disciplines, these are the facts of successful creativity. Today I'd like to go a little deeper into the "doing" part of what we do. It's about the basic unit of our work.
The "art unit" is a piece of art, finished and signed. It's the best you can do today. It isn't the motif, the stroke or the passage. It isn't the word, the phrase, the idea, or the plot — it's the job. Without the whole art unit there's only play. Play's okay for its own sake, but it's most valuable to score. Scoring renews creativity — it resets the muse-clock. Art units ideally spring from desire — like a child much wanted and anticipated. But not always. Creative birthing is a slippery business. You have to know that I've got a few ideas that you might find useful:
Prime your pump with a steady march of reference. Three or four ideas or motifs in line are about right for most creators. Motifs take time to germinate so you need a sub-plot of regular planting. Be prepared to fertilize at any time — even when your studio is dark. When coming into your zone the operative words are "exercise" and "process." Even before Yoga or Pilates you need to limber up with squeezed paint. The machines of your exercise are the work easel and the study easel. Move around a lot. Cross pollinate. Reconsider. Finish. Sign. Your process is precious.
Over the past year it seems that dozens of artists have written something like, "I don't have a lot of time so what's your all-time best tip?" My answers varied depending on how I was feeling and what I was up to, but here, I think, are a few of the best:
Be your own best coach — and follow her advice.
Keep busy while waiting for something to happen.
Let yourself fall in love with your processes.
Process wild dreams quickly and efficiently.
Teach yourself to think several things at once.
Treasure your idiosyncrasies and foibles.
Finish that one — then get on with the next.
Know that to begin is often better than to think.
Trust your quick muse and your snap decisions.
Never leave your easel empty.
Best regards,
Robert
PS: "It is one thing to reject the coaching of others — that can certainly be wise. But to reject your own counsel? That has to be very close to cowardice." (Eric Maisel)
Esoterica: The art unit is something you can live in. It's private, unique, and it's you. It's both your love and your ego made visible. It may seem as if you are producing a commodity, but it's actually a creative tool. By finishing, you harvest and clear the ground for your next. The art unit makes it possible to continue your life. Among my all-time best tips is the one I call MAD. It means "Make A Delivery." Deliver your art unit.
This letter was originally published as "The art unit" on February 18, 2005.
The Letters: Vol. 1 and 2, narrated by Dave Genn, are now available for download on Amazon, here. Proceeds of sales contribute to the production of The Painter's Keys.
"Work on the right things at the right time for the right reasons." (Peter Bray)
Featured Workshop
April 25, 2018 to May 5, 2018
Relax, explore, paint and shop! Join Victoria wildlife artist, Richard Wong on a privately hosted Pacific Coastal Cruise from Vancouver, BC.  And experience the magic of watercolour on Japanese art paper.  Richard, a full-time professional painter, will guide you on a wildlife themed journey onboard the eloquent Star Princess.  You will learn how to create vibrant, attractive watercolour images from a unique blend of Asian and Western ways of making art.  Stops include Los Angeles, Santa Barbara, Monterey and San Francisco.
Richard organized this west coast trip to include everyone:  friends and families, painters and non-painters; in partnership with Expedia CruiseShipCenters (Victoria, BC office only, Tracey Ball, (250) 381-7447/toll free 1-800-668-8122).  Choose from two options: "Paint & Cruise" (from $1,820 CAD/double occupancy/interior, includes all taxes, port fees, and 4 two hour classes with art supplies); OR "Cruise Only" (from $1,670 CAD/double occupancy/interior, includes all taxes, port fees).
You can learn more about Richard through his website:  http://richardwongwatercolors.ca
Contacts:  either Richard Wong or Tracey Ball per the above.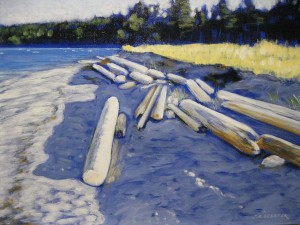 The late afternoon sun on the tip of Savary Island's Indian Point highlights the design elements of the logs and the summer surroundings of the island.
Featured Artist
My enjoyment in representing the beauty of our world with strong design and bold colours is what drives my passion for my landscape painting of Savary Island and other parts of our amazing planet.