Dear Artist,
One of my earliest memories is of seeing a small, domino-shaped tile amongst hundreds of items leaning on a long shelf above the workbench that stretched the length of my dad's studio. On it was written, "Creative hands are rarely tidy." It was the cherry on the sundae of permission — the sundae being a life in art and a messy space devoted to it.
By the time I'd left home at 18 and art school at 22, I'd already destroyed a few linoleum floors and filled a converted boatshed with fits and starts. When my next workspace was a picnic blanket and the lid of a Coleman cooler, I realized that it might be possible to make perfectly good progress somewhere between studio abundance and the vagabond freedom of stufflessness. Looking around the local Walmart today, I'm pretty sure we've reached "peak stuff," which, as a producer of stuff, invites the personal question, "Is it the end of stuff?"
This week, I am again forgoing a New York January to squat at my Dad's easel on the West Coast. Having grown accustomed to my intermittent comings and goings, like an old sloop, she creaks into seaworthiness when I flip the studio breakers, take the chill off and check her seams. "You'll use this space when and for however long you can," my dad told me. "Make it your own."
Between paintings, I tend to my other calling here — processing a lifetime's accumulation of objects that represent tens of thousands of hours of art making: a million almost-completely-squeezed-out tubes, an hourglass, the primary wing feather of a Golden Eagle. Breaking down canvases sketched with ancient, abandoned beginnings, I remember that this is how you get good. "Thank-you for your service," I say to his and mine, now slashed with a box-cutter and folded into the bin. Through the window and beyond where the herons nest, the rain-soaked estuary winks with the silver ripples of the recently airborne. "You need a room with no view so imagination can meet memory in the dark." (Annie Dillard)
Sincerely,
Sara
PS: "I don't really have studios. I wander around people's attics, out in fields, in cellars, anyplace I find that invites me." (Andrew Wyeth)
Esoterica: Whether you're a packrat or a monk, your creation station need only reflect today's creative requirements. "As far as outdoor work is concerned, a studio is only a garage; a place in which to store pictures and repair them, never a place in which to paint them," said Joaquin Sorolla. "I believe in deeply ordered chaos," said Francis Bacon. "I hate studio. For me, studio is a trap to overproduce and repeat yourself. It is a habit that leads to art pollution," said Marina Abramovic. You may prefer some stuff around you in order to get to work, or perhaps you need only to quiet the space within. "Today I drifted with Camille on the Seine at Argenteuil," wrote Claude Monet of his floating studio. "The views materialized and dissolved and I was as contented as a cow in her stall."
Download the new audio book, The Letters: Vol. 1 and 2, narrated by Dave Genn, here. Proceeds of sales contribute to the production of The Painter's Keys.
"To have a sacred place is an absolute necessity for anybody today. You must have a room or a certain hour of the day or so, where you do not know who your friends are, you don't know what you owe anybody or what they owe you. This is a place where you can simply experience and bring forth what you are and what you might be." (Joseph Campbell)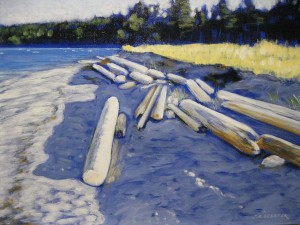 The late afternoon sun on the tip of Savary Island's Indian Point highlights the design elements of the logs and the summer surroundings of the island.
Featured Artist
My enjoyment in representing the beauty of our world with strong design and bold colours is what drives my passion for my landscape painting of Savary Island and other parts of our amazing planet.