Dear Artist,
As a five-year-old who loved drawing and painting, Caroll Spinney discovered puppets after seeing a performance of The Three Little Kittens. When he was eight, he bought a monkey puppet at a rummage sale for 5 cents, collected some scrap wood and built a puppet theatre. He made 32 cents from his first show. "That's when I knew I would be a puppeteer when I grew up."
The kids at school made fun of Caroll for his name and for playing with "dolls" instead of at team sports. He kept to himself and tried to stay out of the way of his ill-tempered dad, while his mom quietly delighted in his performances and gave him a gift of a Punch and Judy theatre. "She didn't realize she was giving me my career."
As a means of escaping his father's bad temper, Caroll joined the Air Force after high school, moved overseas and drew a comic strip. At 23, he returned to the States and worked as a puppeteer in Las Vegas and on early television shows. In 1962, Caroll was performing at a puppeteering festival when another puppeteer named Jim Henson asked him if he would like to "talk about the Muppets." At the time, Caroll didn't understand that Jim was offering him a job. Seven years later at a show in Utah, Caroll had a mishap with a spotlight which was ruining his animated backgrounds and forced him to stop his performance. Backstage and distraught, he was approached by Jim Henson again, who praised him for what he was trying to do. By the end of the year, Caroll had moved to New York to work on Jim's new experimental children's television project called Sesame Street.
In an 8-foot, 2-inch tall, full-body suit of footed pants and 5,961 yellow feathers (as counted by the Count), with only a playback monitor strapped to his chest to see and a script taped to where he could read it, Caroll, with his right hand extended above his head and with a ring on his pinky finger, worked the eyes of his new alter ego while opening and closing the beak. At the same time, his other hand worked the left hand, moving the right hand with a counterweight. The other muppeteers crouched and played off one another, working in pairs and able to focus on timing and facial expressions with a second muppeteer working the muppet's hands. Caroll went it alone in his yellow-tinted world, channelling his 6-year-old self to embody a giant, alphabet-learning, feelings-discovering, friendship-making, singular, anthropomorphic canary named Big Bird.
Sincerely,
Sara
PS: "Show your true colors. Mine is yellow." (Big Bird, Caroll Spinney)
Esoterica: In Sesame Street's inaugural year, Caroll struggled to discover Big Bird's voice and adjust to his physical and technical demands. (He performs everything alone and in the opposite direction, including dancing, rollerskating and unicycling.) While on his way to Jim Henson's office to quit, Caroll was stopped by Big Bird's costume builder, Kermit Love. "You will never have this opportunity again. Give it another month," said Kermit. Forty-eight years later, Caroll Spinney, at 83, is still the principal muppeteer for Big Bird and Oscar the Grouch. Big Bird has travelled the world, sang with orchestras, won gold records, Grammys and Emmys and a star on the Walk of Fame, all while daily guiding youngsters through their childhoods by way of Sesame Street. "I know I don't own Big Bird, but I own his soul, I feel." (Caroll Spinney)
You can see the 2014 documentary, "I Am Big Bird" here.
Download the new audio book, The Letters: Vol. 1 and 2, narrated by Dave Genn, here. Proceeds of sales contribute to the production of The Painter's Keys.
"I see no reason to quit. I can't imagine walking away from being Big Bird. I mean, that's an awfully good job that there's not too many of them. So I just want to keep doing it till I can't do it anymore." (Caroll Spinney)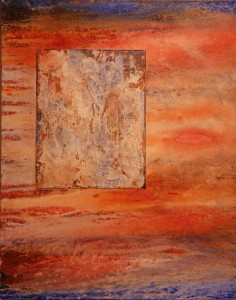 Transition
Featured Artist
Painting is my passion and joy.  My process is intuitive, though informed by good composition and design principles.  I paint what I remember, or think about, or feel, or just what comes off my hands to the brush to the canvas.  Texture and color are of primary importance to me.  I typically choose my support, texture it, select my palette, and go.  There is nothing more satisfying to me than watching paint run and move.  I love the surprises. I experiment and learn constantly.  It is a remarkable journey.  One I am pleased to share with you.