Dear Artist,
The Mozart Effect by Don Campbell makes some startling claims. By listening to Mozart you might just turn out to be more creative, productive and healthier.
This book is full of scientific studies and lots of anecdotal evidence. For example, premature triplets were separately incubated; one was fed Mozart, one silence, and one Rock. Guess what? The Mozart-fed kid gained weight faster, didn't fuss, was smarter, and did more with his life. That sort of thing.
Why Mozart? Campbell claims that Mozart, above all others, was "in utero" already a composer. His dad practiced the fiddle nearby while his pregnant mom sang lullabies and hummed a lot. According to Campbell, Mozart's music also mimics the gurgles and beats that the essentially underwater fetus hears.
The result is a mantra of creative security and a feeling of well-being. Mozart grew up able to compose several concertos at once. The author goes on to show that the Mozart effect can be used to good results with arthritis, autism, burns, cancer, depression, grief, headaches, hypertension, substance abuse, trauma, etc.
If you feel like it, there are three things you might try: A constant low level of Mozart in the workspace for several days, sporadic motivational blasts, and specific symphonies or concertos by headset tailored to high-energy work periods. For the latter I chose a CD of Eine Kleine Nachtmusik, K525, Serenade in G (St. Martin-in-the-Fields version). Campbell recommends this one for those with Attention Deficit Disorder. It's 17 minutes long. I took breaks for rethinking when the music ended and replayed the piece four times to the completion of a 12 x 16. In the end I was a human tuning-fork. I'll tell you about my painting later.
Best regards,
Robert
PS: "How powerful is your magic sound." (William Amadeus Mozart, The Magic Flute)
Esoterica: Not just Mozart. "Bach, Handel, Vivaldi and Corelli give a sense of order and create a mentally stimulating environment for study or work." (Don Campbell) Haydn improves concentration, memory and spatial perception. He also says there's a place for jazz, blues, salsa, rhumba, maranga, macarena and samba.
This letter was originally published as "The Mozart Effect" on January 8, 2002.
The Letters: Vol. 1 and 2, narrated by Dave Genn, are now available for download on Amazon, here. Proceeds of sales contribute to the production of The Painter's Keys.
"What a delight this is! All this inventing, this producing, takes place in a pleasing, lively dream." (Wolfgang Amadeus Mozart)
Featured Workshop
May 31, 2018 to June 11, 2018
We will be exploring ancient sites, painting Plein Air, taking photos and eating Chef prepared delicious Peruvian cuisine all while staying in a comfortable Hacienda in the Sacred Valley shaded by towering Eucalyptus trees. Meals, ensuite rooms, transfers to sites*, tours*, museums included.
Premium Member Sharon Rusch Shaver will be sharing 40 years experience traveling and painting plein air with daily demos and private instruction. All mediums and levels of ability. Join us for this exciting Artist-Adventure!$2,650 all inclusive*.
Optional non-painting Machu Picchu overnight excursion-tour available as an add-on. A very limited number of places are available on this Adventure so be sure to reserve your space early! https://adventure-artists.com/journeys/peru-2018/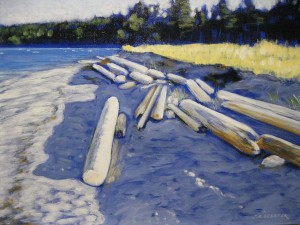 The late afternoon sun on the tip of Savary Island's Indian Point highlights the design elements of the logs and the summer surroundings of the island.
Featured Artist
My enjoyment in representing the beauty of our world with strong design and bold colours is what drives my passion for my landscape painting of Savary Island and other parts of our amazing planet.