Dear Artist,
Amid 20th Century masterworks here at the Art Gallery of South Australia glimmers a collection of small watercolour landscapes: delicate white ghost gums striped in creeping shadow, wisps of desert brush and tumbleweed, weighty, dirt-red hills under distant clouds. Unlike the museum's flashier acquisitions, the landscapes hint at timeless spaces, their strokes describing light and leaves, inviting us in with a quiet ease. I drag my nose through a plump, dauby stand of sap green gums, whispering aloud, "Who, what, when, where?"
When Elea Namatjira was born in 1902, he was baptized "Albert" and lived with his family at the Hermannsburg Lutherian mission near Alice Springs before being sent into the bush for his initiation at age 13. There, in the shadow of the MacDonnell Ranges on his ancestral land, Albert soaked in the cultural traditions of his Arrernte-speaking people. At 18, he went to work as an outback camel driver, travelling the bush after being ostracized for marrying a girl of a different skin group. When he returned to the Mission in his early thirties, he struck up a friendship with a couple of touring Melbourne plein-air painters. Knowing he was longing to learn how to paint, when the artists returned a few years later, Albert was hired to guide them to local spots in exchange for lessons.
Within a couple of years, Albert's enchanting, intuitive watercolours were showing in galleries in Adelaide and Melbourne. Accessible, subject driven and honest, his paintings became wildly popular as a connection to the outback and its people. While his work suffered a critical backlash after his death and was regarded by some as merely an example of successful assimilation policies, Albert Namatjira was eventually recognized as one of Australia's most treasured artists. The Hermannsburg School, inspired by his legacy, included all five of Albert's sons Oscar, Keith, Ewald, Maurice and Enos and their children, many who continue to paint near Alice Springs.
Sincerely,
Sara
PS: "We'll consider his work when it comes up to scratch." (Hal Missingham, Director, Art Gallery of New South Wales (1945-1971), who initially rejected Albert's work as a product of assimilation.
"His legacy continues in the art of his descendants who paint watercolours that demonstrate ancestral connections to place." (Alison French, author of Seeing the Centre: the Art of Albert Namatjira 1902-1959)
Esoterica: After twenty years of commercial success, including receiving the Queen's Coronation Medal in 1954, in 1957 Albert Namatjira was the first Aboriginal person to be granted restricted Australian citizenship, giving him the right to vote, some land rights and permission to buy alcohol. Over time, the emotional and physical strain of straddling two cultures, including financially supporting his resource-sharing community, drove Albert and his wife, Rubina into squalor. Two years before his death at age 57, Albert, desperate and camping with Rubina on a dry creek bed on the outskirts of Alice Springs, agreed to sell a portion of his copyright to a Sydney art publisher in exchange for a small royalty. In 1983, the Northern Territory public trustees, without consultation with Albert's impoverished heirs, sold the rest of his copyright to the same art publisher for $8,500. After decades of public outrage and fundraising efforts, Albert's copyright was finally returned to his descendents in October 2017, allowing his work to be fairly and ethically shared with the world. To this end, illustrations here on The Painter's Keys are used under the Fair Use Clause: "…for the purposes of criticism, comment, news reporting, teaching, scholarship or research…," — with the intention to enlighten, inspire and inform a global community of artists.
You can see the Australian Institute of Aboriginal and Torres Strait Islander Studies' 1975 documentary Sons of Namatjira about the descendents of Albert, here. Or pop over to the Many Hands Art Centre in Alice Springs, Northern Territory, to meet the present day artist descendants of Albert Namatjira.
The audio letters are now ready to give as a gift!
The Letters: Vol. 1 and 2, narrated by Dave Genn, are now available for download on Amazon, here. Proceeds of sales contribute to the production of The Painter's Keys.
"We are all visitors to this time, this place. We are just passing through. Our purpose here is to observe, to learn, to grow, to love… and then we return home." (Australian Aboriginal saying)
Featured Workshop
June 23, 2018 to June 30, 2018
The Amalfi Coast, a World heritage site, and one of the most spectacular vistas to be found in Italy.  Stay at our four-star hotel on the waterfront of Amalfi; all rooms with private bath and with Mediterranean Sea views.  Elevator available.  Small groups or painters with guests. Paint in Amalfi, Ravello, Positano, and Capri.  Work in oils or other media; beginners to advanced welcome.  Demos and individual instruction.  Breakfast each day along with 2 lunches & 5 dinners.

See www.SamDAmbruoso.com for further details.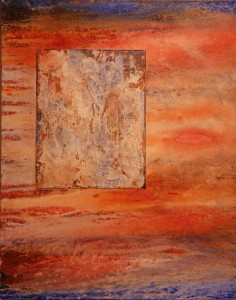 Transition
Featured Artist
Painting is my passion and joy.  My process is intuitive, though informed by good composition and design principles.  I paint what I remember, or think about, or feel, or just what comes off my hands to the brush to the canvas.  Texture and color are of primary importance to me.  I typically choose my support, texture it, select my palette, and go.  There is nothing more satisfying to me than watching paint run and move.  I love the surprises. I experiment and learn constantly.  It is a remarkable journey.  One I am pleased to share with you.