Dear Artist,
When Guillermo del Toro was growing up in Guadalajara, Mexico in the early 1970s, he started fooling around with his dad's Super 8 camera, making horrors using his Planet of the Apes action toys and other objects he found around the house. Borrowing from the Magic Realism of his strict Catholic upbringing, Guillermo's fascination with allegory and fairytales grew into a full-fledged obsession with the power and potential of monsters to tell the forgotten stories of the dispossessed. After making short films and working in special effects and make-up design, at 33 he got his break and began making big budget fantasy, action and horror movies in Hollywood.
"Much like fairy tales, there are two facets of horror," says Guillermo. "One is pro-institution, which is the most reprehensible type of fairy tale: Don't wander into the woods, and always obey your parents. The other type of fairy tale is completely anarchic and antiestablishment."
With a filmmaking style dominated by themes of ugliness and beauty, religious imagery, underworld elements, scale, darkness and a dreamy, amber, fantastical palette of good and bad monsters, Guillermo tells time-honoured fairytales in modern and historical settings. "Context is everything in a fable, because every story has already been told," he says. "The only variations I find are the voice of the storyteller and the context in which it's told."
In painting, artists often argue the difference between external truth and pictorial truth — that is, how to best craft what it really means to be alive within the fantasy picture plane of painting. After all, we're not photographers. Our job is to reach into our imaginations and tell the stories of our existence, even if that's as simple as re-composing a cloud-break to better and more honestly convey its mercy. As with the making of a movie, perhaps our best work is to merely zero in on this truth, to paint the impossible, understanding we're not bound by the limitations of the real, but only what feels that way.
Sincerely,
Sara
PS: "I want to tell you, everyone who is dreaming of a parable of using genre fantasy to tell the things that are real in the world today, you can do this. This is a door. Kick it open and come in." (Guillermo del Toro)
Esoterica: Last week, Guillermo del Toro's fantasy drama The Shape of Water won Academy Awards for Best Director, Best Picture, Best Production Design and Best Original Score. It tells the story of a mute janitor at a Cold War research lab who falls in love with an Amazonian river monster being held captive there. Her neighbour, a cat-loving, closeted, struggling advertising illustrator, helps her escape loneliness through a shared love of old movie musicals. When asked to sum up the meaning of his fairytale, Guillermo replied only, "To promote empathy for all living things." Responding to the question of whether his art is his religion, he said, "It is. To me, art and storytelling serve primal, spiritual functions in my daily life. Whether I'm telling a bedtime story to my kids or trying to mount a movie or write a short story or a novel, I take it very seriously."
The Letters: Vol. 1 and 2, narrated by Dave Genn, are now available for download on Amazon, here. Proceeds of sales contribute to the production of The Painter's Keys.
"I'm not that interested in recreating reality. I'm interested in recreating an emotional truth." (Guillermo del Toro)
Featured Workshop
August 2, 2018 to August 7, 2018
On this unique art retreat, Keith leads a group of artists by canoe into the backcountry of Kawartha Highlands. Mixed forest, lakes, islands, rock faces, swamps and more. This place is a great place to paint, if you like views looking like they did 100 years ago. Keith is a post-impressionist painter and teaches compositional fundamentals, how to bring order out of the chaos of a live scene when painting en plein air, plus how modern colour theory can make colour mixing easy.
Watch for these other retreats.
June 14-17 Ottawa Valley, Ontario
September 1-6, paint in the Killarney/La-Cloche Mountain, Ontario
For more information, visit: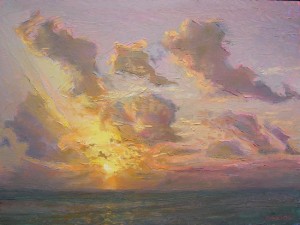 Shining Through
oil 12 x 16 inches
Featured Artist
Capturing the beauty of nature and expressing those impressions in oil paint is a joy. Every hour of the day presents new possibilities and keeps even the same landscape location, same composition, an ongoing and beckoning challenge. For this reason, I love painting series: it is exploration made visual.