Dear Artist,
A guru once told me about an idea she called, "compassionate witness." "When we bear witness," she said, "we lovingly give our attention to another." She told me the greatest gift I could give my friends was understanding — to let them know I saw their struggles and their triumphs and I recognized the effort they put in to achieve their dreams. She also said that when I allowed another to be my witness, I gave myself the freedom to be known.
In art, we work in solitude, but we're not alone. Painting, while a solo act that most often happens in a private space, begins and ends as a silent conversation with an imaginary other. The potential exists for painting to be an intimate communication and, as an act of love, requires a beloved. While we may be working in solitude, we do not grow and become artists without the compassionate understanding of our witnesses.
In witnessing others, we have the chance to expand the scope of our communication and ideas. You could say that these letters are a form of this, while still preserving the autonomy and independent discoveries we most treasure. Here are a few ideas:
Choose an artist among your peers to quietly observe. Do not interfere with her independent process.
Accept the idea there could be someone quietly observing you.
Think of your art-making as a small part of a larger hive of creative activity.
Understand how our dreams are not dissimilar.
Know when your life in art requires unaccompanied exploration, but also realize you are not alone.
Sincerely,
Sara
PS: "My actions are my only true belongings." (Thích Nhất Hạnh)
Esoterica: A rumour cites a sign on the New Jersey Turnpike: "Welcome to New York — Please try to make it somewhere else." From my 5th-floor walk-up in the West Village, I could feel the collective energy of all the lone wolves striving for their dreams — a few million of them — creating a palpable thrust. And while never truly alone, New Yorkers bestow upon one another the wide berth of privacy — from a downward glance to silently holding space for a solo weeping subway rider, her broken dam just another private moment in a public seat. Tears flow easily against the backdrop of New York's communal abrasions, with everyone united in the dreamer's crusade. Now, here in California, the wandering valley and desert moonscape are universes of solitude, and I can still feel the collective energy of lone wolves. In art, we strive together.
The Letters: Vol. 1 and 2, narrated by Dave Genn, are available for download on Amazon, here. Proceeds of sales contribute to the production of The Painter's Keys.
"In separateness lies the world's great misery, in compassion lies the world's true strength". (Buddha)
Featured Workshop
April 5, 2020 to April 11, 2020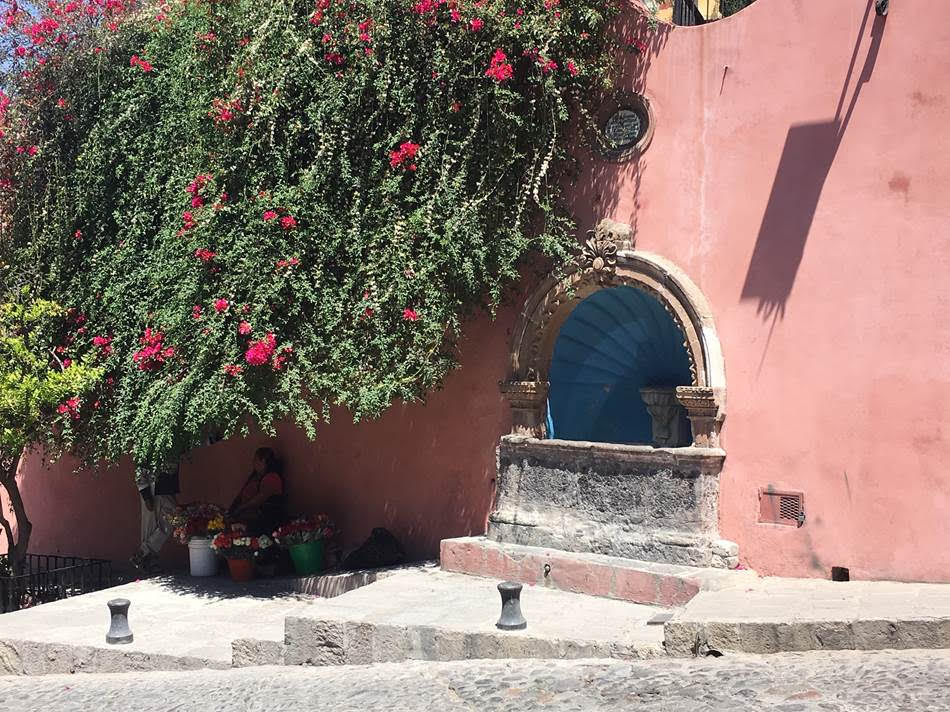 Join painter/author Ellie Harold in sunny Mexico for a week of immersion in a facilitated discovery of your deepest and most essential artist self. If you're feeling blocked, thwarted or simply longing for a more meaningful expression, the retreat is a unique opportunity to focus on your life/art purpose, discover new directions and explore next steps. You'll enjoy your own room in the charming Casa de la Noche in San Miguel's Historic Centro district, painting and writing (with materials provided), guided reflections and focused discussion with plenty of time to explore the color and culture of this vibrant art city. Created with the needs of mature women in mind, this retreat focuses on process rather than product and is for both experienced and novice art-makers. Limited to 12. Register by November 30 to receive Early Bird free shuttle. One Discounted Spot Now Open! Click here for a full description, photos and testimonials from past participants.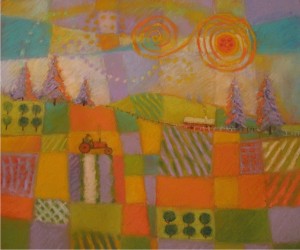 Sunrise Over the Farm #2
original pastel 15 x 15 inches
Featured Artist
Mary's interest in pastel painting began during her years at Whitworth College in Spokane, WA where she majored in art and elementary education. Though she has worked in watercolor and oil as well as calligraphy, her interest has consistently turned primarily to pastel because of the medium's potential for glowing, vibrant color and the harmony achieved in bringing together lights and shadows.