Dear Artist,
Every so often someone lets me know that times are bad for artists. I've been receiving this message for years. The carriers of the bad news warn me in recession and depression — as well as in times of economic boom. I had another notice yesterday. This message of doom must be a function of the bearer, I thought. I've heard that even when there's nearly full employment the use of food-banks still goes up. I'm thinking it's more to do with "attitude."
Maybe it's always bad times for artists. But why do some of us see a half-full glass — while others see a half-empty? Attitude. I'll swear on a stack of Lexus brochures that these times aren't bad. Yesterday, another artist wrote that her art group was about to discuss — overcoming the current bad times.' She wanted to know if I had any "guidelines."
I thought about the individualistic attitudes of the great and successful artists that I know. On the other hand I remembered how "misery loves company." I remembered how artists who are blessed with good times crawl wearily into bed at night with a kind of benign optimism for their tomorrows. And when tomorrow comes they have a gentle, easy-going sensitivity and love for what they're doing. They may live in their imagination — maybe even in a fantasy. They may be a big bunch of self-deluders. They're not much for luck. They have the weird idea that quality works in all seasons. They tend to favor escape and cozy up in their studios or their landscapes. They have respect for their own processes and push themselves to extract what they can on a daily basis. They are private workers who pay little attention to the competition. Some of them are roaring workaholics, but their work feeds them like no other addiction. They may be self-focused, but that focus tends to be on the brain-hand axis. It may be tedious stuff to others — but this compulsive busyness magnifies and recycles their creativity. You might even say that some of these folks may have a mild brain disorder. They fail to see the reality of it all. Their stunned and disoriented condition keeps them too amazed and excited to notice or believe that times are tough.
Best regards,
Robert
PS: "What distinguishes a great artist from a weak one is first their sensibility and tenderness; second, their imagination, and third, their industry." (John Ruskin, 1884) "The harder I work the luckier I get." (Samuel Goldwyn)
Esoterica: They may be stunned, but they know that it takes the efforts of others for the completion of their dreams. Our brotherhood and sisterhood extends to those who supply our tools and to those who have the ability to share our magic with others. Nobody said it was going to be a rose garden. But it can be, and for those with the right attitude it is pretty darned rosy right now.
This letter was originally published as "Times are bad" on November 19, 2004.
Have you considered a Premium Artist Listing?  With each letter, an artist is featured at the bottom of this page. The Premium Artist Listings are a means of connecting artist subscribers through their work. Proceeds from each listing contribute to the production of The Painter's Keys. 
"I always had a few people who liked what I did, and that was enough." (Etel Adnan)
Featured Workshop
January 23, 2022 to January 30, 2022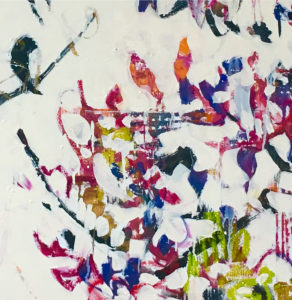 Join Ellie Harold for "Intuitive Painting: Permission to Paint Expressively," designed especially for mature women artists of all skill levels who wish to explore this medium for soulful exploration. The retreat provides attractive accommodations (your own room!) along with lightly structured activities for centering, relaxation and low stress art-making. You'll have plenty of free time to muse, paint, write and reflect while enjoying the colors, textures and flavors of San Miguel. This Retreat has the potential to transform not only your art but your life! You'll return home with a specific art "care plan" to assure support for further creating. Details at www.EllieHarold.com.
Featured Artist
Essentially I am representational painter, with a real appreciation for the design aspects of abstract art.  By emphasizing strong shape relationships and connecting bands of textural color, I am able to paint the natural world in two dimensional patterns while striving to create interesting three dimensional compositions.  Andrew Wyeth, a realist who has influenced my work, painted very abstract watercolors that helped him explore the possibilities for unusual compositions.  Like him, I value the drama of a strong composition, solid drawing, complex textures, and sumptuous, rich color while attempting to ground the painting's design in essential, free form shapes.  Past Masters who have shaped my artistic direction are: Joaquin Sorolla, John Singer Sargent, Richard Diebenkorn, and the California impressionists. Richard Schmid is a contemporary painter whose instruction has contributed greatly to my ability to capture the light, intimacy, and subtle textures of the hidden landscapes.
I have found painting landscapes in the field to be an adventure of the mind, spirit, and body. It is a personal record of a distinct moment in time that captures an emotional response to a physical reality. Nature is exciting, unforgiving, yet always spiritually rewarding. I am grateful to be able to share this natural beauty with fellow wanderers hoping to discover those special moments.