Dear Artist,
Tim Jenison
is a lifelong inventor from San Antonio, Texas. These days he manages a company that makes live and post-production video imaging software for computers. Tim's a smart guy and ever curious — busy building things when he's not running his organization. Until recently, Tim Jenison had never picked up a paintbrush. Witnessing Tim's new activity, his friends (a couple of magicians) decided to make a movie about it called
Tim's Vermeer.
Tim got curious about the Dutch master after reading
David Hockney
's 2006 book,
Secret Knowledge
(an ode to the camera obscura as a means of achieving photo-realistic accuracy in Western painting) and studying Philip Steadman's 2001 book,
Vermeer's Camera
. After 300 years, Johannes Vermeer's life and work are still cloaked in mystery. With no substantial records of apprenticeship, no drawings, and only 34 mostly small paintings credited to him (he died at 43, leaving a wife and kids in poverty), Vermeer's glowing, startling, hyper-realistic genre paintings defy pre-camera drafting skill and show previously unknown understanding of the effect that reflected light and natural colour have on the human retina. (Vermeer was also known to have a soft spot for the wallet-crippling pigment lapis lazuli, rendering his still life painted world even more luminous than he could normally construct in his Delft studio.) From a warehouse in San Antonio, Tim embarked on a five-year obsession to re-create Vermeer's
The Music Lesson
using a camera obscura, a curved lens and one more simple piece of technology that would make it possible to engineer what he believed could be an exact replica of the original. By using a small mirror to reflect the camera obscura's projection onto a blank canvas laying flat on a table, Tim found that he could match his painting to the projection. Moving his head around to compare the projection to the brushwork, he could find the accurate technique. In time, with little understanding of colour mixing and a lot of backbreaking brush-fiddling, Tim blobbed his way to his own "Vermeer" in 1,825 days. As artists, we know Vermeer and others may have used technology to achieve their visions. But what's engaging is that a modern man was curious enough to manufacture by hand an astonishing replica and, in so doing, could debunk not only the mystique of a genius, but perhaps the soundness of an entire calling. The film argues that science and art need not be polarized. But we understand the marriage of our tools and our sacred mission. When outsiders explore our craft in this way, do they risk making pedestrian, for a moment, our crucial flame? Then again, Tim is his own force of magic. Sincerely, Sara PS: "This is nonsense. Tim's Vermeer is not a Vermeer, any more than an Airfix model is a flying Spitfire." (
Jonathan Jones
, art critic and juror for the 2009 Turner prize) "Only God creates. The rest of us just copy." (
Michelangelo
) Esoterica: "The failure of Jenison's device to create any of the power of a real painting by Vermeer puts all these theories about painting and the camera obscura and 'secret knowledge' in their place," wrote Jones. During the reproduction process Tim admits to feeling repulsed by the activity of painting. "It's like watching paint dry," said Tim, before hanging his finished
Music Lesson
above the fireplace mantle in his San Antonio bedroom. [fbcomments url="http://clicks.robertgenn.com/tims-vermeer.php"]
Featured Workshop: Richard Robinson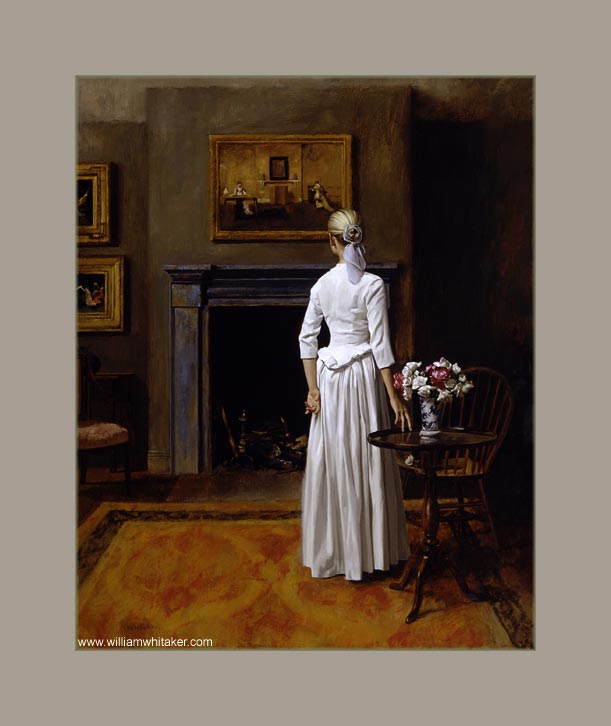 The Next Day
oil painting on panel by William Whitaker, Utah, USA
You may be interested to know that artists from every state in the USA, every province in Canada, and at least 115 countries worldwide have visited these pages since January 1, 2013.