Dear Artist,
Yesterday, Candy Crawford Day wrote, "Is it better for an artist to go it alone or is camaraderie advisable? Lately, I've lost a mentor who greatly influenced my work. Other influences don't seem to have my best interests at heart. At what point, if any, should one break away and stand on her own two feet? And how would you advise one to garner the courage to do so?"
Thanks, Candy. Your decision whether or not to go it alone has a lot to do with your temperament. The good news is that the greater Brotherhood and Sisterhood of Artists works for both the extrovert and the introvert. Regarding influence, anecdotal evidence suggests that those who struggle privately tend to become stronger. Funnily, many artists have a pile of friends who have interests and vocations other than art. For some, there is little or no artistic camaraderie. The best approach is to achieve a balance — work independently and play with others. The good life is both art and people.
We artists need to be travellers on paths less travelled. "What is genius but the power of expressing a new individuality?" said Elizabeth Barrett Browning. Iconoclasm and eccentricity may be part of the trip. "Certain defects," said Johann Wolfgang von Goethe "are necessary for the existence of individuality." Apart from hard work, craft, technique and the eager generation of ideas, artists need this independent personality. "If you have anything really valuable to contribute to the world," said Bruce Barton, "it will come through the expression of your own personality, that single spark of divinity that sets you off and makes you different from every other living creature." As for the courage to go it alone, you need only look to others who have done it and are thriving. And what about the threadbare spectre of poverty? When the artist trusts her sensibilities, her creativity and her hands, fear is banished. The real fear needs to be for the mediocre life. I know of precious few individualist artists who have one.
Best regards,
Robert
PS: "The individual has always had to struggle to keep from being overwhelmed by the tribe. If you try it, you will be lonely often, and sometimes frightened. But no price is too high to pay for the privilege of owning yourself." (Friedrich Nietzsche)
Esoterica: I used to own a few rental properties. The painter Ruby Brown Shand was one of my tenants. As a young woman she had worked briefly as a teacher, only to decide she needed a life in art. Dining alone on wild mushrooms and dandelions, she paid her rent infrequently and indulged an outsized appetite for painting in pastels. She worked daily like a demon possessed. Known for her spontaneity and her flowing white cloaks, she regularly phoned her landlord to drive her out to some picturesque location where she might pay with a song. When she died she left two thousand works to the Lions Club. Though she's now been gone some twenty years, the Lions and Lionesses are still selling them off for the love of her.
This letter was originally published as "To go it alone?" on November 25, 2011.
Have you considered a Premium Artist Listing?  With each letter, an artist is featured at the bottom of this page. The Premium Artist Listings are a means of connecting artist subscribers through their work. Proceeds from each listing contribute to the production of The Painter's Keys. 
"It is no accident that the photographer becomes a photographer any more than the lion tamer becomes a lion tamer." (Dorothea Lange)
No Featured Workshop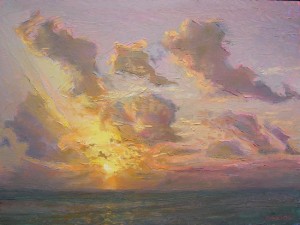 Shining Through
oil 12 x 16 inches
Featured Artist
Capturing the beauty of nature and expressing those impressions in oil paint is a joy. Every hour of the day presents new possibilities and keeps even the same landscape location, same composition, an ongoing and beckoning challenge. For this reason, I love painting series: it is exploration made visual.