Dear Artist,
Along the Alabama River just south of Selma, there's a horseshoe-shaped turn resembling an inland island, where a cotton plantation once stood. In 1816, 18 slaves were brought to this bend by a man named Gee from North Carolina. A generation later, his cousin, Pettway, took over the plantation and brought more slaves — one of them, Dinah Miller, brought to the United States on a slave ship in 1859, has descendants living there today. When the last remaining African American slaves were emancipated on June 19th, 1865, many from the Pettway plantation, who now also went by the name of Pettway, continued to work there as sharecroppers.
As one of the poorest and most isolated communities in the country, accessed only by a muddy road and a sporadic ferry, Gee's Bend had, by the Great Depression, already received emergency aid and then attracted the attention of the Resettlement Administration (later renamed the Farm Security Administration) as part of the New Deal of 1935. The agency took over the plantation, divided the land and rented it to the tenants. The agency provided a nurse and plans began to establish a school, a store, a blacksmith shop and cooperative cotton gin. Within a decade, many of the tenants were able to buy their farms, though the isolated hamlet continued without electricity, running water or telephones. And when the Civil Rights era families of Gee's Bend organized to register to vote in 1962, the local authorities cut off the ferry service to the nearest registration office.
In 1966, an Alabama quilting co-operative was formed as a way to connect isolated communities and to try to generate some income. Quilts made of discarded strips of fabric, feed sacks, recycled work clothes and old dresses had been made by the women of Gee's Bend for generations as a way to keep their families warm in unheated houses. The Freedom Quilting Bee enabled the quilters to collaborate to now sell their quilts to outsiders. In 2002, Atlanta-based collector and historian Bill Arnett, as part of a project to survey the visual tradition of the African American South, took an interest in the quilts created by the women of Gee's Bend, and organized an exhibition at the Museum of Fine Arts, Houston. The free-form and individual-yet-congruent, contemporary, emblematic, energetic, minimalist and exquisitely graphic quilts emerged in this new context as one of American art's most important contributions.
The Exhibition The Quilts of Gee's Bend travelled to 13 museums including the Whitney, the High Museum of Art, Atlanta, MFA Boston, the Milwaukee Museum of Art, the Cleveland Museum of Art, the Corcoran Gallery in Washington, D.C. and the de Young Museum, San Francisco. In 2014, Bill Arnett, through his nonprofit Souls Grown Deep, donated 57 works from his collection of contemporary African American artists from the Southern United States to The Metropolitan Museum of Art. The ferry service to Gee's Bend was finally re-instated, after 44 years, in 2006.
Sincerely,
Sara
PS: "My mother learnt me how to quilt." (China Pettway, b. 1952)
Esoterica: When organized into types of designs, most of the Gee's Bend quilts fall into a category loosely called, "my way." The designs are improvisational — they don't follow the classic foundations found in most American quiltmaking traditions. "Bend quiltmakers have been guided by a faith in personal vision; most of them start with basic forms and head off "their way" with unexpected patterns, unusual colors, and surprising rhythms," reads the description by Souls Grown Deep. "Theirs are handsome, if unorthodox, works of art, yet the shared unorthodoxy attests to the stabilizing power of a tradition that, for many decades, has fostered individualism and even eccentricity. By making what they want to make, these women reveal innovative ways of looking at fabric, design, and format and have produced work that is utterly original and ranks with the finest abstract art in any tradition."
Have you considered a Premium Artist Listing?  With each letter, an artist is featured at the bottom of this page. The Premium Artist Listings are a means of connecting artist subscribers through their work. Proceeds from each listing contribute to the production of The Painter's Keys. 
"I learned quilting by myself, messing up quilts, doing the best I could, you know, by being a young girl and didn't know how, just piecing whatever I could get, sewing it together trying to make quilts. That's the only way I learned, and after that, when I got married, after while, I learned pretty good. I got good ideas from my mother-in-law, Henrietta. Me and her sewed together. When I had children I had to do better. Made quilts out of old dress tails, shirt tails, that's the way I did so the children would be covered up." (Allie Pettway, 1916-2010)
Featured Workshop
September 12, 2020 to September 17, 2020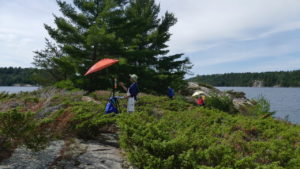 The Killarney are of Ontario is in what is called the 'near north'. The landscape is wild and rugged. Giant granite cliffs plunging deep into the glacial lakes. There are no roads leading to our painting locations. We travel by a large, sturdy pontoon boat. This is a self-catered retreat. You bring your own provisions and cook your own meals in our fully equip cabins at a northern camp. Our instructor, Keith Thirgood, has been teaching artists his own unique approach to painting for over 12 years. Learn how to find order in the chaos, control your colours and create paintings that work. Learn modern colour theory, values, shapes and lines, what makes for a good painting. This retreat is suitable for beginners wanting to learn to paint in a fun, outdoor location, as well as more experienced studio artists who want to try plein air, plus artists who are looking to loosen up and paint in a more post-impressionist style. To find out more and register, please visit www.wilsonstreetstudios.com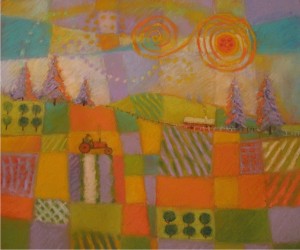 Sunrise Over the Farm #2
original pastel 15 x 15 inches
Featured Artist
Mary's interest in pastel painting began during her years at Whitworth College in Spokane, WA where she majored in art and elementary education. Though she has worked in watercolor and oil as well as calligraphy, her interest has consistently turned primarily to pastel because of the medium's potential for glowing, vibrant color and the harmony achieved in bringing together lights and shadows.