Dear Artist, It may just be that workshops are the main source of traditional art education. I'm talking about the acquisition of academic technique and realistic, perhaps impressionistic methodology. Augmented by books, websites and personal mentoring, the torch is passed.
American Artist Workshop Magazine
, "There wasn't a hint of anxiety or trepidation from Keys. From his initial instruction on the first day until his last lesson, Keys taught like a seasoned pro, belying his young age with articulate explanations and confident painting lessons." One of his students reported, "I have never seen an artist so freely share his hard-earned knowledge with others." One might ask where this early evidence of quality comes from. It starts with a sense of (perhaps conservative) taste and the desire and imperative to do the slogging that makes for better pictures. More than anything, it takes rubbing shoulders with others who have mastered their craft. The convention of masters sharing their knowledge in workshops emerged with the decline of the apprenticeship system in the 19th century. With the current democratization of art and the popularization of painting as a pastime, there is a range from the-blind-leading-the-blind to a ringside seat at the feet of a living master, even a very young one. >Choose your workshops well. Analyze the instructor's work and try to figure out in advance if he or she has the depth of understanding and knowledge to be of real use to you. Through the jungle telegraph, try to find out if he or she is a good communicator. As always, challenge is better than the same old, same old. You can select from a wide range of workshops in our own
workshop calendar.
Best regards, Robert PS: "The more we all know, the better we collectively become, and representational art will move forward with momentum into the future." (
Daniel J. Keys
) Esoterica: As an occasional workshop-giver myself, I'm always looking out for unique situations that might be a stretch for creative minds. A recent four-day cruise with seven eager-to-learn students in a vintage boat through spectacular coastal scenery made it clearer to me. Positive energy, frank crits, a thirst for knowledge, varied subject matter, a sense of isolated wellbeing and warm companionship made for better work every day. As well as Daniel J. Keys's material, we've included some annotated photos of our recent workshop voyage of discovery below.
The mentored fortunate
by Brenda Swenson, South Pasadena, CA, USA I applaud Richard Schmid for taking the young man under his wing, and I applaud Daniel J. Keys for making good with his promise to pass on the knowledge. Knowledge and craftsmanship are hard won in the art world. I have had to work hard and I've struggled to learn my craft. I have been lucky, too. Early on I was mentored and because of this person I had doors opened. I am forever grateful. I am fortunate to teach watercolor workshops nationwide and abroad. I am driven to pass the knowledge on to others that was so generously given to me.
There are 3 comments for
The mentored fortunate
by Brenda Swenson
Benefits and limits of schools
by oliver, TX, USA Art schools and accredited institutions of higher learning or at a university that has accreditation also provide "mentoring." For certain art jobs a diploma from such an institution is a must, such as teaching at a high school or college and maybe even certain commercial art or illustration jobs in the private sector. Animation or special effects jobs may also have almost a requirement for such accredited learning. Certainly you can learn art and your craft from anyone, but in many cases you will be limited in opportunities if you don't have a degree from an accredited source. That may work just fine, but you have to understand the benefits and limits of a school. Sometimes a school winds up limiting vision of the students.
Giving and taking workshops
by Liz Wiltzen, Banff, AB, Canada We live in such a marvelous time – we have the ability to handpick the artists whose work we admire, and travel far and wide to share a few days learning from and talking art with them. If we are lucky a keen student or art group will bring a valuable teacher into our own back yard. These are golden opportunities. I am a huge believer in studying with fellow skilled artists as a means of deepening and broadening our own abilities. Painting is a highly complex pursuit with endless possibilities for advancement and improvement, and whatever we may know, there will be others who know something in addition to it. At the very least, a good workshop will shake things up and push you out of your comfort zone. At best, it will give you some fresh ideas for exploration, and one or two pearls of wisdom you will carry with you for the rest of your painting life. As well as teaching workshops, I take at least one a year. It has become my process when I return from a workshop to dedicate myself to honing the best of the skills I've learned, and then incorporating them into the rhythm of my own teaching. In this way, my students learn not only from me, but indirectly from all the wonderful artists I have studied with.
There are 4 comments for
Giving and taking workshops
by Liz Wiltzen
Art incubator workshops
by Alan Soffer, Wallingford, PA, USA The workshop system is a true way to find your voice in the art world. Before I became a full time artist I took workshops nearly every summer for one or two weeks, usually with my wife who is also an artist. We had a great time, changing gears from our everyday lives. It is so different to be away from all the phone calls, household chores, e-mails (now people unfortunately bring all that with them on their laptop), and family responsibilities. We always got lots of technical and problem-solving advice, which was great. The one area that seemed to be forgotten was the basics. Eventually, we felt that everything succeeded on the basics of color, composition, and concept. That has become the hallmark of our approach to teaching in the art incubator workshops. The technical stuff always takes care of itself either through us or the serious learning from the other students.
There is 1 comment for
Art incubator workshops
by Alan Soffer
American Artist Workshop magazine
by Michael Lipton The Workshop magazine published by American Artist regularly features well illustrated articles interviewing some of the top workshop instructors available today. The issue you mentioned that featured Daniel Keys also included other popular teachers and instructors such as Frank Serrano, Bennett Vadnais, Kate Lehman, Richard McKinley, William A Schneider, Rob Silverman and Michael Klein. One of the reasons quality methodology is actively taught in the workshop environment is the high income professional artists can receive from doing these workshops, while still leaving time for their own studio work. Most of these instructors would feel stifled by full time teaching.
There are 2 comments for
American Artist Workshop magazine
by Michael Lipton
Pass on the knowledge
by Adam Cope, Lanquais, Dordogne, France As you say, it is this generosity that keeps tradition going. Yes, the workshops pass on the knowledge as does having the good luck to meet in person artists more developed than oneself. To see an artist painting and demonstrating is worth years of reading on the Internet. A good painting workshop should also be a place of exchange. People from all parts of the world come to France, to my
Chateaux Painting Holidays
 and swap ideas and viewpoints which can be very fertilizing. The other great tradition of learning traditional skills is Life Drawing. It was here that I learnt to draw. The rituals and rigor of the life room is the high point of an academic training. Useful even for a landscape painter!
Thanks
by Daniel J. Keys, Firebaugh, CA, USA I just wanted to send a note of thanks for the amazingly kind letter you wrote about me and my upcoming workshops. After personally reading your kind words, I immediately began to receive many positive emails in response to it, and saw an influx of website visits. You truly made my week. Thanks again, and please let me know if ever I can do anything for you in return. Your website is wonderful. RG note) Thanks, Daniel. I have a peculiar memory of Firebaugh. About 1960, I was returning to Los Angeles from visiting a girlfriend in Dos Palos (nearby) when I burned out the bearings in my '51 Hudson Hornet. I got it to a local gas station where I cut a deal with an attendant to mail me $25 for the disabled car and to ship me two large paintings that were in the trunk. I left the car, took the bus to LA and never saw the money or the paintings. Do you mind looking around Firebaugh to see if my old car is still in town? And check the trunk. My car is dark blue-purple like the one in the Pixar movie "Cars."
There is 1 comment for
Thanks
by Daniel J. Keys
Getting background on instructors
by Eileen Brown In browsing the Workshop Calendar on the Painter's Keys site I found a workshop I'm interested in — Hannah Shook. But, where can I find reviews from folks who have taken a workshop from her? I need more info before signing up and spending the money. (RG note) Thanks, Eileen. This is a question I'm often asked, and sometimes it's very difficult to answer. First, find the artist's website and see if you think the artist knows what he or she is doing. Second, comb the website for student testimonials. You aren't going to find any negative ones. See if you can track down anyone referred to and phone or write them and get a conversation going. Common remarks like, "He talked and demoed so much I didn't get any work done myself," and "I actually got worse during his workshop but I think it helped," are very telling. Further, it can be worthwhile to cruise the name or location in Google — often even ancient input gives anecdotal insight before you write the cheque.
There is 1 comment for
Getting background on instructors
by Eileen Brown
Potential or 'fuzzy'?
by Tatjana Mirkov-Popovicki, Port Moody, BC, Canada The intent of the last letter wasn't clear to me. I don't think that the message was to attend workshops to become someone's clone, right? I think the message was that one can achieve technical expertise by attending workshops, Mr. Keys being an extreme example. The fact that his works so closely resemble the master's is what confused me. I aim to achieve technical excellence, but I don't desire to so closely replicate someone's work. This kind of a fuzzy message isn't typical of your letters, but emphasizing Mr. Keys's youth, it can be deduced that the respect is for the tremendous potential that this young artist has, based on his outstanding present ability. One can argue that people who are excellent in replicating may not end up being excellent in originality or artistic expression, which is something that you did not address in this letter, thus I call its message "fuzzy." You did point out the young artist's success from the commercial point of view, which is a very valid point indeed, but it doesn't take into account other values such as mentioned in Rick's comments. Another thing that I found confusing was implication that "rubbing shoulders" with masters will eventually make you a master or some other kind of a success, which wasn't clear either — that rubs me the wrong way, but I am probably misunderstanding that one as I often do.
There are 8 comments for
Potential or 'fuzzy'?
by Tatjana Mirkov-Popovicki
Archived Comments
Enjoy the past comments below for Workshop wonder…
 Featured Workshop: Hannah Shook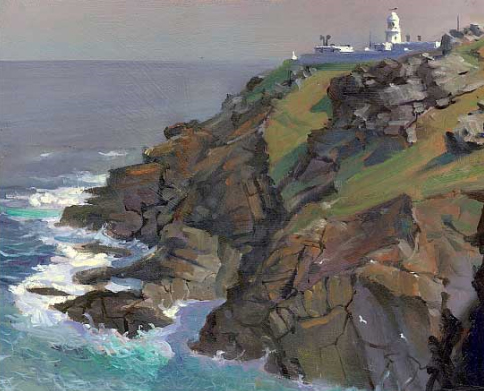 Towards Pendeen Watch Light House
original painting, 11 x 14 inches by Michael Richardson, UK
You may be interested to know that artists from every state in the USA, every province in Canada, and at least 115 countries worldwide have visited these pages since January 1, 2013. That includes Johan Riis of Copenhagen, Denmark who wrote, "The practicing artist is the best source for learning the basis of practice." And also Don Charbonneau from Facebook who wrote, "Pretty hard to pick and choose workshops up here in the North of Ontario… once paid a guy seventeen dollars (for half hour music lesson) and he ended up showing me how to hold a pic."
A good example is 26-year-old Daniel J. Keys who makes his home and studio in the agricultural town of Firebaugh, California. A fan of Richard Schmid from an early age, Keys studied Schmid's books and website. When Keys and Schmid finally met at American Artist's Weekend with the Masters in 2009, Schmid saw both drive and talent in the young man and took him on with the provision that Keys would someday pass on the knowledge. Now Keys is a much sought-after workshop instructor himself. In the words of Allison Malafronte, senior editor of