Dear Artist,
An artist who wishes to remain anonymous called to say he'd fallen out with his creative partner. As a result, he was bogged down with disappointment, bad blood and a logjam of paperwork needed to release a big idea, now begging for a clear-headed, singular captain. Apparently, this idea was special enough to be fought for, but mourning, reworking and cleansing it has drained his bank account and put a hold on other creative options, paralyzing his happiness and momentum. At the risk of simplifying his problem, I suggested he get to work right away on something else. "Ideas are like rabbits," said John Steinbeck. "You get a couple, learn how to handle them, and pretty soon you have a dozen."
I've often observed with admiration the process of my twin brother James, a TV and movie director, as he analyzes a germ of an idea, meets with other writers to workshop a script, casts, preps and blocks a story for filming, then shows up on set to direct, only to later participate in a careful edit. The process can take weeks, months or years. He once described how many times an idea — one idea — must be "sold" before being considered, developed, put into production, made, marketed and released. Investment of time, energy and funds can be enormous, and many people may be touched by the idea along the way. It surely takes a lot of love. Through the collective effort of a patient team, James' world seemingly orbits each time on the strength of one big idea.
Painters, by comparison, are the purveyors of multiple, simultaneous, mini-earthquakes that often go off in private at minimal bother of others. Ours, ideally, is a less-pressured affair except when we have time constraints. Returning to the beginning of the creative lifecycle as quickly as possible speeds up soil-turning and guarantees evolution. Get to work. Your big idea could be one in a million.
Sincerely,
Sara
PS: "To make ideas effective, we must be able to fire them off." (Virginia Woolf)
Esoterica: Performance coaches propose that the big idea is not what paralyzes action, but rather the overwhelming mysteries and obstacles that may arise when tackling the smaller steps along the way. If you've imagined, but not yet made, your masterpiece and are already waiting for help or stuck on the details, potential problems, politics, expenses or looming failure, pick up your tools. Go back to a place of ideas and refine and strengthen them through the much less dramatic activity of work. Above all else, in the protection of your dream, finish something. By completing the cycle alone first, however modest or unseen, you're proving that your big idea is there for you, to be summoned without the help or hindrance of an outside force. As a bonus, you'll be prepared with your very own polished gift to offer the world, should the opportunity arise to share it. "The idea is in my head — to put it down is nothing." (Milton Avery)
Download the new audio book, The Letters: Vol. 1 and 2, narrated by Dave Genn, here. Proceeds of sales contribute to the production of The Painter's Keys.

"An idea that is not dangerous is unworthy of being called an idea at all." (Oscar Wilde)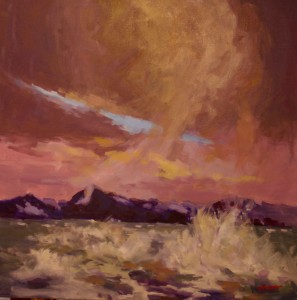 Storm Warning
30x30 acrylic
Featured Artist
My art represents an artistic journey that has been on-going for more than thirty-five years with help and guidance from many wonderful artists. Now, with years of plein-air painting experience, study and solo exhibitions, I believe that my current work has reached its highest level, reflecting the depth of my absorption in the wonder and beauty of the world around me.  I have learned that, as an artist, I will never stop looking for better ways to express my feelings in art and that struggling to more fully understand myself is integral to my painting; a philosophy that was part of every workshop I taught. Still is.