Dear Artist,
A small painting was brought into a gallery under a woman's arm. "My ex bought it at an estate auction," she said. "It's mine now, but I'd like to sell." The dealer had represented the artist for many years, so was familiar with his paintings. Formerly, they came to him direct from the easel. More recently, they arrived once in a while, like this one — by way of custodians ready to pass along the provenance. To this dealer, the artist's larches and firs, sky flicks and French greys had been burned onto the back of his eyelids. And the calligraphic name, laid-in lower right like clockwork, was the signature move.
I was stalking pelicans along a soft, yellow shoreline when my phone buzzed — an email from the gallery. "We're wondering what you think." I opened  to an image of an oil sketch — an abandoned camp under an active sky, foreground saplings tentatively-formed and dusky totems retreating into the atmosphere. Bottom centre, scratched into the art board with a stylus, was the name "GENN" in italicized capitals. I dialled the phone. "Is there anything on the back?" I asked. "Nothing! So strange for Bob," he replied. "It's his," I said. "Looks early — very early — like he was in his early twenties, but I can feel his signature moves."
The painting told the story of a young artist beguiled by local themes –- coastal villages in weather, disappearing places, childhood islets, visions to be captured for a lifetime. It betrayed the conviction of an artist composing the language of wind and sea, of weather-worn yellow cedar and baby evergreens. Like a teenaged soprano lassoing her coloratura range, the painting testified to ease, to grit and to what would become the vibe and handling of no other artist. If a sapling is a future redwood, this one was signature Dad.
Sincerely,
Sara
PS: "The style is the man himself." (George-Louis Leclerc de Buffon)
"As we grow older, we realize just how limiting were our earlier conceptions. Art is something else. Art is fluid, transmutable, open-ended, never complete, and never perfect. Art is an event." (Robert Genn)
Esoterica: With each inbox Genn, there's the chance to know my dad through a painting that may pre-date me. His early expressions, trials and signatures (I'd seen this version before in other early sketches from his studio), the evolution of his gestures and devotion to his subjects are the clues to who he was to become.
For the dealers who participate in the beginnings and afterlives of artists, mysterious outlier paintings are part of the magic. My friend and art dealer Stew Turcotte, regularly dropped in at Dad's easel-side and, finally, his bedside, where they winked in mutual understanding of life's bigger forests. Perhaps Dad's sapling is in the window of Hambleton Galleries today, if you happen to be in the neighbourhood. "Art is the soul and spirit of each generation to be passed along to the next and beyond." (Stewart Turcotte)
If you find these letters beneficial, please share and encourage your friends to subscribe. The Painter's Keys is published primarily by a team of volunteers, with a goal to reach as many creative people as possible. Thanks for your friendship. Subscribe here!
"To bring about the celebration of some small piece of the world we live in or to take someone's experience to a new level of awareness — that is a challenge I gratefully accept." (Stewart Turcotte)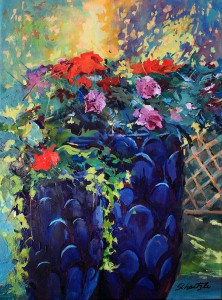 Blue Pots
12 x 16 inches
Featured Artist
Sheila is comfortable in nature. It's evident in her art; and she hopes her paintings give others an opportunity to visit those places with her. The comfort transfers to her work, and acrylics allow her to start quickly with bold brush marks and layers of translucent colors; techniques that have developed over time and through exploration. Her work can be seen at Michelangelo Fine Art. She is a member of several local art groups including the Federation of Canadian Artist and The Alberta Society of Artists.