Dear Artist,
The other night while hanging out at a party a friend reminded me of Walter de la Mare's "Look thy last on all things lovely, every hour." Together she and I relished the idea that regularized, fleeting time might be added to an intensified appreciation of our world. Today I'm reviewing a system for nailing down my seeing. I call it "Eyeku." Off and on I've filled a few trip-books and ring-binders with cryptic haiku-like items. Sometimes I've used a chiming watch to prompt the opportunity. Here's a few from my patio right now:
Creamy, dappled lichen on the gray trunk and branches of a flowering dogwood tree.
On high pilings, Purple Martin young, fluffed out, windswept, waiting to be fed.
By binoculars, two yellow kayaks with yellow-haired paddlers, girl and boy, heading out.
Airedale half in, half out of the sun, carefully licking up the last of my ravioli.
The potential of this system is to regularly exercise our powers of observation, to build on the joy of simple gifts. While it's not possible to make a painting of everything within reach, nor would it be desirable, there is value in enhancing a wider life. By writing it down it becomes monumentalized and somehow more poignant. It gets you seeing potential in the little things, the mundane, the ordinary.
The early Japanese Haiku writers like Basho and Buson recognized the value of codifying simple observations. They adhered to a strict number of syllables in order to keep the form pure. "The octopuses in the jars, transient dreams, under the summer moon." (Basho, 1644-1694) "Leaves, fallen on a rock, beneath the water." (Joso, 1661-1704) "The cricket, climbs up the pot hanger, the night is cold." (Buson, 1716-1784) My Eyeku are not so pure nor so poetically evocative, but they grab the eye-stuff and hold it. Any look at any thing could be a last look.
Best regards,
Robert
PS: "The faculty of creating is never given to us all by itself. It always goes hand in hand with the gift of observation." (Igor Stravinsky)
Esoterica: What about sharing? Emailing four or five short and sweet Eyeku often result in surprising returns in kind. Give it a try. Copy your best to friends and see if they respond. You hardly need to explain what you're up to but you can add "You can reply with yours if you wish." Below are a few I've received, myself.  I'm collecting them. They help us to realize that our universe is our constant and replenishing inheritance, and how diverse and great it all is.
Eyeku
Purple cone-flower, softly a bee on yellow-speckled spikes, swaying in the breeze. (ab)
Young sparrow fluffed, momentarily left behind in gravel bath, camouflaged. (ab)
Headless white in shallows, bobbing heavy in swells, then stretching up long eyes to horizon. (ab)
A tiny bar, a lightning speedy robotic maniac bartender mixing apple martinis for 250. (sg)
At 3 a.m. we cross cobblestones and through a signless door, two chicks and a chaperone. (sg)
French toast and our respective cabs, we disturb the rats and climb our bedtime stairs. (sg)
A horizon glow, a prism up to the sky's green center, shooting stars cutting. (js)
Green lace overhead, trembling, somewhere a big frog speaks. (lv)
A long dock, the sound of water, a cloud of flies hovering, one mad dragonfly. (lv)
(RG note) You are invited to share your own "eyeku" in the comments, below. Thank-you for your friendship.
This letter was originally published as "A last look" on August 17, 2004.
It is with my sincerest gratitude that I thank each and every one of you for your words of condolence for the loss of my Mother, Carol Noriko Genn. My family is humbled and deeply comforted by your kindness. With gratitude and friendship, Sara. 
"There is nothing you can see that is not a flower; there is nothing you can think that is not the moon." (Matsuo Basho)
Featured Workshop
January 23, 2022 to January 30, 2022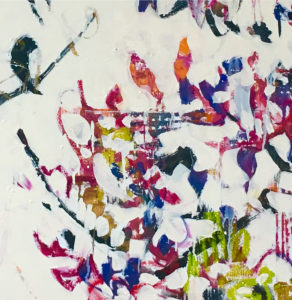 Join Ellie Harold for "Intuitive Painting: Permission to Paint Expressively," designed especially for mature women artists of all skill levels who wish to explore this medium for soulful exploration. The retreat provides attractive accommodations (your own room!) along with lightly structured activities for centering, relaxation and low stress art-making. You'll have plenty of free time to muse, paint, write and reflect while enjoying the colors, textures and flavors of San Miguel. This Retreat has the potential to transform not only your art but your life! You'll return home with a specific art "care plan" to assure support for further creating. Details at www.EllieHarold.com.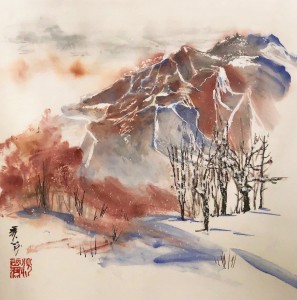 Midwinter Chill
Featured Artist
Los Angeles-based artist Lisa Chakrabarti works in a variety of media: oils, acrylics, pastels, watercolors, graphite and colored pencils. Focusing on a style she calls "romantic naturalism" – impressionism based largely on subjects in the natural world – her works have found their way into galleries in Los Angeles, Florida, Colorado and New York. In 1995, after being introduced to sumi-e and Chinese ink painting by Asian friends, Lisa became captivated by the apparent freedom and subtlety of this ancient medium.  This shift in focus has informed her work ever since.