Dear Artist,
Behind my Mum's house, there's a walking path that follows a river estuary that empties into the Pacific Ocean. Because we are but four kilometres upstream from the house in which we grew up, when we follow this path in the direction of the ocean, we pass our childhood's familiar, shoreline landmarks. "Appealing workplaces are to be avoided," wrote Annie Dillard. "One wants a room with no view, so imagination can meet memory in the dark."
Along with imagination, memory, and the dark, our childhood was propagandized with birds. They were all around our 1959 post-and-beam, split-level ranch, which was perched upon a second-growth evergreen gully, overlooking the estuary and the sea, beyond. The house was decidedly in the trees; shady and moss-thick. For my Dad, it was the Western sandpipers, Ruddy turnstones, Dunlins, Whimbrels, Curlews and Willets that were simply too tempting to pass up. Out there, on a strip of sunlight, Glaucous-winged gulls, Mallards and Mergansers, a Great Blue Heron, plus a pair of Eagles and so many owls — Barred, Barn and Great-Horned — made honouring the environment at the easel even more real and worthy of care.
This morning, my brothers and I are walking the path. High summer has burnt the long grasses and plumped the blackberries, wild and wrestling the Scotch Broom and sweet pea blossoms for the title of top strangler. Their stamens gust a jammy perfume. Owls in the mini-barn, erected by the city of Surrey in penance for condo-ing their habitat, are silent after a night of vole-hunting. Instead, the bird-watchers stalk the warblers in the bulrushes.
After moving in, in 1973, my Dad built his studio, just a few paces from the house. It had north-facing, floor to ceiling windows at the front and a slide table at the back. Later, he added stacks, a flat file and writing room. "The view is good, but not too good," he would say. "Enough to understand conditions and to feel the connection, but not more engaging than what's under the task lamp." For us, the place was a wonderland of dirt and cedar bark. Out there at low tide, a strand of shiny mudflat dotted with wintering seabirds put us in our place, under the winks of the North Star and distant, Coast Mountain night skiers; under the eagle-heavy treetops. It was, and continues to be, a place for those who long to feel a part of a larger wilderness — with paths leading outward — and nudging inward — towards more places of imagination.
Sincerely,
Sara
PS: "Art is a path on which we honour our world. Art may not be the only path, but it is a good path, even though at times a difficult one. As bearers of this honour, we artists do not need to simply render our world as we see it but as we might ourselves redesign it. As artists, one of our privileges is to invent." (Robert Genn)
Esoterica: I've spent my life dreaming of studios and finding studios and moving into studios and makeshifting studios. For each of us, there is a special set of needs — it never needs to be materially grand. "To have a sacred place is an absolute necessity for anybody today," wrote Joseph Campbell in 1988. "You must have a room or a certain hour of the day or so, where you do not know who your friends are, you don't know what you owe anybody or what they owe you. This is a place where you can simply experience and bring forth what you are and what you might be." Today, mine is just off the river path, under an eagle's tree, in my mother's chair, tucked at the back sliding door. Somewhere between a room with a view and a room with no view, there is a proverbial room; it is connected to a path, where art and life go on.
"A woman must have money and a room of her own if she is to write fiction." (Virginia Woolf)
"A little hut, curtains drawn so I don't see the squirrels up in the apple trees in the orchard. The light on, right away from the house, no vacuum cleaners, nothing." (Roald Dahl)
It is with my sincerest gratitude that I thank each and every one of you for your words of condolence for the loss of my Mother, Carol Noriko Genn. My family is humbled and deeply comforted by your kindness. With gratitude and friendship, Sara. 
"On our path, design is everywhere and invites the soul. From my window, art is a worthwhile cause. Whether we choose to delineate the rare birds that come to our shore, to broadly honour the spirit of the sunset, the deep forest beyond or the tiny foreground mosses, this is our opportunity to connect. In a world that appears now to have more connectivity than ever, and yet also less, this is what art looks like from my window." (Robert Genn)
Featured Workshop
January 23, 2022 to January 30, 2022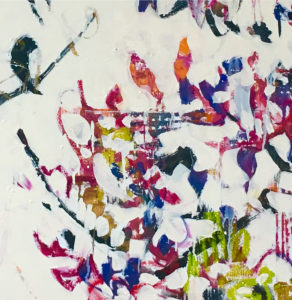 Join Ellie Harold for "Intuitive Painting: Permission to Paint Expressively," designed especially for mature women artists of all skill levels who wish to explore this medium for soulful exploration. The retreat provides attractive accommodations (your own room!) along with lightly structured activities for centering, relaxation and low stress art-making. You'll have plenty of free time to muse, paint, write and reflect while enjoying the colors, textures and flavors of San Miguel. This Retreat has the potential to transform not only your art but your life! You'll return home with a specific art "care plan" to assure support for further creating. Details at www.EllieHarold.com.
Featured Artist
My aim as a painter is to bring to life a slice of the world as I experience it. Light, color and form are my vocabulary.