Dear Artist,
When recently asked what studio task on tomorrow's agenda she was most looking forward to, Bulgarian painter Oda Jaune replied that she preferred to think she had zero tasks, even while finishing preparations for a show. "When I go to bed, I never think that I will have any specific task in the studio the next day." Jaune said this freedom makes her feel like anything is possible, and allows her "to not know how the work will turn out."
I thought about my own bedtime-thinking ritual. If the day has been generous with triumphs, a kind of personal momentum curls up into a happy slumber, in anticipation of more fun the following day. A day of setbacks, however, makes for a genuine feeling of starting over. It's not a terrible feeling – just a familiar one – one that requires a good head game. A good head game is what my doubles partner mentioned on the pickleball court the other morning: "You've got to have a good head game," she said, right after zenning her way through three sets. Appropriately, I was the only one sweating.
If one were a painter of fantastical oils depicting unconventional worlds like Oda Jaune's, for example — a good head game might involve a nightly reset of the subconscious mind. Think of blank-slating as a useful stop-gap to procedural roteness, box-ticking, paint-by-numbers. Mind its dangers, though: destinationless meandering, or perhaps a failure to complete, brought on by the Groundhog Day-like sameness of each beginning. Then again, perhaps not knowing where one is, an effective path to discovery. If one struggles to know where to begin, however, a few "to-do's" in the morning can work as a kick-start. "Always leave something a little unfinished on the easel each night," my Dad would advise. "It gives you something fun to get on with, first thing. Before you know it, your coffee will be cold."
Sincerely,
Sara
PS: "I love the morning, I love entering the studio, taking a first glance at the works that have just spent the night on their own. I love mixing fresh colors on my pallet. My eyes are rested, I am full of dreams and courage. I see my brushes touching the canvas for the first time, and that makes me the happiest in the world… feeling that it all begins now and that everything is possible!" (Oda Jaune)
Esoterica: "Full of dreams and courage" is the name of our art game. We, alone with only our ideas, are spared the head game of GM Ian Nepomniachtchi, thumped by GM Magnus Carlsen at the 2021 FIDE World Chess Championship last month. Nepomniachtchi left the room after each of his moves, so as not to watch his opponent advance. I took this to mean that to stay would be too painful. In painting, there is no adversary – but like chess, there is a wonderful and infinite puzzle to work out, to love and honour, and to live with, forever if it suits us. It waits, with no clock, for us to enter the maze, or to build it, or to try again. For our effort, we're granted knowledge – of ourselves and the technology. "I started by just sitting by the chessboard exploring things. I didn't even have books at first, and I just played by myself," said Magnus Carlson. "I learnt a lot from that, and I feel that it is a big reason why I now have a good intuitive understanding of chess."
Have you considered a Premium Artist Listing?  With each letter, an artist is featured at the bottom of this page. The Premium Artist Listings are a means of connecting artist subscribers through their work. Proceeds from each listing contribute to the production of The Painter's Keys. 
"It is above all by the imagination that we achieve perception, compassion and hope." (Ursula K. LeGuin)
Featured Workshop
January 23, 2022 to January 30, 2022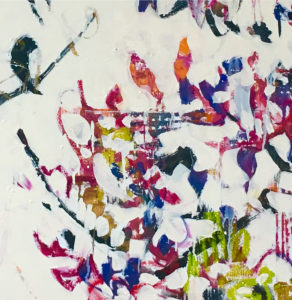 Join Ellie Harold for "Intuitive Painting: Permission to Paint Expressively," designed especially for mature women artists of all skill levels who wish to explore this medium for soulful exploration. The retreat provides attractive accommodations (your own room!) along with lightly structured activities for centering, relaxation and low stress art-making. You'll have plenty of free time to muse, paint, write and reflect while enjoying the colors, textures and flavors of San Miguel. This Retreat has the potential to transform not only your art but your life! You'll return home with a specific art "care plan" to assure support for further creating. Details at www.EllieHarold.com.
No Featured Workshop