Dear Artist,
I'm writing this letter in the full knowledge that I may be giving totally the wrong advice. While I was still in Cuba Sonja Strausz asked, "I am having trouble writing a CV. Is there perhaps a guideline as to what one should contain?"
Thanks, Sonja. I'm one of those artists who don't believe in bothering much with "Curricula Vitae." Credentials don't mean much in our business. I know one chap who anchors his CV with "Private collection — HRH Queen Elizabeth II." This is ludicrous. The painting in question was one of the 45000 self-aggrandizing gifts the Queen of England tries not to accept each year. Furthermore, I've never heard of someone bursting into an art gallery and asking, "Do you have any work by an MFA?" Fact is, you're only as good or as important as your last work. It's been my experience that some of the most outstanding, happy, highly realized and successful artists don't have much worth mentioning in their CVs. Nevertheless, there are some in our world who are believers. Some employ staff to look for and build credentials. It's also been my observation that CVs are most often asked for by persons with CVs. Now that I'm out of Cuba I can mention the CV of (Dr.) Eusebio Leal Spengler.
Sonja, you might go and have a look at the CV of Wien Cobbenhagen. This, in my opinion, is a well-organized CV that shows simply and clearly what the Amsterdam sculptor has done with his life so far. Not many artists will have this much to show. If you're backtracking, it may be difficult to remember everything. If you're like me you may not have bothered to keep track. Come to think of it the Queen has one of mine too — a gift from a former politician, not me. Bully. And all is given in the full knowledge that this may be totally the wrong advice.
Best regards,
Robert
PS: "Two or three short tests are more valuable than a suitcase full of testimonials." (Joseph P Blodgett)
Esoterica: In a Utopia, people would bring art into their lives because it moved their hearts. Because it made them laugh, cry, think better of their fellow man, or gave them joy, or understanding, or simply flooded their souls with magic. But ours is not a Utopia. Hence we have CVs.
This letter was originally published as "How to write a CV" on January 14, 2003.
Have you considered a Premium Artist Listing?  With each letter, an artist is featured at the bottom of this page. The Premium Artist Listings are a means of connecting artist subscribers through their work. Proceeds from each listing contribute to the production of The Painter's Keys. 
"I can't give you a brain, but I can give you a diploma." (L. Frank Baum)
Featured Workshop
January 23, 2022 to January 30, 2022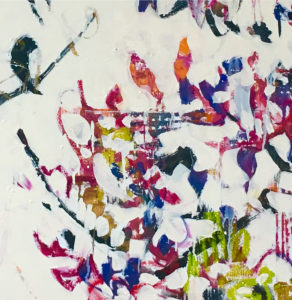 Join Ellie Harold for "Intuitive Painting: Permission to Paint Expressively," designed especially for mature women artists of all skill levels who wish to explore this medium for soulful exploration. The retreat provides attractive accommodations (your own room!) along with lightly structured activities for centering, relaxation and low stress art-making. You'll have plenty of free time to muse, paint, write and reflect while enjoying the colors, textures and flavors of San Miguel. This Retreat has the potential to transform not only your art but your life! You'll return home with a specific art "care plan" to assure support for further creating. Details at www.EllieHarold.com.
Featured Artist
As I examine my subject, I pull the colors out and reduce the lines. I take from the most interesting areas, placing sections into a cohesive composition of lines and areas of visual interest. I am currently working on a tree bark series examining the details of diseased areas, breaks, patterns, and scars. My goal is to create an interpretation of the way I respond emotionally to my subjects through the use of color and line. The tree bark series is an autobiographical metaphor to express the experience of childhood abuse, recovery, and victory.