Dear Artist,
"So what's your angle?" a subscriber asks. I try to think what he means. Yesterday I protested in my return letter that I don't have an angle. I'm just a guy who likes to paint. I guess I'm also guilty of trying to empower others. Then again I think it's a matter of considering how others might empower themselves. I've decided that "what's your angle?" is a valuable question.
My angle is that generalized lives aren't too effective. All-encompassing woo-woo fancies and feel-good panaceas are old hat. Collectivization is dangerous but brotherhood and sisterhood aren't. In addition, academia is suspect and criticism has wandered off to another planet.
My angle is that by following an intensely personalized process you are led to growth, self-esteem, success and a degree of happiness. My angle doesn't offer to fix everything, but it has the beauty of practicality. It works. My angle is to train yourself to be absorbed in a specialty whether it be bookkeeping, bee-keeping, good-housekeeping, philately, marathoning, inventing the light-bulb or painting watercolors. It has to be something with enough complexity to hold an inquiring mind. My angle is to do the spadework for the growth of passion.
I've found that the greatest joys come from the confluence of brain, heart and hand. I've found that the way to self-realization and the serving of society is to just get your nose into a subject. It's all in the details. I've found that work itself is currency and while the world is full of wonder and love and surprise, the greatest world of all is the world of human imagination. That's my angle.
Best regards,
Robert
PS: "Positive thinking alone does not work." (Robert Kiyosaki, Rich Dad, Poor Dad)
Esoterica: There's another popular book going the rounds these days: The Cultural Creatives by Paul Ray and Sherry Anderson. It describes a supposed phenomenon whereby a growing number of sensible and sensitive people are currently affecting our world in a positive way. Many artists will fit the profiles that the authors describe.
This letter was originally published as "My angle" on January 4, 2002.
Have you considered a Premium Artist Listing?  With each letter, an artist is featured at the bottom of this page. The Premium Artist Listings are a means of connecting artist subscribers through their work. Proceeds from each listing contribute to the production of The Painter's Keys. 
"Any work of architecture which does not express serenity is a mistake." (Luis Barragan)
Featured Workshop
January 23, 2022 to January 30, 2022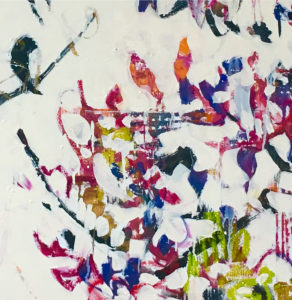 Join Ellie Harold for "Intuitive Painting: Permission to Paint Expressively," designed especially for mature women artists of all skill levels who wish to explore this medium for soulful exploration. The retreat provides attractive accommodations (your own room!) along with lightly structured activities for centering, relaxation and low stress art-making. You'll have plenty of free time to muse, paint, write and reflect while enjoying the colors, textures and flavors of San Miguel. This Retreat has the potential to transform not only your art but your life! You'll return home with a specific art "care plan" to assure support for further creating. Details at www.EllieHarold.com.
Featured Artist
A professional painter in both watercolor and oil for over 35 years, I have been creating plein air workshops in Europe for artists to join me since 1996. Plein air is one of the most exciting methods of painting, and I teach a very easy to learn way of capturing the light quickly, that any artist can apply to their own work during our adventures to Europe. Travel for artists is a great way to immerse yourself in painting and make great advances in your techniques by watching other professionals work, and by sharing your own ideas with other artists we all grow! Authentic locations, such as a 12th Century Castle in Ireland, a French Maison in the countryside of France, or an Italian Villa in an historic hilltop village in Italy are carefully chosen. We want our artists and non-painting guests to feel relaxed and at home, with en-suite bedrooms, excellent chef prepared cuisine, and convenient transfers to painting and exploring locations so you can be where you want to be to create. Join me on our next exciting journey!