Dear Artist,
At the Palm Springs Air Museum, you can catch a ride on a 1949 T-28 Trojan and get a hawk's eye view of the Coachella Valley. The Trojan is a radial-engine military trainer and was also used as a counter-intelligence aircraft during the Vietnam War. Today, due to their reasonable operating costs and great handling, many are used as aerobatics and warbird performers by private citizens and in museums. Today Peter, my twin, James and I are taking turns in the Trojan – an experiential Christmas gift.
From under the cockpit's canopy, Palm Springs is an aerial labyrinth of low-slung mid-centuries and adjacent pools, blobs of emerald fairway and date palm clusters. The San Jacinto mountains flex down-valley, snow dusted at their peaks from recent rain. We fly eastward beside them, following the 10 towards the expanding desert and its hugging ranges. Out here, it's a bit like those scenes in The English Patient, when Count László de Almásy is surveying the Egyptian desert for the Royal Geographical Society in his 20s-era Tiger Moth biplane. "Just enough weather to give the sky some drama, without any real drama," I say into my headset. In my ears, a jumble of staticky and only barely discernible garblety goop comes back from Pilot, Pat: "So smooth today!" He banks right, then left, then right again, so we're parallel to the desert floor – swirling, dry rivers of ochre and sienna. When we circle back and he touches down on the runway, it's like he's placing a teacup into the bath.
Inside the museum hangers, the nose art is the human conduit to the ephemeral drama of war. A psychological protection, a joy buoy – it was never-officially approved but not discouraged. It was an act of personalization in an otherwise uniform military. It endures as a record of individuals and campaigns. I study their themes: shark's teeth, Vargas girls, Bugs Bunny astride a bomb, Kilroy was Here. The colours, the varying skill, the long gams and tiny shoes – are at once puerile, imaginative, heavy with precarious fate. I linger on the names and nicknames of the pilots inscribed beneath the cockpit windows and their personalized graphics, each a record of service. If they're here now, they're not in the Channel, or in the Pacific, or in a heap, nor hopefully, were their crew. "Survival," wrote Erica Jong, "means being born over and over again."
Sincerely,
Sara
PS: "What happened? Art happened." (Marina Abramovic)
Esoterica: The museum is stocked with volunteers, many of them Vets, who, if asked, will tell you one of a million stories of individuals who participated in campaigns across the globe over the last hundred years. They're eager to share, and infinitely enthused. I'm remembering my Great Grandpa Caton, who was killed while trying to take a bridge in Nieuwpoort, Belgium in 1917. I'm staring into the eyes of a Vietnam Vet, an elderly gentleman who tells me he's happy to see me here. Today, the hangers are full of families and dog people and airplane enthusiasts and celebrators of aeronautical technology, lovers of machines and innovation, future pilots and warbird joyriders, like us. The museum, like all museums, is in its permanent process of restoration and preservation. I bring my nose up, one last time, to the nose art and its rivets, before we step out again into peacetime. "Art is the thrilling spark that beats death," wrote Brett Whiteley, "that's all."
Have you considered a Premium Artist Listing?  With each letter, an artist is featured at the bottom of this page. The Premium Artist Listings are a means of connecting artist subscribers through their work. Proceeds from each listing contribute to the production of The Painter's Keys. 
"Art happens – no hovel is safe from it, no prince can depend on it, the vastest intelligence cannot bring it about." (James Abbott McNeill Whistler)
Featured Workshop
January 23, 2022 to January 30, 2022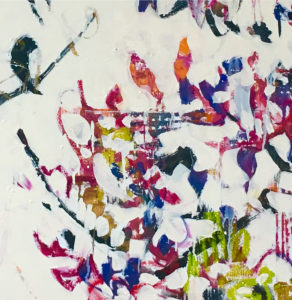 Join Ellie Harold for "Intuitive Painting: Permission to Paint Expressively," designed especially for mature women artists of all skill levels who wish to explore this medium for soulful exploration. The retreat provides attractive accommodations (your own room!) along with lightly structured activities for centering, relaxation and low stress art-making. You'll have plenty of free time to muse, paint, write and reflect while enjoying the colors, textures and flavors of San Miguel. This Retreat has the potential to transform not only your art but your life! You'll return home with a specific art "care plan" to assure support for further creating. Details at www.EllieHarold.com.
Featured Artist
I am inspired by the drama of light as it moves along forms, the rhythms and nuances of shapes, and the colours that change from subtle to vivid at any give moment. My expressive compositions, in oils, acrylics or watercolours, are a contemplative and heartfelt response to my experiences, representing the "visual music" I feel. Each brush-stroke is like a colour note or chord playing out the scene offering a connection with the viewer through dynamic movements and vibrant colour.