Dear Artist,
It's early Tuesday morning and the studio computer is ringing like a Wal-Mart cash register. Artists are sending "Eyeku" to one another and copying to us. I'm thinking of young Basho, the first Haiku writer, cross-legged on his tatami. He was probably wondering who might ever see his latest effort. In the year 1670 Japan was in the grip of the shoguns. It was not a time of instant communication. Right now I'm reading something from another continent that must have been created only this morning: "Two leash-dogs meet in a yellow park, they briefly sniff, then move along." Basho would be blown away. What a world we now live in.
Some Eyeku breed more questions: What is the value of sharing? Does expressing yourself verbally neutralize the desire to express visually? When and how do we find the kind of austere tatami that Basho thrived on? These days, like no other time in history, we need more than ever what can only be called "character." Nowadays all distractions are potentially valuable. We need character in order to extract the useful. How do we go back to purity?
In the words of R. H. Blyth, the great English champion os,f Haiku: "We return to the friends of our childhood, the rain on the window-pane; the long silent roads of night; the waves of the shore that never cease to fall; the moon, so near and yet so far; all the sensations of texture, timbre, weight and shape, those precious treasures and inexhaustible riches of every-day life." How do we find simplicity and direct purpose in the midst of chaotic communication? How, on our necessary islands of ego do we find challenging and yet comforting companionship?
In the companionship of art we are all of a time. Early or late we are to be shared. In a way we all have the same job. We are trying to evoke and reinforce meanings from the spaces we cover and the times we're given. Short or long this becomes our purpose. What we artists do is important stuff.
Best regards,
Robert
PS: "The months and days are the travelers of eternity. The years that come and go are also voyagers. I too for years have been stirred by the sight of a solitary cloud drifting with the wind to ceaseless thoughts of roaming." (Matsuo Basho, 1644-1694)
Esoterica: Thanks again for being part of our community. Thanks especially to those friends who correspond regularly. It seems there's so much that we can learn, so much that we can feel. As for me, I'm going to a remote island for a few days to look at clouds.
Eyeku
Purple cone-flower, softly a bee on yellow-speckled spikes, swaying in the breeze. (ab)
Young sparrow fluffed, momentarily left behind in gravel bath, camouflaged. (ab)
Headless white in shallows, bobbing heavy in swells, then stretching up long eyes to horizon. (ab)
A tiny bar, a lightning speedy robotic maniac bartender mixing apple martinis for 250. (sg)
At 3 a.m. we cross cobblestones and through a signless door, two chicks and a chaperone. (sg)
French toast and our respective cabs, we disturb the rats and climb our bedtime stairs. (sg)
A horizon glow, a prism up to the sky's green center, shooting stars cutting. (js)
Green lace overhead, trembling, somewhere a big frog speaks. (lv)
A long dock, the sound of water, a cloud of flies hovering, one mad dragonfly. (lv)
You are invited to share your own "eyeku" in the comments, below. Thank-you for your friendship.
This letter was originally published as "Important stuff" on August 20, 2004.
It is with my sincerest gratitude that I thank each and every one of you for your words of condolence for the loss of my Mother, Carol Noriko Genn. My family is humbled and deeply comforted by your kindness. With gratitude and friendship, Sara. 
"With every gust of wind, the butterfly changes its place on the willow." (Matsuo Basho)
Featured Workshop
January 23, 2022 to January 30, 2022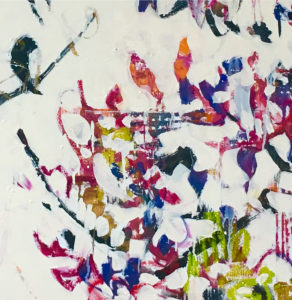 Join Ellie Harold for "Intuitive Painting: Permission to Paint Expressively," designed especially for mature women artists of all skill levels who wish to explore this medium for soulful exploration. The retreat provides attractive accommodations (your own room!) along with lightly structured activities for centering, relaxation and low stress art-making. You'll have plenty of free time to muse, paint, write and reflect while enjoying the colors, textures and flavors of San Miguel. This Retreat has the potential to transform not only your art but your life! You'll return home with a specific art "care plan" to assure support for further creating. Details at www.EllieHarold.com.
Featured Artist
The way that I interpret what I see
is my Way.
I paint, because it's the most satisfying way that I've found
to be myself.
Fish swim.
Birds fly.
I paint.
Boldly.
On canvas,
with acrylics.