Dear Artist,
After all these years, within the striving and plodding of art and amongst the drop-kicks of New York and the patient song of our resident California Western Mockingbird, I've come to understand that happiness and gratitude are so intertwined that one perhaps does not even exist without the other. I feel this way when I look at my husband. In this moment, I feel this way when I try to grasp the scope of my parents' love, and their individual greatness. This week, I am coming to terms with a new idea: that the law of life is that we must live part of ours without the physical presence of those most important. Accepting this law has activated a new search for meaning. While the sadness beds down, there is also a feeling of quiet and abiding gratefulness. I am even grateful for my sadness. And if I am grateful for my sadness, and if gratitude and happiness are intertwined, then I am also happy.
In this week's Atlantic, cognitive scientist and humanistic psychologist Scott Barry Kaufman has differentiated the miracle of gratitude from what the culture has recently deemed, "toxic positivity." Instead of minimizing our response to difficulty, "tragic optimism," says Kaufman, searches for opportunities for growth amidst life's inevitable tragedies. First coined by the existential-humanistic psychologist and Holocaust survivor Viktor Frankl, "tragic optimism" is the practice of processing adverse events by peering into the darkness. Apparently, it's an excellent location for finding routes to gratitude.
It turns out that gratitude inspired by adversity can and will, in fact, rewire us for a permanent uptick in happiness. The more the difficulty, the greater the potential for deeper and lasting joy. To this end, cancer survivor Kristi Nelson, who now runs the Network for Grateful Living, has made a point of distinguishing between gratitude and gratefulness. Gratitude, says Nelson, is a momentary feeling, whereas gratefulness can be understood as an "overall orientation" that is "not contingent on something happening to us, but rather a way that we arrive to life." For sensitive ones, for those who struggle alone, for
those experiencing pervasive setbacks, for dreamers, for artists, this orientation could simply become a default setting. That dig we've all dodged; "delusion," — extracted from the Latin ludere, meaning "to play," — could accidentally backfire; and concoct an orientation that, when channelled with real work and inquiry, results in the most true and productive of expressions, spanning the widest breadth of both exaltant and tragic human experience. "Grief," wrote John Green, "does not change you. It reveals you."
Sincerely,
Sara
PS: "I saw grief drinking a cup of sorrow and called out, 'It tastes sweet, does it not?' 'You've caught me,' grief answered, 'and you've ruined my business. How can I sell sorrow, when you know it's a blessing?'" (Rumi)
Esoterica: Critics argue that a practice of gratitude is nothing more than a tool for narcissistic self-improvement, and that a reverence for a superpower beyond our own cognitive leanings is necessary for any meaningful spiritual well-being. But research has shown that the more grateful people feel, the more inclined they are to help others, and that less attachment to dogma inspires a deeper empathy and generosity towards others. "True gratefulness rejoices in the other. Its ultimate goal is to reflect back the goodness that one has received by creatively seeking opportunities for giving," wrote psychoanalyst Robin Stern of the Yale Center for Emotional Intelligence. This "existential gratitude" is now being measured on the "Existential Gratitude Scale," created by gratitude researcher Lilian Jans-Beken and existential positive psychologist Paul Wong. Designed to measure our inclination towards gratitude for every experience, as opposed to just the positive ones, the EGS can provide a snapshot of our overall spiritual health as it relates to suffering and resilience, responding to difficult people and finding purpose. "To deny that life has its share of disappointments, frustrations, losses, hurts, setbacks, and sadness would be unrealistic and untenable. Life is suffering. No amount of positive thinking exercises will change this truth," wrote Professor Robert Emmons. "Life is a privilege, and those of us who choose the path of creativity, may just be the most privileged of all. We all have our unique motivations. In all the cults and orthodoxies, and in the absence of them, simple gratefulness need not be overlooked. For some, the mere gift of a new day may be enough." (Robert Genn)
It is with my sincerest gratitude that I thank each and every one of you for your words of condolence for the loss of my Mother, Carol Noriko Genn. My family is humbled and deeply comforted by your kindness. With gratitude and friendship, Sara. 
"Had I the heavens' embroidered cloths,
Enwrought with golden and silver light,
The blue and the dim and the dark cloths
Of night and light and the half light,
I would spread the cloths under your feet:
But I, being poor, have only my dreams;
I have spread my dreams under your feet;
Tread softly because you tread on my dreams." (William Butler Yeats)
Featured Workshop
January 23, 2022 to January 30, 2022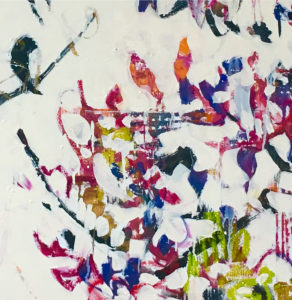 Join Ellie Harold for "Intuitive Painting: Permission to Paint Expressively," designed especially for mature women artists of all skill levels who wish to explore this medium for soulful exploration. The retreat provides attractive accommodations (your own room!) along with lightly structured activities for centering, relaxation and low stress art-making. You'll have plenty of free time to muse, paint, write and reflect while enjoying the colors, textures and flavors of San Miguel. This Retreat has the potential to transform not only your art but your life! You'll return home with a specific art "care plan" to assure support for further creating. Details at www.EllieHarold.com.
Featured Artist
Essentially I am representational painter, with a real appreciation for the design aspects of abstract art.  By emphasizing strong shape relationships and connecting bands of textural color, I am able to paint the natural world in two dimensional patterns while striving to create interesting three dimensional compositions.  Andrew Wyeth, a realist who has influenced my work, painted very abstract watercolors that helped him explore the possibilities for unusual compositions.  Like him, I value the drama of a strong composition, solid drawing, complex textures, and sumptuous, rich color while attempting to ground the painting's design in essential, free form shapes.  Past Masters who have shaped my artistic direction are: Joaquin Sorolla, John Singer Sargent, Richard Diebenkorn, and the California impressionists. Richard Schmid is a contemporary painter whose instruction has contributed greatly to my ability to capture the light, intimacy, and subtle textures of the hidden landscapes.
I have found painting landscapes in the field to be an adventure of the mind, spirit, and body. It is a personal record of a distinct moment in time that captures an emotional response to a physical reality. Nature is exciting, unforgiving, yet always spiritually rewarding. I am grateful to be able to share this natural beauty with fellow wanderers hoping to discover those special moments.