Dear Artist,
Vicki Lynn Rae of Vancouver, BC wrote, "I have noticed from time to time subscribers have written with art related questions and now I have a situation that has me stumped. A few years ago a client bought from me two large paintings. One, an Orca, I had already painted and listed on my website. The other was a landscape commissioned to go along with the Orca. Recently, I received an email from this client saying he is having to downsize and wishes to sell the Orca painting. He asked me to handle the sale. I have agreed but I have never been in this situation and am not sure what to do about pricing this piece. My client says money is not an issue though he does not want to "give" the painting away, nor undercut the apparent value of my works. I am independent as an artist, not represented by any galleries. I will be taking a commission on the sale. Have you encountered this? Any advice or thoughts on how to price this?"
Thank you, Vicki. You need to price the painting in alignment with your current price list. Generally speaking, for living, working artists, size, not the amount of detail, time taken, the age or the provenance of the work, is the better guide and rewards your enthusiasts with consistency and transparency. "There's something to be said for making up your mind on a pricing plan that will last a lifetime," wrote Dad in his letter Pricing for Joy. "The joy of your art process is one thing. The commoditization of your art is another. It's something we learn to live with if we wish to stay in the game and have a life."
Market this painting as you would your other work, lest it be unfairly tarnished with a patina of rejection. Perhaps it's just me, but words like "resale" need not be included — our offerings are special and possibly pre-ordained to change hands through the ages and outlive us all. Instead, catalogue this treasure with a high-quality photograph and slot it into your oeuvre where it belongs — in period, year and medium. This way, when its next destiny comes knocking, it will be easy to discover.
Sincerely,
Sara
PS: "If you give your life as a wholehearted response to love, then love will wholeheartedly respond to you." (Marianne Williamson)
Esoterica: Dad also wrote a letter called Principles of pricing art. "Artists, in my opinion, need to distance themselves from daily commerce," he wrote. "Intelligent, long-term pricing accommodates friendly partnerships, maintains your integrity, and makes your progress viable in an ongoing manner. Intelligent, long-term pricing buys your freedom." He then laid out what he called the "Ten Commandments of art pricing." Here they are:
Thou shalt start out cheap.
Thou shalt publish thy prices.
Thou shalt raise thy prices regularly and a little.
Thou shalt not lower thy prices.
Thou shalt not have one price for Sam and another for Joe.
Thou shalt not price by talent or time taken, but by size.
Thou shalt not easily discount thy prices.
Thou shalt lay control on thy agents and dealers.
Thou shalt deal with those who will honour thee.
Thou shalt end up expensive.
(Robert Genn, from Principles of pricing art )
The Letters: Vol. 1 and 2, narrated by Dave Genn, are available for download on Amazon, here. Proceeds of sales contribute to the production of The Painter's Keys.
"The price of anything is the amount of life you exchange for it." (Henry David Thoreau)
Featured Workshop
August 4, 2019 to August 6, 2019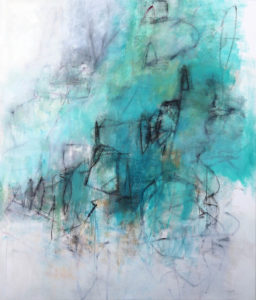 Explore and develop your personal voice in the inspirational environment of Santa Fe. Through guided exercises we will explore color, composition, value and working on multiples at the same time. Find your own signature with different mark making tools and learn how your marks enliven your paintings. Learn how to harmonize any palette, move from analysis paralysis to painting success and to trust your artistic choices. There will be plenty of time for independent exploration.
This intensive 3-day workshop is for all levels of artists who have experience using acrylic paint. At the end of day 3, join us and fellow artists for a no host dinner to celebrate your success.
For further details and to register see https://artbycat.com/home.html or https://julieschumer.com/.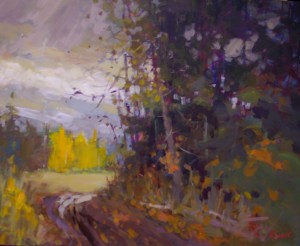 Turn In The Road
24x30 acrylic
Featured Artist
My art represents an artistic journey that has been on-going for more than thirty-five years with help and guidance from many wonderful artists. Now, with years of plein-air painting experience, study and solo exhibitions, I believe that my current work has reached its highest level, reflecting the depth of my absorption in the wonder and beauty of the world around me.  I have learned that, as an artist, I will never stop looking for better ways to express my feelings in art and that struggling to more fully understand myself is integral to my painting; a philosophy that was part of every workshop I taught. Still is.