Dear Artist,
There's something to be said for families and extended families who live and work together in a creative hothouse. Think of Robert and Clara Schumann — they took in a boarder, Johannes Brahms, who managed to fall in love with Clara. She had eight kids and still had time to produce twenty compositions. The boys did quite a bit of work as well. Under one roof they made beautiful music. And then there are William Wordsworth and his sister Dorothy up there in the Lake District writing poetry together among the daffodils.
Dynasties such as the Wyeths spawned a passion and commitment that might not have been sustainable with only one hand clapping. Nothing beats the kind of joy artists can have when they work together for a mutual or parallel goal. Sometimes there's a division of labour as in many of our tandem subscribers. Others seem to flourish in loving competition tempered with mutual respect. Clubs and associations can give the hothouse effect, but we still go home to our private and often lonely rooms. In great workshops artists in a state of familial togetherness, eat, sleep and live for a finite time in a world of art. These workshops give a mind-bending high. There's a rededication of energy that comes from new information, demonstrated techniques, and concentrated excitement. Mild rivalry forces growth. The learned skill of sharing is key to the hothouse environment. While private struggle has its place as well, here are some ways to heat up your hothouse:
Be a doer, not a speaker.
Be on somebody else's team.
Smile when you see the spark.
Welcome others to your space.
Smell the daffodils, together.
Bless courage, originality and spunk.
Ease the way for others to help you.
Allow your passions to be contagious.
Sandwich criticism between layers of praise.
Pay attention to the kids; yours and those of others.
Give confidence — it's the greatest gift you can give.
Best regards,
Robert
PS: "It is good to rub and polish our brain against that of others." (Montaigne)
"Without him I would have given up." (Pierre Auguste Renoir on Monet)
"I now realize how intensely I've been living through my family." (N. C. Wyeth)
Esoterica: N. C. and Carolyn Wyeth settled in Chadds Ford, Pennsylvania in 1907, where they built a house and studio. Together, N.C. and Carolyn raised five children, including Henriette, Carolyn and Andrew, who became artists and Ann, a musician and Nathaniel, a mechanical engineer. Henriette married artist Peter Hurd and Ann married artist John McCoy. Ann and John's daughter, Ann, married artist George A. Weymouth. Andrew and Betsy Wyeth's son, Jamie, is an artist, too.
This letter was originally published as "Hothouse effect" on July 2, 2002.
The Letters: Vol. 1 and 2, narrated by Dave Genn, are available for download on Amazon, here. Proceeds of sales contribute to the production of The Painter's Keys.
"I wish to lead a life free from care, and I see that I shall be unhappy if I cannot always work at my art." (Clara Schumann)
"Fill your paper with the breathings of your heart…" (William Wordsworth)
Featured Workshop
November 20, 2019 to November 27, 2019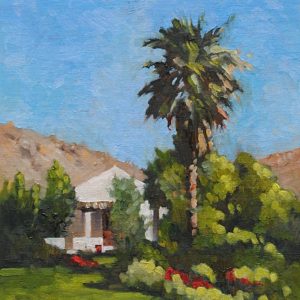 Join Canadian artist Sheree Jones as she shares her passion for painting "from life" at this idyllic coastal retreat.
This workshop is designed for experienced beginner & intermediate oil (and acrylic) painters.
The small group size guarantees plenty of one on one instruction.
While you're busy creating art, your friendly hosts at Casa Buena will be working hard, ensuring that your stay is a memorable one.
Outstanding food, accommodations, and field trips will satisfy your desire for both comfort and adventure. Non painting partners welcome.
For more information visit:
http://www.casabuenaartretreat.com/retreatSheree.htm
or contact Sheree:
sheree@shereejones.com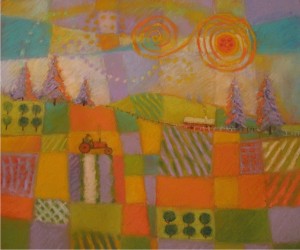 Sunrise Over the Farm #2
original pastel 15 x 15 inches
Featured Artist
Mary's interest in pastel painting began during her years at Whitworth College in Spokane, WA where she majored in art and elementary education. Though she has worked in watercolor and oil as well as calligraphy, her interest has consistently turned primarily to pastel because of the medium's potential for glowing, vibrant color and the harmony achieved in bringing together lights and shadows.