Dear Artist,
Depending on your point of view, he was either one of the world's most important painters, or the original amateur. J. M. W. Turner (1775-1851) influenced many artists, particularly the impressionists. (Monet and Pissarro were knocked over by his work.) His paintings of luminous vapour have etched their way into the popular imagination.
One magic day years ago I stood in front of the real stuff at the Tate in London. Ever since then I've been wired for Turner — both the artist and the art. I always feel I owe him a visit.
He was the son of a Covent Garden barber and an "unstable mother." Through his compulsive and legendary miserliness he rose to great wealth. A "boy wonder," he worked in both watercolour and oil. He travelled regularly and with purpose, read widely and became a student of everything that came his way. While early elected to the Royal Academy, he avoided the politics but stayed a lifelong member. Turner spoke poorly, lectured inaudibly and socialized infrequently. At the same time he cultivated the gentry, paid little attention to critics, pushed his prices ever higher and sold most of his work from his home gallery. He sometimes included his own poems with his paintings. In his maturity he became "a painter of light" — his critics would say, "a painter of nothingness." His subject matter, while land and seascape based, spoke deeply of the human condition, universal laws, solitude, the power of nature over man. On the cusp of the Industrial Revolution, he also tackled Classical and Biblical themes. He was a quick study. Cannily, he bought back what he thought were his better works. A shabby misfit in later life, he let his Chelsea home and his paintings deteriorate around him. He sealed his immortality by stockpiling his better works and leaving them to the Nation.
The old masters were Turner's masters. At various times he worked in the style of Claude, Poussin, Rembrandt, Willem van de Velde, and others. "This made me an artist," he said in a typical one-liner. Turner was a man who challenged himself to match and excel. To him art was a lineage and he was meant to be part of the line.
Best regards,
Robert
PS: "I was introduced today to the man who beyond all doubt is the greatest of the age; greatest in every faculty of the imagination, in every branch of scenic knowledge; at once the painter and the poet of the day." (John Ruskin) "Light is colour." (Turner) "Art is a rum business." (Turner)
Esoterica: Turner was noted for arriving at Academy shows on "Varnishing day" and reworking his paintings, sometimes massively, in order that they might outshine the nearby competition. It seems he had little regard for "fat over lean" or other proper conventions — he often laid fugitive glazings over earlier varnishes, which has made for a restorer's nightmare.
This letter was originally published as "A visit with Turner" on April 23, 2004.
Download the new audio book, The Letters: Vol. 1 and 2, narrated by Dave Genn, here. Proceeds of sales contribute to the production of The Painter's Keys.
Art is not a study of positive reality, it is the seeking for ideal truth." (John Ruskin)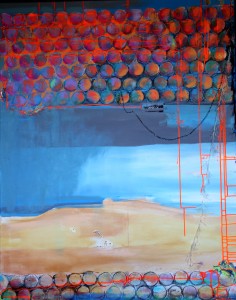 Hurricane
Featured Artist
I'm a contemporary painter who loves to travel the world over finding pictures to paint, and capture on photo…check out my website and travel with me on my blog "The Traveling Artist Blog."  http://www.meljosieart.com