Dear Artist, Yesterday, Adrianne Moro of Curitiba, Brazil wrote, "I am very fond of your twice-a-week letter. But suddenly a new situation has taken me. It was the death of my grandfather. He was the most brilliant, loving, caring human being I've ever known. Since I lost him, I can't work at my art and do not find a way to return to my daily routine in my studio. It's been fourteen days now. Can you give me a word of advice in this situation?" Thanks, Adrianne. During the time I've been writing these letters there have been thousands of emails from artists who have lost loved ones. Some went through a period of non-productive mourning for months or even years. Others, almost immediately, found an energetic return to work to be part of the healing process. Still others, I'm sorry to say, put down their tools forever. Noticing my actions when my own folks passed on a few years ago, I've given this matter some thought. I appreciate your question at this time. We've taken the liberty to put some of your collages at the bottom of this letter. Just as life is a mystery, so is death. But there is one thing you need to think about, and that is to see your art from your grandfather's point of view. He would not want you to delay your young life of creativity over the grief of his passing. He would want you to take continued joy in the universe while you have the breath and the energy. If he was a brilliant, loving, caring man, as you say, he would know that life has a purpose of enriching the lives of others. As an artist, you are uniquely positioned to do this. His passing is your gift; it is his breath you continue to breathe, and the brilliance that was within him is now passed on to you. It is a legacy not to be passed up. We in the Brotherhood and Sisterhood of Artists need to be particularly aware of the continuum. Both alive and dead, we make our contribution. We, the living ones, are just the forward edge of the process. We have a responsibility not just to those who have gone before, but to those who will carry on after us. Do not drop your brush. Best regards, Robert PS: "Life is a song… sing it. Life is a game… play it. Life is a challenge… meet it. Life is a dream… realize it. Life is a sacrifice… offer it. Life is love… enjoy it." (
Sai Baba
) Esoterica: My dad died three months after my mother. They were both in their nineties. About two months before my father died he asked if I might bring him one of his half-finished paintings to work on. After a half hour of shaky stroking, he said, "Take it away, Bob, I've had it." That was his last. It made me cry, but not him. After his death I gave myself a little show of his paintings. I examined them close up — his brushwork, his details, his odd choices of subject matter. We do indeed pick up where others leave off.
Adrianne Moro
Grief has its own timetable
by Nancy Mayer, Charlottesville, VA, USA When my son died suddenly three years ago, I was of course, stunned and devastated. One month after that terrible day, the day after what should have been his 30th birthday I began painting birds, small portraits. As I painted, I felt a renewal of wonder for nature's perfection. I enjoyed the birds' beauty and liveliness, their passionate sense of purpose and their songs. By the end of the year I had 70-80 birds. Working in the series helped because I did not require the jolt of inspiration to get going. There's always another bird. My only requirement was that I see the bird myself. We made a weekly calendar of birds to give to friends and family, thanking them for their sweet support. The calendar was dedicated to our son and shared some family anecdotes. I am a watercolor enthusiast: during the first months, my tears added surprises to my efforts. I always felt a profound connection with my boy when I was painting — as if I was doing it for him and with him. To say the studio became a place of healing is an understatement. The work brought me to awe and helped me begin to create a transformed relationship with my child and with life. Grief has its own rules and timetable. I can only say that art helped me.
There are 3 comments for
Grief has its own timetable
by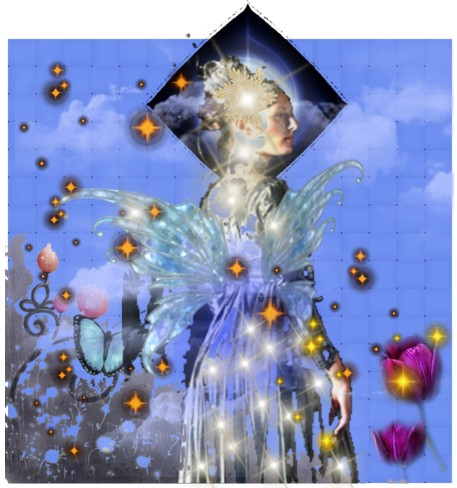 Nancy Mayer
Alchemical transformation
by Margot Hattingh, South Africa Grief is an enormous wellspring of emotion, and we all know that emotions give us physical energy. Grief tamped down and too strictly controlled for whatever reason turns inwards and causes a poisonous paralysis of the creative urge as well as other life affirming activities and can become deep long term depression. If you are an artist, that enormous emotional energy can, and I really believe and have proved for myself, must be allowed free expression in personal art work. The thing is to just start. Begin cutting, slashing and assembling collage pieces as deliberate, considered metaphor for how she is feeling with whatever she has on hand. Trust the process. If nothing else, she will lose herself in the making, gain respite for a little while from the grief. I have found that it is a true alchemical transformation, taking ugly and overwhelming emotions, rage, grief and coming out the other side in a purged, clear and tranquil state. She may have even created some unusually powerful and expressive artwork in a frenzy of grief. Further, I think that some artists create unnecessary drama in their lives, so they can access the huge creative energy that is not normally available. I hope she finds the lifeline.
There are 4 comments for
Alchemical transformation
by Margot Hattingh
Catharsis through art
by Bill Smith, Duluth, GA, USA I, too, found myself in a period where it was difficult to be creative when my 22 year old son passed away from leukemia. The care-free, take a risk, splash it on the canvas persona went into hiding. Then, after a reasonable period of grief recognition, a displayer of my work asked for a specific replacement. I felt conflicted, but compelled, to provide. Once I was able to put the first brush to canvas, the feeling and zeal came back. I was triumphant in the return as if it were a tribute to the lost. I wanted it to, not only be good but, be very good as it marked an event for dealing with the loss. I still don't paint with the unabashed bravado that I did before but, I can now occasionally paint with the creativity that I had before the loss. Art, like life, is not a destination, but a journey. I can only hope that those conflicted with a major loss can take the first steps to continue on their journey of displaying life, as they see it, for others. It is cathartic. They'll be glad they did.
Art is a conduit for the divine
by Sigrid Tidmore Many of those close to me have made their transitions this year: a dear friend, my father and, 3 months ago, my husband of 35 years. For each I have grieved, and for each I have celebrated. Once I found equilibrium, I gained healing by painting "consciousness portraits" of my lost loved ones. While I have many photos to remember their earthly presence, these illustrations bring to mind our spiritual connection. For instance, my father was born and died on an eclipse. He loved nature and carved butterflies and birds from balsa wood. In life we were always at opposite ends of every argument but now the duality has ended. The eclipse is the only time day and night come together. Thus the attached painting symbolizes our resolution. I find great peace in these paintings and I find I am now creating them for others. Art gives us a wonderful opportunity to be conduits for the divine.
There are 6 comments for
Art is a conduit for the divine
by Sigrid Tidmore
Painting therapy
by Elaine Woods, ON, Canada I lost my husband more than 2 years ago. It was like I was enclosed in a bubble and could not touch or feel anything. A friend dragged me to her art class with my paint kit. I paid my money and sat in front of an easel. And sat, and sat and stared at a blank life. In the weeks to come I set up my paints and made feeble attempts at painting. The instructor looked on (not a stranger to death in his family) and made minimal comments just letting me know he was there. In time I started to paint and then more feverishly as the grief poured out of my brush. I now have several winterscapes with frozen icicles and waterfalls. I now paint in deeper tones and on larger canvases as I can really get in there, my painting, and work off excess energy with large heavy strokes. I have some lovely paintings, many incomplete, but I work on. Painting is therapeutic. Painting is my life.
There is 1 comment for
Painting therapy
by Elaine Woods
Painting brings her closer to mother
by Mona Youssef, Ottawa, ON, Canada I, too, second Adrianne that I have been enjoying reading your twice-weekly letter, in particular your response to Adrianne! It is so thoughtful, sensible, comforting and practical, as there is so much truth in every point you have mentioned! Adrianne, I feel for you. I lost my dear mother, who was my best friend and encouraged me in every way to paint since childhood. As much as it was devastating for me to see her departing life, as much I have beheld painting closer to my heart for it brings the precious memory of her, waking up nights to see me still painting. This memory of her beautiful smile and understanding is present and lives on the surface of my life continually. Recalling that my mother always wanted to see me a great artist, not that I mean I am, but as Robert said, we carry this kind of responsibility not only for those who have gone, but also for those who will carry on after us. Getting back to your studio does not mean that you will be having leisure or entertaining time, rather you will be doing what would have made your Grandfather happy, seeing you successful. So Adrianne, there is no need to feel guilty for continuing to paint, even with music on, and the sooner the better. If you were working in an office, would you have stopped working? Back to your studio will not only be healing but will also be continuation of your life with meaning and goal. Your grandfather would have loved to see that. As well, you would leave a good example for your children, if you have any, and make the rest of your family proud of you! In addition, you must have art lovers, why deprive them from your art!? With my deep sympathy take courage and carry on!
Overloaded with sadness and fear
by Howard Cowdrick, Sarasota, FL, USA I have been painting most of my adult life and have loved every minute of it. Two years ago I was diagnosed with cancer. It was referred to as an "easy" cancer. The treatment was external and internal radiation. I did great for the first 18 months after treatment. I taught classes, painted with great vigor and frequently worked up to 18 hours a day with no thought of exhaustion. I paid for my medical care but it did cost me all my retirement funds, insurance funds, and savings… but it was paid. Recently I have been going through a period of delayed radiation reaction. It has created a very uncomfortable situation where I have several trips a week to the doctor, several ER trips, pain, infections, blood, blood clots and more appointments than desired. My doctors have said I am doing fine but my numbers are not good. A famous cancer lab has tested my fluids and found no cancer. The constant medications, doctor's office visits, ER visits, and worry have stopped me in my tracks with my artwork. In the past 9 months I have painted one work. In part I am sure that the block is due to the financial time bomb hanging over my head. While I have paid for everything to this point, the financial situation is at best thin and it is weighing on my mind. My heart and mind are frequently overloaded with sadness and fear. I love my time at the easel but find I can't face it right now. Does anyone have any suggestions on how to separate the fear from the joy of working? "For every laugh, there should be a tear." (Walt Disney)
There are 10 comments for
Overloaded with sadness and fear
by Howard Cowdrick
Father's spirit alive and well
by Paul deMarrais, TN, USA My father died suddenly of a heart attack. He went to take a nap and didn't awaken. It seems like yesterday. He was a heroic figure and rock solid leader for me and always encouraged my long-shot career in art. I can remember a period of numbness after his death. I recall no details of his funeral or of the few days afterword. My eating patterns were altered. In a couple weeks I developed a painful condition called a 'spastic colon' that bothered me for several years. I ended up in the hospital a couple months later. The loss of special people in our lives requires a reordering of our small universe. Things will never be the same. This process takes time and since art is so linked with our state of mind, the creative process is likely to be affected. Your reader, Adrianne, needs a lot more time to adjust to her new life without her grandfather being around on earth with her. I found that my father is still 'with me' even though he's not around. He appears in my dreams and thoughts. In one memorable dream I had, I realized in the dream that something was unusual and asked him "Dad, aren't you supposed to be dead?" He smiled at me and slowly vaporized. It was encouraging. I've come to realize that death is not terrible and that my dad is safe and happy in another dimension. I have confidence Adrianne will continue to produce art and will develop a desire to honor her grandfather's memory by doing so. Art-making is healing and will help her in her own personal time to manage her grief.
There is 1 comment for
Father's spirit alive and well
by Paul deMarrais
Life and talent must endure
by Helen Tilston, Toronto, ON, Canada My sister and pillar Philomena Glynn, mother of two young children, was diagnosed with a grade 4 brain tumor ten years ago. I quit my job and travelled to Galway, Ireland to be her caregiver. She died within ten months, the upside I had a year to say goodbye to her and our days included feeding the swans in Galway city, building sandcastles, attending the oyster festival, plays and dancing. I paint in oil, en plein aire usually. I purchased a watercolour set and painted several small paintings each day – usually during the evening when alone and Philomena was tucked into bed. On my return to North America I was still not taking up my oils. I created a mosaic on a side table as a tribute to my sister. The hammering of pottery and the assemblage of the mosaic, inspired by WB Yeats poem, the Lake Isle of Innisfree, allowed me to shed tears of grief and also cry in sympathy from the many cuts and bruises on my hands. I heated up the wax and painted in encaustic and the
Visitation
is a tribute to Philomena. Running and being in touch with nature slowly brought me back to the studio and my oil painting and plein aire painting returned. I believe my colours are brighter today and life must go on and we must continue to use our gifts. Robert, I thank you for your kindness and gentleness.
There is 1 comment for
Life and talent must endure
by Helen Tilston
Painting father's dreams
by Trilby Jeeves, Vancouver, BC, Canada Thank you for this most timely post. My father, the painter in the family, is very ill and is still "fighting" for his life but I sense the time is coming. I am very close to my father, and can't bear the thought of him not being in this world. So, I finally painted. As a hobby I have always drawn, but I must admit it was incredibly freeing to paint. I did what I know my father still dreams of doing — a very large abstract. But, I can also feel the distraction of sadness and I worry that I cannot focus or function properly. You are right; he wouldn't want me to feel that… even with him still alive.
Grief eats energy
by Gillian Hanington, Ajijic, Mexico I have been receiving your letters for a number of years, and they were sort of a lifeline while I was in Mexico. Eight months ago my beautiful young ceramicist husband of 30 years suddenly died, really with almost no warning. Since I couldn't keep our country house by myself, I came home to the Northwest where our children are and where we had lived prior to the 4 years we spent being "Mexican artists." Oh it was great, that period in Mexico. But since this shock I have been unable to paint or make glass until now. It is only in the last week that I have picked up brushes again. The glass studio will wait until spring, I think. I kept meaning to work, but I didn't, and I eventually concluded the grief was eating all my energy. I think that was true, but I also have to say that the feeling of relief and healing from picking up a brush this last week is truly profound, and I am glad to be back where I belong… in a studio. I now think that I may recover after all.
There are 2 comments for
Grief eats energy
by Gillian Hanington
Archived Comments
Enjoy the past comments below for Art and grief…
Featured Workshop: Heli-painting with Robert Genn in the Bugaboos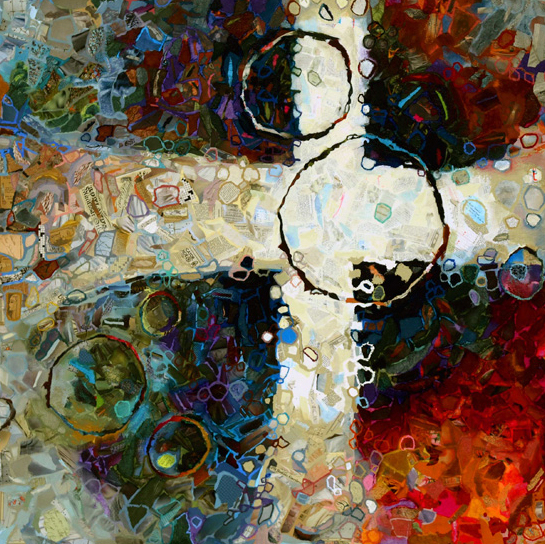 The Fire Next Time
collage and oil stick by Susan Avishai, Toronto, ON, Canada
You may be interested to know that artists from every state in the USA, every province in Canada, and at least 115 countries worldwide have visited these pages since January 1, 2013. That includes Sandy Triolo of Silver Spring, MD, USA, who wrote, "Grief is a funny thing; it takes many forms. I have experienced each of my losses differently. It can be tiring and cause work stoppages. But, loss can also inspire. While I find it impossible to adequately, in one gesture or artwork, sum up any life that has touched mine. I believe that the circle of life, painful as it is, is what I'm working with. It is the essence of art, exposed through emotion, content and feeling in color, composition, line and texture." And also Sue Martin of Melbourne, Australia, who wrote, "When my husband died five years ago I was directed to a book by Joan Didion called
The Year of Magical Thinking
. It helped me through my grief and I would recommend it highly. Everyone has to grieve at their own pace."