Dear Artist, Yesterday, Zehava Power of Halifax, Nova Scotia wrote, "I work for an art-sales-and-rental gallery that represents over 200 local artists. Attached to a public gallery, it's a volunteer-based operation with a few paid staff. We have a committee of volunteer jurors that meets every two weeks to select from an average of 60-70 entries. Years ago, our volunteers used to notify artists over the phone and explain their decision. Due to tears, arguments and anger it was decided to make it less personal. Nowadays rejected artists get notified by mail with a generic blurb — "not this time; please try again." Due to the mysterious rejections and lack of feedback, some artists have given up dealing with us. How do we keep our artists happy and keep running our operation efficiently and professionally?" Thanks, Zehava. Your problem may be in the way your jury is formed. Semi-permanent volunteer committees soon become suspect of favouring certain styles, subjects or individuals. This causes all kinds of discord, unhappiness and disgruntlement, not to mention the production of catered work. You need to inject new juror blood and outside expertise to avoid perceived possible chronic incest. If you have a committee of, say, four regulars, you need to add new guest jurors. Paying someone to come from another city will add integrity and win the respect of your membership. If you have a really large committee, you might consider giving an outside juror more than one vote. Regarding member communications, you are quite right to avoid the slippery slope of post-rejection intercourse. "The decision of the jury is final," and a pink slip is all they need. Many big co-ops work best that way. If people are consistently rejected, they always have the option of applying to other galleries. Creative people know and understand the principle of selection of the fittest, the possibilities of becoming an endangered species, and even the threat of extinction. Like the stock market, the art business thrives on differences of opinion. The painted ponies go up and down. Artists just need to know that wherever they choose to hang out, they need to have a level playing field. Best regards, Robert PS: "An expert is an ordinary fellow from another town." (
Mark Twain
) Esoterica: A jury that thinks it knows what will sell is the most dangerous jury of all. Even a jury that selects for "modern" sensitivities is suspect. Better to give your stuff to a commercial dealer with questionable taste than to subject yourself to a committee. Sales-and-rental galleries generally send puny cheques to artists anyway and, curiously, the work always seems to come back with damaged frames. Further, by renting works, they interfere with the legitimate commercial market that serious artists need to survive. With the exception of gallery darlings, most successful artists never submit for any other reason than to help out in the community.
Transparent judging
by Sue Hoppe, Port Elizabeth, South Africa At ARTEC, a Community Art Gallery in Port Elizabeth, South Africa, we have faced many of the same issues. The way we have got around the dilemma of not entering into discussion, yet still making the judging process transparent, is that each time we appoint a jury for an open show, which we vary each time depending on the type of show we are mounting, we arrange for at least one of the jurors to make themselves available for a "walkabout" a few days into the show. This is open to the artists and the public, and jurors explain the merits of the selected work. In this way, artist and public alike receive an educational experience in what juries look for in good art, and those whose works were rejected are able to make mental comparisons and get an understanding of where their work was short of the mark, without the juror having to enter into endless debates about each rejected piece.
Excellence before efficiency
by Rick Rotante, Tujunga, CA, USA After reading this last letter I was shaking. What kind of gallery is this? It sounds more like an assembly line at the Ford motor company. You mention "running our operation efficiently and professionally?" This sounds more like factory work than selecting art. This is the problem with art today; it's organized and run by those who look toward "efficiency" instead of excellence, creativity, expression and execution. No wonder your artists are leaving in droves. I would, too. All you see is dollar signs in rentals, not art. I am surprised you actually wrote in for a comment. When you handle artwork like so many bananas or apples, all you look for are the red ones not the most flavorful. My suggestion is to get rid of your permanent jury staff and hire jurists from outside your "organization" and infuse new ideas and life into the process. How about hiring some of those artists you seem to treat with disregard?
There are 9 comments for
Excellence before efficiency
by Rick Rotante
Research juror preferences
by Marilyn Kousoulas, Gambier, OH, USA Always research the art jurors. That usually informs artists about juror background and their very own art preferences. I never pay entry fees for my paintings when I know the juror has specified interest in another media. Professional jurors who practice art should be very astute and all art media should be considered. But, jurors are human and do lean towards their own media preferences. Again, research the art jurors before entering your work. Artists have a better chance of being considered if there are at least three professional art jurors with different art preferences.
There are 2 comments for
Research juror preferences
by Marilyn Kousoulas
Rejection breeds opportunity
by Louise Francke, NC, USA Just recently I, too, was rejected by a new local gallery. Admittedly, I had dawdled when it was forming because I kept hoping the gallery I was in wouldn't falter. Unfortunately, my old gallery went down too late and I was caught with the many new unrepresented local artists searching for a gallery. Why cry over spilt milk, it only sours one's thoughts and art. My motto is move on, look for other places, different venues, and down the road resubmit if they are still in business. Recently, I was approached by a nationally known printer, who had put one of my paintings on hold because of the economy. Would I be interested in a fellow Licenser of art works taking my work to a Japanese jig saw puzzle company? Why not! If we don't venture down these different roads we can't reach the end of the rainbow. The Gallery is not the end of the road for all artists. I won't commercialize intentionally what I paint; but, if they like what I do, then let it be a two lane road.
Rental galleries have value
by Shelley Mitchell, Halifax, NS, Canada Although I am an established professional artist represented by several retail galleries, I feel these Art Sales and Rental galleries fill a need in the art world. Your thoughts on improving the volunteer jury are bang-on. What you fail to mention is the fact that although well established artists don't need to put their work in a rental gallery, it is a valuable resource for beginning and intermediate career artists to increase their income sales and thus their confidence. The cheques are not that puny and the damage is no worse than that suffered in many a retail space! Some successful artists will use a rental gallery to place work that is transitional or older but that gives people a crack at getting their work at a more affordable price. Any professional artist worth the title won't show sub-standard work anywhere. Last but not least, although rental galleries do have an advantage in having some volunteer staff, they still pay all the other costs of running a retail space including some paid staff to actually keep things running. Volunteers are very willing but often can be inexperienced or dilettante! Most of these galleries also give their proceeds to the local public gallery to help purchase new work for their collections and thus "give back" to the arts community as well as exposing many people to living with original art that they would or could never purchase.
The only game in town
by Elizabeth Schamehorn, Washago, ON, Canada I was part of a local co-operative art gallery for about eight years. We set up the co-op because, in our small art market area, we had to figure out how to keep a gallery running when sales wouldn't be enough to cover the bills. The first two or three years, learning as we went, we were the only game in town. We had a jury of three to assess applicants for membership, as we wanted to keep the quality level as high as possible. I found myself on the jury for quite a long time, and somehow always ended up being the one who phoned with the news. Great fun when the news was good; not so much when it was bad. Most people took it well but a few were argumentative and angry. In order to keep the process as consistent as possible, we wrote out a list of criteria to check off, and a space at the bottom for comments. Each juror studied the submissions alone and filled out the forms without talking to the others. That would avoid the problem of influence of the juror's own opinion by the other members, especially if one had a stronger personality. I agree that it is much better to just send a notice with the results than to phone people. That's how I have found out the results of my own applications to juried shows. That's how I've learned to accept rejection.
There are 3 comments for
The only game in town
by Elizabeth Schamehorn
Studio best place for worship
by John Ferrie, Vancouver, BC, Canada Any art organization with over 25 artists is really challenging. Not only are there difficulties with artists, and which artist is showing which, and curators concerned about sales, but anything over 25 and clients have trouble following as well. Two hundred artists sound like a dog's breakfast! I can picture the final warehouse scene in
Raiders of the Lost Arc
! It is also this style of being one of the coveted "chosen" that is really troubling. Being chosen or signed by a gallery is really not the success path for an artist. And yet these Art Churches, the gallery institution where artists worship and hope to get into are nothing more than a business. I would ask this "art-sales-rental-gallery" how much do they actually sell and what kind of commission do they take? Or do they just charge the artists once they have been "chosen"? This is usually the case with "art by committee" and I highly suspect so in this case. Why not make it fun and have everyone join in. Rotate the artists every four months so that there is always something interesting and new. Have other artists become the jury and always rotate the jury. Inviting someone who is not of the art community to jury might put a different spin on it. Or have themes like "City," "Hope" or "Beauty" for future exhibitions. If I was in this community I would avoid this Art Conglomerate! I am sure the ones in it are thinking they "made it." The rejected ones are thinking "God, I can't even get in there." Personally, I would avoid the whole thing and have a solo show in my studio.
Sales and survival
by Rodney Mackay, Lunenburg, NS, Canada I have been painting full-time for the last four decades, which all started from a Crayola fixation that goes back way beyond that. I moved to my new wife's home province of Nova Scotia five years ago and considered applying to exhibit with art sales and rentals in order to gain recognition in a new area. I had no idea how selection was managed and who its proponents were. If I had understood from the first that it was "juried," I would not even have placed an inquiry. In any event, the remuneration I had heard about did not seem to warrant the time and expense. Over the years I have had a 50-50 acceptance/rejection history with commercial art galleries. In the distant past, I have served as one of those "out-of-town experts" and am ashamed of myself. When I did, I had to fight off the opinions of local judges who wanted their friends to be represented. No one could pay me enough to do that again! At the beginning of time, I tagged on to the Hadassah-Wizo Art Rental program in Saint John, New Brunswick and rented with them for a number of years. I liked all the people I met when I delivered and picked up paintings for a number of painters at nearby Sussex, but my first wife, Anne, heard that the girls were folding their tent. There were no legal contracts with them so we pulled my three paintings. The rumours were true, and not everyone escaped unscathed. I missed those $8-a-month cheques, but the frames were dented and dinged, and one painting seemed to have been used as a beer tray! I can't agree with the idea of showing with a dealer who has "questionable taste." What does that say about one's paintings? The return from art rental is definitely "puny." I never once had a sale from a gallery or studio as a result of this type of exposure. I am interested in sales because I want to survive to paint another day or so — and because I believe I have a good product to offer. I don't think it is true that artists submit to the judgment of their peers "to help out in the community." In my experience, painters who look to art rental programs are seeking whatever might work to generate sales.
Beyond expectations
by Adrianne Moro, Brazil Firstly, I would like to thank you for answering my e-mail. Since I subscribed to your twice-a-week letter I became your admirer and I can say that you always brought me joy and inspiration to go on with my art. But this time it was different. Through this delicate moment in my life I felt connected with you somehow. Your answer was beyond my expectations; I feel lucky and blessed to be in touch with such a person like you and was reassured that we are human beings that are linked by a powerful energy that vibrates in the universe. I feel that this connection is overwhelming and it is primarily made of love. As you said in your message, we artists have a responsibility and we cannot give up our art, no matter how difficult the situation could be. So, I realized that and suddenly I found a way to try to do it; I decided to paint my grandfather's portrait. It's been a difficult process. I can tell you that the only progress I made until now was the drawing. I feel right now that by doing this I will be closer to him and somehow understand my feelings better. I am also very happy and touched to see the wonderful messages in your website from other fellow artists. They are really wonderful people. I also felt their kindness and love — that made me feel a lot better. Now it's just a matter of time. You said that his passing was a gift to me and I would try to deserve everything he left to me, his legacy of love. It is what I would try to honor forever. I feel that my grandfather would like me to be happy by doing what I love most. With your wise words, you could help me a lot. Thank you so much.
Archived Comments
Enjoy the past comments below for Art by committee…
Featured Workshop: Heli-painting with Robert Genn in the Bugaboos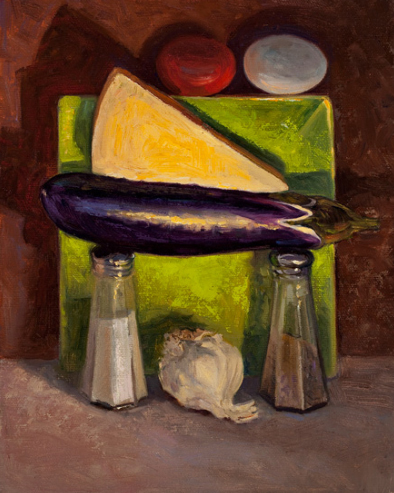 Eggplant Parmigiana

oil painting by Leighann Foster, Boerne, TX, USA

You may be interested to know that artists from every state in the USA, every province in Canada, and at least 115 countries worldwide have visited these pages since January 1, 2013. That includes Susan Richardson of Tracy, CA, USA, who wrote, "Loved the Joni Mitchell painted ponies reference. Being a tremendous Joni admirer, I had never thought about those rising and falling painted ponies having a partially literal reference to painting, but like all great art, her art works on many levels and unfolds over time." And also Gail Caduff-Nash of Hendersonville, NC, USA, who wrote, "What if the gallery had 'special' exhibits for different genres of art – such as "primitive," "outsider," "modern," "floral," or a show for unframed art to provide more inclusiveness to some art that might not be accepted into a general show. Special thematic shows would cut down on the number of entries." And also Lucan Charchuk of White Rock, BC, Canada, who wrote, "Nobody in this part of the country enters local competitions anymore because it's just a hobby for art's sake!"