Dear Artist, Out over the dark sea, near the horizon, whales move steadily northward. People silently gather on the rough black lava and red dirt at Makahuena Point. Cameras ready, braced against the wind and crashing surf, they await the sunrise. These are not sun worshippers or members of some peculiar cult. They are neighbors, tourists, morning joggers, loners, and honeymoon couples up before dawn to witness an event.
Ralph Waldo Emerson
)
Esoterica: Our friend's home on Kauai is where I wrote my first book,
In Praise of Painting
. It's now out of print and a bit of a collector's item. Back in 1979 I sort of knew what I wanted to say but I had to motivate myself. Short on self-esteem and unsure I could get started or even complete, I put my ideas on file cards and tacked them to insulation boards. Like one of those mind webs the experts recommend, I spent days just moving things around. Then the cards began to make sense and take over. The sun began to shine on my project. The writing began to flow.
The olfactory connection
by Norman Ridenour, Prague, Czech Republic I smell the wood instead of the paint, tart acidic oak, sweet but penetrating apricot, musky walnut, candy-like sycamore, choking spicy acacia. Studies show that smell is our most acutely connected sense to memory and thus nostalgia.
Nothing like just doing it
by Darrell Baschak, Manitou Beach, SK, Canada Lately, I have been very fortunate to be able to take some time off my "real job" as a carpenter to spend quality time in my studio and out of doors painting to my heart's desire. There is nothing like just doing it. The continuity of heading to the studio every morning and beginning the day's work is great! I heard an interview the other day featuring the billionaire Sir Richard Branson and his favourite saying is "screw it, just do it." I couldn't agree more. Many of us spend far too much time getting ready to do things. Meanwhile, life continues on.
There is 1 comment for
Nothing like just doing it
by Darrell Baschak
Get serious about time
by Paul deMarrais, TN, USA Your sunrise is symbolic of potential. We all have potential to make our short moment on earth special, both to ourselves and to others. I think most people have a sincere interest in reaching their potential, but the world gets in the way. Inspiration can easily be lost; lustrous silver dulled to gray by daily routine. It's kind of funny the great lengths we go to for inspiration. Sunrises in Hawaii, trips up Mt. Everest, cruises to exotic locales are all meant to shake us out of our lethargy, to prove that time does matter and that every day is important. Inspiration can be had closer to home. I always loved that quote from Thoreau when he was asked about his travels. He told the questioner "that he had traveled extensively in Concord." I love that quote by George Bernard Shaw as well that "youth is wasted on the young." It seems by the time we get serious about time, our time is up!
There are 2 comments for
Get serious about time
by Paul deMarrais
Retired and working like there's no tomorrow
by Rick Rotante, Tujunga, CA, USA I was at an art opening the other night and met this unassuming aged gentleman in his eighties with his new wife of two years. We got to talking about aging and he said that now that he's this age he's noticed his priorities have been adjusted. He no longer worries about the things he once did when he was in his twenties. He no longer worries about accomplishing as much but concentrates more now on simpler things, things that make him happy. It would be easy for me to just sit in front of a television or walk my dogs endlessly in the park or do those things that need doing around my house. But I would surely be dead in short order from boredom and mental neglect. I wake every day anxious to get the dogs fed, do some light clean up and head for the studio. I've been retired now for almost two years and have been in the studio working like there is no tomorrow. I don't think I will have time enough do paint all I wish to paint before the last round bell sounds. Mind you, I am not frantic or desperate to "get it done"; I enjoy the process of it all; the prep, setting up, hiring a model, painting on site or painting with others. I look forward to my next class and the faces on my students faces as they discover something new. I enjoy contact with my gallery on the next works for the upcoming shows. About the only thing I don't like is when I run out of steam for the day. As I've aged I've learned to pace myself more. What needs to get done will get done in due time. I believe I now understand what that gentleman was talking about.
There are 2 comments for
Retired and working like there's no tomorrow
by Rick Rotante
Strategies for a rich day
by Iskra Johnson, Seattle, WA, USA This morning I set the cellphone alarm by the espresso machine, and when it went off at 5 a.m. I did not go back to sleep to remember my dreams. Instead I will be waiting for them to emerge throughout the day and trusting to my unconscious. If I get up at 5 a.m. instead of 7, my entire day runs differently. A fact of running a modern life is email and busywork. I need an extra two hours to get it done, otherwise all day the unfinished micro-tasks nag at me. A few strategies I have picked up really help: — I decide which things on my list are things I really don't want to do. By acknowledging my resistance I defuse it and create a strategy. Either I do what I don't want to do first and reward myself with everything else after, or I do a slow start by easing in through tasks that are less aversive, building up to the worst. For instance, this morning on my aversion list are dealing with taxes and how to ship a fragile piece of artwork. I want those off my list or they will be annoying me with background chatter all day. Whichever strategy I use it makes a huge difference to have a strategy… or the daydreaming bumping-into-things takes over. — I invite someone over whose opinion I care about so I will clean the studio up once a month even if it doesn't need it. Order in my environment leads to order in my mind and a sense of clarity towards my work. — Throughout the day I use the mantra, "Is this a good use of time?" — At the end of the day I look at my list and ask what moved me forward, and what held me back. I love the morning celebration of the sunrise you describe. Equally wonderful is the ritual of sunset. In San Pancho, Mexico, nearly everyone seems to go to the beach around six in the evening to sit, reflect, and look. The measure of a day becomes richer if I invite my responsibilities in the morning but also take time to reflect back upon what I have done in the evening.
Inspiration leads to success
by Carol Mayne, Leucadia, CA, USA I wanted to report a success, due in part from last year's RGTW inspirations: From the first I read about renewing oneself for 2010, I did take months to experiment, slowly finding a new determination to focus and expand. Then the "Peanuts" article came at the same time I was formulating the idea for painting daily. Perhaps you received the newsletter we sent to you yesterday, introducing the completed vision. I just wanted to thank you for your major contributions to artists around the world who have gained support from your heart-felt passion and insightful prose. Your high-minded purposes have raised the bar in quality, integrity, and intention.
Archived Comments
Enjoy the past comments below for Seizing the day…
 Featured Workshop: Heli-painting with Robert Genn in the Bugaboos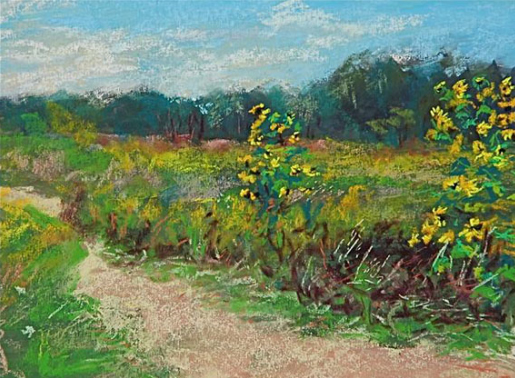 Late Summer
pastel painting by Wendy Chaney, MI, USA
You may be interested to know that artists from every state in the USA, every province in Canada, and at least 115 countries worldwide have visited these pages since January 1, 2013. That includes Daniel Proteau of Beloeil, QC, Canada, who wrote, "I never intend to stop painting voluntarily. Almost every day I spend three hours or more painting and I derive much pleasure in doing so even though I destroy two out of every five paintings I start."
It's not just that we are given our day — it's what we do with it. Have you ever noticed that some folks keep busy from dawn 'til dusk plugging away at things that need doing? In many ways this is the artist's mode — a permanent state of repairing. Others among us are dawdling dreamers who rather bump into things as they go. Most of us, creative or not, are somewhere in between. "Keep busy," I like to tell artists, "while you're waiting for something to happen." I figure there've been 10,950 sunrises since we first started coming to this part of Hawaii. And just as the sun climbs inexorably in the sky, happiness and fortune rise and fall with what's to be done with a single day. To make good things happen, a bit of self-organization may be necessary. To-do lists, card files, day-timers, delivery calendars, alarm watches, radio regularity, interspersed exercise, even inspirational fridge magnets. As always, having the materials ready to go is Job One. If you're thinking about going out and buying a certain brush, you can be delayed in your progress for weeks, months or years. As the sliver of light blossoms into its full orange mango, I wonder how I might squeeze every drop from its potential. The now sunlit shore-people are in mild celebration. Like nailing the trade winds to coconut palms, some are trying to catch the meaning with their point-and-shoots. A long-haired, surfboarder-type guy is journaling in a dog-eared Moleskine. "Are you going to paint again today?" he asks. I tell him I am. "Some dudes just do it, natural like," he says. Walking back toward my second cup of coffee I'm wondering about that. "Seize the day," I tell myself. I can smell the paint. Best regards, Robert PS: "No one expects the days to be gods." (