Dear Artist, Many readers of my letters may not be old enough to remember Betty Friedan's 1963 bombshell book,
The Feminine Mystique
. In those days, 78% of college faculty were men, as were 95% of physicians and 97% of lawyers. Only 30% of college graduates were women. Now, women outnumber men in higher education and are apparently nearing par in job placement and life achievement. One of Friedan's main points was that post-war, middle class women had to figure out what they were going to do after their little ones had flown the coop. With longer life expectancies, smaller families, relative economic freedom and a shopping cart full of labour-saving devices, millions of women apparently grabbed the brass ring of creativity. They found they were well suited to it. Based on this subscriber list, workshop attendance and popular statistics, 78% percent of living painters are women. And to the disgruntlement of some of the boys, we know that women in general tend to have better art-brains. Long-time readers may remember I've frequently identified women artists as the next big thing. Going by my inbox, it's possible to get the idea that women are in a bit of a bad patch. Many tell me they are "not motivated," "lack passion," and are "too distracted to be anything other than mediocre." Perhaps an indication of our anxious times, in my darker moments I also wonder if these concerns are mainly from those who are reading too much self-help stuff. Like the sort of thing I put out. But in my vast and virtual part-time mentoring practice, which I generally do for free, I also see highly optimistic, ambitious women who value education and are willing to put in time and treasure (when they have it) to achieve their goals. These women cut to the chase and, in my experience, get good. Here's what they bring to their easels: — The capability and the desire to work alone. — A degree of independence from outside opinion. — Steady, well-regulated, workmanlike habits. — The understanding that passion comes from process. — The curiosity to explore sets and series. — An intuitive sense of quality and reasonable taste. — A philosophical but nevertheless combative attitude to the miserably dying vestiges of the boy's club. Betty Friedan would have been particularly enthused by these women. Best regards, Robert PS: "Who knows what women can become when they are finally free to become themselves." (
Betty Friedan
) Esoterica: Possibly, like the tail-ends of the Roman and other Empires, the West is in danger of losing faith in itself. Nations are now burdened with fear, anxiety, hubris, xenophobia and popular ignorance. This time around, the women are joining in. Could it be that everything nowadays is just too easy and too available? For many of us, both men and women, there is enough to be done just watching the world go by — and being entertained. Spectator sports are at the apex of popularity, and the gladiators are the top earners.
Mystery and mastery
by Michael Aronoff, Saltspring Island, BC, Canada My belief is that a good male artist works with his feminine nature. A good female artist works with her masculine. I subscribe to Jung's ideas on what it takes to be a balanced and individuated human being. I figure there is mastery to be gained by hard work and study. But, not to disregard the complimentary aspect to mastery. It is Mystery; the feminine, unknown, the soft focus to all that is possible. With both in operation, I believe real good art happens.
There is 1 comment for
Mystery and mastery
by Michael Aronoff
Flying from the feminine nest
by Louise Francke, NC, USA Women certainly have all the attributes you have given to them. The one detriment I find with many women's works is a tendency to dote on the femaleness. Many simply do not venture beyond their own realm or comfort zone into the vast global community of universal issues and not private mundane problems. I, too, have struggled with life's cards of single parenting and divorce, but we have to move out of the nest and fly to see the world with a different perspective.
There are 2 comments for
Flying from the feminine nest
by Louise Francke
Women are a sound investment
by Paul deMarrais, TN, USA I have come to admire the many qualities that women bring to art making. In my workshops, well over 90% of the students are women of all ages. I wish I had their attributes as they are as nice a group of people as you will ever run across. What stands out to me is their complexity. Women just seem to have a natural ability to navigate the rough waters in life. They are hard working, compassionate, tolerant and unflinching, no matter what the problem might be. Women don't demand perfection. They are team players, kind and more often than not they possess a keen sense of humor. I read a lot about the frustration of women, how despite their great numbers in the art and business world, they are not getting recognized and famous and as prosperous as the men are. My current view is that women can sacrifice too much. In other words, men have a much easier time being selfish. It's not hard for us to put our needs and desires as top priority and to not worry about the 'other guy.' Being selfish is often seen as a successful business model. Things are changing. Natural qualities women seem to have gained in life are becoming more valued in the workplace. People skills and communication skills are becoming highly sought after in business and more respected by men. Men are opening their eyes and seeing women, seeing their great creativity and talents as artists and as people. I heard once that you could gauge the health of a society by the treatment of women in that society. Looking around the world today, it seems to be true. We need successful, powerful women to achieve greatness. In these uncertain times, women are a sound investment.
There are 7 comments for
Women are a sound investment
by Paul deMarrais
Permission to pursue passion
by Gwen Fox, Colorado Springs, CO, USA When we women give ourselves permission to pursue our passion, we give our children permission to do the same. This is especially true for our daughters. This offers our children an opportunity to see us in a different light… not just Mom, taxi driver, cook or the one who cleans but a woman filled with excitement, unrelenting curiosity and a smile that says to our children, I want what she has. This passage into creativity has not come easy for us as it came with a bucket load of guilt. "Why isn't dinner ready… you were doing what?" Or the classic statement: "Now dear, remember your art is a hobby." It takes tremendous courage to overcome this subtle put down from friends and family. After all… isn't your first job to take care of others? Women are strong, bullheaded and curious. Women artists are the most delightful people on the planet. We as artists have tremendous power and it is our responsibility to share our love for creativity with those who may be questioning their strength.
There are 8 comments for
Permission to pursue passion
by Gwen Fox
Success in persistence
by Loraine Wellman, Richmond, BC, Canada Gender hasn't as much to do with excellence as to do with persistence. Another factor is that women artists are often looked upon as "hobbyists." It could be because, historically, women were not encouraged to be artists. One doesn't have to go too far back in time to find that women were not allowed in Life Drawing. Then, when they were, they had to be in separate classes. Even when I went to Art School the male models wore jock straps. Take a look at the lists of "artists represented" with top galleries and you will almost always find a preponderance of male artists. Who knows why? Is it preference on the part of the gallery? Are men being bolder at approaching galleries? I know a number of artists serious about their craft — men and women. What we have in common is that we paint because we must. "Success" is working towards continual learning and improvement and not measured in sales.
There are 2 comments for
Success in persistence
by Loraine Wellman
Playing field still not even
by Anonymous I'm sorry to say that the boys club is a long way from dying out in the art world. I consider myself a feminist, partly to simply acknowledge that equality for women in professional fields, including art, is far from here. It may be that the majority of your subscribers, or even people making art, are women, but I'm sorry to say that the majority of money being made by artists is being made by men. The boys club is alive and well. There are still more men in power in the art world than there are women, and those men are invested in giving breaks to other young men whom they may see as versions of themselves. I saw it happen plenty in art school. The "art stars" of contemporary art are mostly men. If you read through lists of prestigious group shows including biennials, take note of the gender gap. The majority of artists being shown and celebrated and the ones making the big bucks and getting the big contracts are men. As an artist, I am very grateful to the women who came before me who sowed the seeds of equality for women in the art world, but the current situation is still troubling. At least I don't have to make artwork about being a woman, or objectify myself in my work, so I am grateful for that. But at least in the money-making prestigious sector of the contemporary art world that I am circulating in, the playing field is still not even. Sadly, young female artists are still at times encouraged to be cute and unthreatening and pander to the egos of men in charge. Or ride on their coat tails; be complicit in that power structure. I'm not saying it's all like that, but those politics have not gone away. I was appalled in my MFA program to find that in some academic classes it was for the most part only guys talking, the women were silently taking notes. Not all the classes, but certain ones with a male teacher were like that. There's unfortunately a lot of retrogressive sexual politics that are promulgated and popularized by popular culture — all the young girls wanting to be sexy and dumb like Britney (not that I don't love Britney) and the idea that feminism is unsexy and militant and boring. It may be boring, but it's still a necessary topic in my opinion. Women may be working in many spheres, but they are not making the same money the men are. Still. Get the word out.
Women excelling on international scale
by Liz Reday, South Pasadena, CA, USA I just went to the L.A. Art Show at the Los Angeles Convention Center and I'm happy to report that more than half of the exciting work that I saw was done by women. It's really great to find that out after responding to work seen at a short distance. This work was mostly contemporary, but there were some paintings done in a partially figurative/abstract way as well, and most of them were large and well priced, plus they were selling. I'm looking forward to the Art Contemporary Fair in Santa Monica this coming weekend, which hopefully will have more excellent work done by women and men. Men artists do seem to be more ambitious and single minded, but maybe this is changing. There are certainly more women art dealers, gallery owners and museum curators now than there used to be 20 years ago. The only place where I see the deck is stacked is in Western art, as there still seems to be a macho cowboy vibe, but that's mainly in the smaller regional art clubs. But on an international scale, women are really doing some impressive stuff.
Artistic courage
by Kristine Fretheim, Maple Grove, MN, USA It's great to be reminded of characteristics that promote growth and development. Thank you. I also wonder about the self-help industry and how it affects the general psyche. Someone says, "Don't think of an elephant." And of course, what then is the first thing that pops into your mind? The same is true of any kind of thought and if we are awash in a plethora of "helpers" telling us all we are anxious and depressed… a lot of us obedient little followers are going to go down that path. It's important for us to be mindful what we allow in. Fortunately, artists tend to be more kinesthetic, sensing and intuitive than conceptual. Our own direct experience leads us often upstream rather than going with the general flow of society. And that takes courage. Maybe we should add courage to that list of artist traits? On second thought, the entire list bespeaks courage.
There are 3 comments for
Artistic courage
by Kristine Fretheim
Good art raises the bar
by Tatjana Mirkov-Popovicki, Port Moody, BC, Canada More than the female aspect, you got me thinking about the trends of the time, especially what's going on with all the women and middle class joining the art democratization (as you once called this great thing where we choose to become artists instead of being initiated by a degree). I'm thinking how we sometimes complain that there is now too much bad art out there. Maybe it's also true that there is too much good art out there — actually "too much" is not the right thing to say, just way more than there ever was. This would mean that while bad art drops the bar, the good art raises it up and we choose with which we want to compete. It's not enough to be good, we have to get much better and be exceptional to win the collectors. With that in mind, going back to focus on quality and originality would bring more satisfaction than productivity and marketing, which were the buzz in the past decade. Everyone by now knows how to crank out product and make it available. Maybe that's just not interesting any more. Maybe thinking of making just one fantastic painting can inspire excellence.
There are 2 comments for
Good art raises the bar
by Tatjana Mirkov-Popovicki
Asking the right questions
by Bonnie Mandoe, Las Cruces, NM, USA As an oil painter and sometime instructor of workshops (which mostly consist of women), I find the two biggest challenges women painters face are 1- Trying to paint what they see, rather than what they feel and 2- Recognizing and demolishing sentimentality. The latter is my pet peeve. My college art prof told me that sentimentality in painting is a product of the romantic era, and that prior to that time, sentimental concepts, such as "small things are cute," didn't exist. I don't know if this is true or not, but as a teaching tool, it has value to me because I find sentimental paintings so repugnant. You refer to women having "reasonable" taste, and in that comment I detect a hint of what I'm talking about. Sentimentality in itself may not be a bad thing, but in my own less than humble opinion, it makes a painting stink. It is difficult to root out without risking an insult to some lovely woman's sense of style and taste. But I have to take the risk. As an instructor, it's imperative to stimulate people to think, and this is something all painters need to think about. My method is to ask questions. The right questions can guide a woman to Herself.
There are 4 comments for
Asking the right questions
by Bonnie Mandoe
Grateful for the gift
by Terry Gay Puckett, San Antonio, TX, USA When I went to art school at Texas University, there was only one woman teaching. I never dreamed that I too one day would have the opportunity to be a college art professor, but thankfully it happened. Originally, I never dreamed that I would be able to sell my work and exhibit frequently, but that too happened. If asked how or why, I attribute it to just keeping on keeping on. Woody Allen described it best, when he said that 90% of success is just showing up. Artists, male or female, who show up with the work that they have loved creating, month after month, year after year, seem to get somewhere with it. Those who give it their best effort keep improving and get their 15 minutes of fame. Is that enough, considering how hard it is to develop the skills of being an artist, and riding the tides of disappointments and rejections as well as the joys and uplifting moments? Yes, for me it is. I would do it all over again. I am grateful for the gift of art and the companionship of others who love it as much as I do.
Archived Comments
Enjoy the past comments below for The feminine mystique…
 Featured Workshop: Barrett Edwards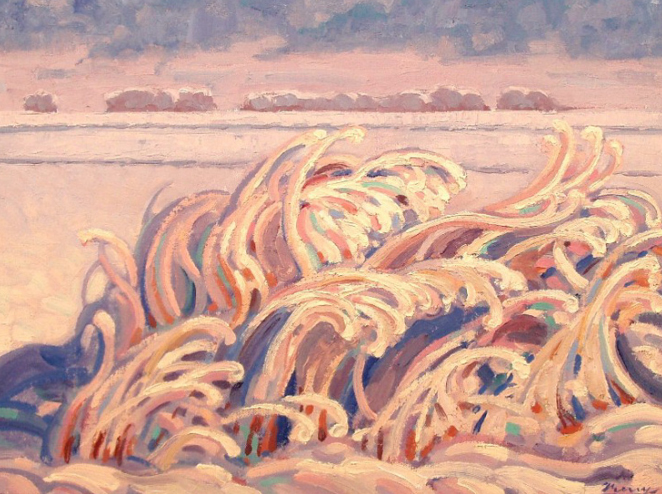 Hoar Frost
oil painting by John Berry, USA
You may be interested to know that artists from every state in the USA, every province in Canada, and at least 115 countries worldwide have visited these pages since January 1, 2013. That includes Diane Overmyer of Goshen, IN, USA, who wrote, "In my region of the world, even with a greater number of women artists, there is rarely an equivalent ratio of awards being given to women versus men. At best it seems there is a 50/50 split between awards going to women or men. I have heard both men and women say it is the opposite gender's world today but perhaps it is all a matter of perspective. Personally, I thank God every day I am able to paint, that I didn't live in earlier times when women didn't have nearly the opportunities that we have today." And also Elizabeth J Billups of Sandpoint, ID, USA, who wrote, "I have always painted for my own passion and to this day my work has seldom been accepted by the gallery world. Perhaps, change the word "Women" and replace it with 'Who knows what artists can become when they are finally free to become themselves.' " And also Tom Andrich of Winnipeg, MB, Canada, who wrote, "I have been teaching painting in Winnipeg for over 20 years at the Forum Art Institute and 90% of my students have been women. I have gained a great respect for women and their capabilities. They make the majority of men look like children. Women have so much more to offer the world and are slowly being given the chance to do that."