Dear Artist,
Last Sunday, in a shock of re-entry, two visitors came to the studio — the first in six weeks. They arrived at the door wearing masks, and we introduced ourselves for the first time with what felt like both a momentous and unsatisfying wave, from six-feet apart. I resisted the urge to embrace them properly. I did my best to show them what their presence meant to me. My visitors seemed weary of the protocol and sat down amongst the paintings I'd been working on at my new, yogi-like pace. We discussed the immediate future of the art world before talking about painting. Our visit was tinged with a calm and realism about the unknowns that face our special ecosystem. After an hour, we thanked each other and they got into their cars and drove away.
Alone again, I remembered what I had forgotten — the fuel of keen hearts and curiosity for that which is otherwise a completely private quest. Like the paintings in the world's currently shuttered museums, artists have been isolated in their rooms to exist without their audience, many of them to a perilous edge — we painters are practically unscathed in comparison to those in the performing and collaborative arts. For that hour, I once again felt connected to a community that bolsters itself with shared aesthetic experience — an ever-broadening pack of what my Dad used to affectionately call, "tail-waggers." I wagged my tail over to my wet brushes and returned to work.
In New York gallerist Magda Sawon's recent op-ed about how her tiny gallery will come out of this alive, she ruminates on the sudden benefit to being small. "There will be a revolution," she writes. "Art fairs will be dead for a long, long time, maybe forever." She describes a redefined gallery culture based on adaptation and flexibility. "At the moment, oversized, shiny vessels control the spotlight. They have the resources and the PR apparatus. But in the end, it is little sailing boats that can best navigate choppy waters."
Magda amplifies the notion that no matter how slick and convincing our digital lives may become, art will always need to be seen in real spaces, "to deliver a full spectrum of contemplative experience." This, from a gallerist who has long-spotlighted screen-based and media art. "Galleries — which are by definition local, low-density environments —will be allowed to open their doors first. And people starving for non-virtual encounters will come. As theaters and other performing-art spaces have to reconsider their very structures to serve audiences safely, galleries will be able to reopen without too much change."
Sincerely,
Sara
PS: "The current virus may well be the equivalent of the asteroid that killed the dinosaurs. Because sometimes, the system has to be destroyed in order to be liberated — and to make room for evolution." (Magda Sawon)
Esoterica: An artist friend has coined this period, "The Introvert's Delight." In reality, we are straddling the realms of contemplative, undisturbed creative solitude and the vibrating community of makers and audiences that complete and realize our work. We are also lumping along without the ability to stalk our own heroes in the world's galleries and museums. I am imagining the day when all of us are able to re-enter our cultural spaces, to top-up our depleted spiritual gas tanks. Like a holy communion, art in the flesh — and sharing it with others — will once again restore meaning and recalibrate the soul.
I wish each and every one of you well during this global health crisis and encourage you to flatten the curve by staying at home with your creative materials. I hope our Painter's Keys community can be a source of friendship and creative inspiration during this time and always.
In friendship, Sara 
Have you considered a Premium Artist Listing?  With each letter, an artist is featured at the bottom of this page. The Premium Artist Listings are a means of connecting artist subscribers through their work. Proceeds from each listing contribute to the production of The Painter's Keys. 
"The health and vitality of art is exclusively dependent on the bottom of the food chain. It relies first and foremost on the artists, who reflect on the world and the time we live in, and secondarily, on institutions, organizations, and galleries that have the passion and foresight to support them." (Magda Sawon)
Featured Workshop
May 1, 2020 to May 3, 2020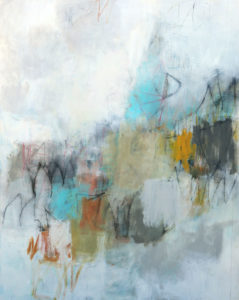 Experience beautiful early spring in Santa Fe, NM.  Develop your own unique marks and painting vocabulary in this 2 1/2 day abstract acrylic workshop.
We will work on paper, and for those who like, unstretched canvas, using conventional and unconventional mark making tools and drawing media.  Via guided exercises you will practice a variety of marks and learn how to create a work rich with history and depth through the process of layering these marks with acrylic paint.
This class is suitable for beginning and intermediate painters.  Cost is $595.00  Materials list provided one month prior to the workshop or can be provided at an additional cost of $100.00
https://julieschumer.com/julie-schumer-workshops/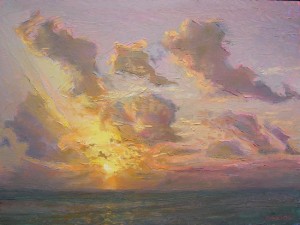 Shining Through
oil 12 x 16 inches
Featured Artist
Capturing the beauty of nature and expressing those impressions in oil paint is a joy. Every hour of the day presents new possibilities and keeps even the same landscape location, same composition, an ongoing and beckoning challenge. For this reason, I love painting series: it is exploration made visual.