Dear Artist,
This week, my twin, James, and I are following a narrow, shoulderless ribbon of pavement around the perimeter of Iceland. The never-setting June sun follows us up and down the moors and along the cliff edges, then disappears behind rain-heavy clouds. It winks through melting iceberg chunks, washed up casually like an emptied sack of uncut gems on the black velvet of a volcanic beach. The sun rainbows through gushing geothermal geysers and a thousand waterfalls, and sparkles on the eyelashes of shaggy-maned foals, their spindle legs just stiff enough to keep them upright. Their 100 coat colour names, including skewbald, dun, palomino, silver dapple, splash and roan, reveal their infinite variation.
There are week-old lambs; and the promise of Arctic foxes, ptarmigan, puffins, and beneath the whitecaps, the narwhals, their tusks sold in the Middle Ages as unicorn horns, for stashing in European coffers. Along with the little red, turf-roofed hay barns, the foals and lambs and their nearby parents dot the green-gold moorlands in a kind of impossible, pastoral timelessness. Meanwhile, Iceland's 345,000 citizens, nestled in this ecological perfection, strive forward as leaders in universal healthcare and tertiary education, democracy, gender equality, human development, renewable energy, and peace.
While geologically, Iceland is a mutable place – it's still shifting its plates, intermittently erupting with lava, and simmering and belching beneath its windswept crust like a moody teenager, Icelanders agree that its cultural identity is anchored by a literary history and the enduring medieval sagas of its folklore. Halldór Guðmundsson, in his anthology Land of Stories, suggests that storytelling is Iceland's most important cultural tradition, and that its books are as strong a legacy as any precious artifact or monument. As a country, Iceland is low in castles, for example. It is high in literacy.
Here, the stories attach themselves with vigor; every sparkling stream bend, lonely islet, glacial moraine or lichen-covered, house-sized boulder tumbled from the highlands, it seems, recalls a Norse god, or Viking, or member of the world's oldest and longest running parliament, committing some action that would shape the country's journey. It helps that the falls are still falls and not hydroelectric plants – we can stand in the mist-soaked glade where the saga unfolded. Paradise has not yet been paved. Perhaps holding onto stories – these artifacts of imagination – in lieu of polishing antiquities or systems – has been the secret to Iceland's adaptability, allowing the generations to pack light and move in the direction of survival – in fishing, in climate, in purpose. Tonight, we sleep tucked in the crook of a remote polar fjord at the mouth of the Greenland Sea, having passed through what was once one of the largest herring fisheries on the planet – until the herring – "the silver of the sea" – disappeared. Today, the silver is us – along with the resident eider ducks, whose down is hand-gathered from their nests here to make the world's warmest, lightest and most ethical duvets. Iceland's new silver is us. In exchange, it offers a chance to take a page from its imagination.
Sincerely,
Sara
PS: "And when the spring breezes blow up the valley; when the spring sun shines on last year's withered grass on the river banks; and on the lake; and on the lake's two white swans; and coaxes the new grass out of the spongy soil in the marshes – who could believe on such a day that this peaceful, grassy valley brooded over the story of our past; and over its spectres?" (Halldór Laxness, from his novel Independent People, 1934)
Esoterica: In the nearby glacial Ásbyrgi Canyon, Norse mythology tells the story of Odin, slayer of ice-giants, father of Thor, and protector of heroes, who rode an eight-legged steed named Sleipnir. As they were galloping across the cosmos, Sleipnir stepped down briefly on the tip of a sea-cliff, forming the canyon with his hoof print. There's even a little island-shaped cliff in the center, left by the triangular frog in the middle of Sleipnir's hoof. Under the dome of the near-dusk, we are as cozy as an Arctic fox in her den, small but here, our significance scaled to the vastness of this wonder, and this moment to participate in its exhilarating solitude.
"They say that across the seas and around
Odin rode at a sprint.
His steed Sleipnir, leaping sunward-bound,
With his hoof pushed off from the ground,
Upon the cliff leaving a dint.
Ásbyrgi  was the imprint."

(Einar Benediktsson, from his poem Summer Morning in Ásbyrgi, 1893)
Have you considered a Premium Artist Listing?  With each letter, an artist is featured at the bottom of this page. The Premium Artist Listings are a means of connecting artist subscribers through their work. Proceeds from each listing contribute to the production of The Painter's Keys.  
"Myths are the stories of gods" (Jan de Vries)
Featured Workshop
September 19, 2022 to September 23, 2022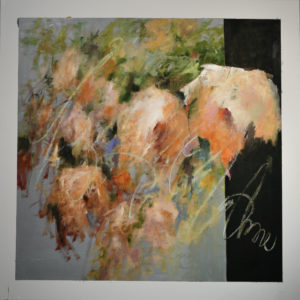 Ever wish you had the courage to create beautiful abstract florals with striking design and beautiful color? Now is your chance to open that wish box and let it become a reality.
In this five-day workshop/retreat you will immerse yourself in learning how to create loose, beautiful, contemporary floral paintings.
Flowers that show their strength while exhibiting their exquisite color that is both delicate and vulnerable. All this done in an abstract way.
You will leave this workshop/retreat with a new found confidence in your art and yourself as an artist.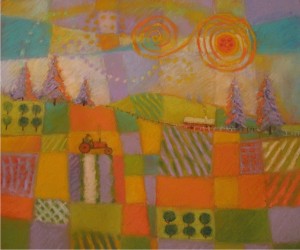 Sunrise Over the Farm #2
original pastel 15 x 15 inches
Featured Artist
Mary's interest in pastel painting began during her years at Whitworth College in Spokane, WA where she majored in art and elementary education. Though she has worked in watercolor and oil as well as calligraphy, her interest has consistently turned primarily to pastel because of the medium's potential for glowing, vibrant color and the harmony achieved in bringing together lights and shadows.