Dear Artist,
During a recent short workshop, I reintroduced my legendary hourglass. Bought in a junk shop some years ago, its "hour" consists of only 37 minutes. Such is the deflation of time. The idea for the 25 participants was to complete a painting in one turn of the glass. To level the playing field, I asked for 11 x 14's. A few students groaned; others readily accepted the challenge.
We did the exercise three times. I asked them to squeeze out first, contemplate for a tiny minute and make their painting either from reference, reality, or their imagination. Blowing my little whistle to start and stop, I was not surprised to find some painters did more than one in the allotted time. Students brought their quickies forward and laid them out in rows. At the end of the workshop more than 100 time-sensitive paintings had been produced.
Apart from producing a pile of credible, pleasantly underworked paintings, the exercise showed the value of short periods of full attention and unwavering focus. The mind quickens and so does the spirit. The audacious brush flicks here and there; the work moves holistically into being. Students were energized by the exercise — feelings of fulfillment and satisfaction rippled through the room. I thought of Ralph Waldo Emerson's words: "To fill the hour — that is happiness."
Countless times in my own studio, I've turned over my miraculous hourglass. Falling roof-rafters could not deter me from my 37-minute exercises. "Why don't I just do this all the time?" I ask myself. Indeed, learning to focus and pay attention, if only for a short time, has been identified as a primary key to the development of human effectiveness.
I'm currently reading Winifred Gallagher's new book Rapt — Attention and the Focused Life She makes clear the simple value of training ourselves to focus. Our levels of concentration may be sullied or even vestigial in many of us, and the simple act of learning to pay attention is key to our dreams and aspirations. Happiness and success depend on it. Think a bit, grab your brush, time's a wastin'. Toot!
Best regards,
Robert
PS: "I love deadlines. I especially like the whooshing sound they make as they go flying by." (Douglas Adams) "Concentrate all your thoughts upon the work at hand. The sun's rays do not burn until brought to a focus." (Alexander Graham Bell)
Esoterica: "The Universal Society of Timed Painters" (USTP) ought to be established with chapters worldwide. No instructor need apply. Just get together and turn the glass. Keep doing it until pleasantly exhausted. Prizes may be awarded by popular vote at the end of the day, but the greatest prize of all will be your own increased levels of attention and focus.
Hourglass

Frenzied start
by Nikki Coulombe, Lewisville, TX, USA

Your point here is to quit while you're ahead, but some painters like myself enjoy a little more detail – not always, just sometimes. I mean, some paintings are very obviously finished within an hour, but your hour-glass method can also establish a composition foundation, then continued with more detail afterward. I often begin paintings in a frenzy then using the surprises that occur within that first hour, am directed to areas that need more attention. Enjoying detail work, there's always the risk of over-working paintings, so sometimes I impose time restrictions purposely.
(RG note) Thanks, Nikki. Yep, going back into them after the 37 minute blast is okay, too. Just not for long. Fresh at all costs.
There is 1 comment for Frenzied start by Nikki Coulombe

Pen and ink and wash
by Rodney Mackay, Lunenburg, NS, Canada

In a distant time and place I was forced to learn to sketch en plein air and in the studio using India ink, a "crow quill" (made of steel) and hard surfaced paper. I was also taught calligraphy in art school. I have no idea why this was thought necessary, but I did earn a few bucks from this skill later on! This week, I decided to revisit this medium (with reservations since it had been more than five decades since I last tried this approach). Turns out, I can still do 15 minute sketches in ink in the field and in the studio. I tried a dozen 5x7inch illustrations on Canson watercolour paper and was surprised not to stumble on the hills and valleys of the paper with resultant spatter. And I managed not to drop blobs of ink! I went on to do a few newspaper cartoons in another life. Wow! The process is quick, easy, intuitive, not introspective, but just a lot of fun. In the old days we often used a sepia ink instead of that harsh black stuff. In either case, watercolour washes were laid in after the fact, usually in the studio. Is anyone else out there working with this medium?
There are 4 comments for Pen and ink and wash by Rodney Mackay

Knowing when to stop
by Skip Van Lenten

Your next letter should be "The LIMITS of attention and focus." I find that I can work for about 3 hours straight, but after that, I lose my concentration. If I try to push myself beyond my limits, I invariably end up getting off track. After a rest, and a good snack, I can clearly see my "mistakes" from over-doing it, and when I get back to work, I'm good for another 3-hour stretch. Sometimes it's hard to stop when you're ahead, but knowing when to stop is also part of the attention and focus cycle.
There are 2 comments for Knowing when to stop by Skip Van Lenten

Time-honoured technique
by Brenda Swenson, South Pasadena, CA, USA

I have been using a similar technique for years and I have found it to be one of my most successful teaching tools. Too often I find students are unfocused when a workshop begins as they have not left the world behind when they walk in the classroom. To get the creative ball rolling, I always start with timed contour drawings in pen. I consider this approach play and use a timer so the drawings cannot become too involved or precious. The kind of contour drawing I teach is what I call "continual line contour." Once you put the pen on the paper you don't lift it up until you're done. There will be a certain amount of distortion to the drawing but I consider this part of the charm. We start by drawing a single object in 3 minutes and work up to an arrangement of 3 objects in 10 minutes. Once I feel the group is warmed up, I'll introduce watercolor into the timed session but work no longer than 20 minutes on the arrangement. This technique has become a major learning tool on observation and a favorite of my students.

The production of miracles
by Teresa Hitch, Saltspring Island, BC, Canada

Your 37-minute timer experience truly can produce miracles. After being inspired by your students' remarkable paintings a few years ago, I rose to the challenge. Every day, for a few weeks, I did a 37-minute painting. These 37-minute periods of concentration were exhausting! A decent 37-minute painting was all I could do in one day. It was a lot of fun, but my inner editor dismissed them as "cheats!" Sadly, I buried my "cheats" deep into the darkest caverns of crawlspace, not to be seen for a while. It wasn't until this year that these unrealized jewels reappeared, when I needed some additional "new" paintings for a show. I hung them with paintings that had taken a hundred times as long to complete, and held my breath. The show was a success, and to my surprise, the majority of the viewers seemed to prefer the 37-minute paintings.

Benefits of larger works
by Sandra Muscat, Toronto, ON, Canada

Try as I might, I cannot escape my strongly analytical mind or my pragmatic approach to things. I am an organiz-aholic. The effect of this means, at least for me, I tend to crumble somewhat under pressure. However, what I love about your idea of time constraints is that it forces us to stay in our bodies as there is no time to detour the process through the mind. While I may not be the sort who could flourish under the constraints of the hour glass, I know my work is significantly better when I work on a large scale. My experience has been that if I am painting a 36″ x 48″ or larger, I am standing, painting with my body, arms flailing, legs bending…. it's all body, no mind. Because I typically work in acrylic glazes (and am of small stature), working quickly is a necessity on a large canvas. This type of work always captures the essence of my energy in a way that working small never ever does. Working small means being still, narrowing in, and, at least for me, getting shoved up into my head (and, to quote Sir Ken Robinson, slightly to one side!) My small works lack the energy and spontaneity that my large pieces always reflect. When there is money in the market, my large pieces inevitably outsell the small ones by a large margin. I know from experience, the energy one imparts and invests (or perhaps embeds) into a piece of work is enduring, persistent and timeless. For me, these are the most energetically vibrant paintings. There is a quality of authenticity in rapid work that disappears in a slow methodical approach to canvas.

Attack now, clean up later
by Taylor Ikin, Tampa Bay, FL, USA

I do a fair amount of public speaking, usually while doing a demo on a 26″ x 40″ sheet of YUPO. I also teach a weekly painting class and workshops. I find my most creative energized starts tend to happen in front of a sizeable crowd of watching folks… not in my studio or the classroom. I got it! Set the timer… load up your brush and get it done! Capture the essence of the image in a major attack and clean it up later for a showing.

Triggering the 'zone'
by John R Struck, Southern Pines, NC, USA

I'm sure that you are also aware of the, "Zone," that mystic state when we lose all sense of the passage of time, lost in what can only be described as a "Creative State." Unfortunately, I am only aware that I have been there when I return. Can't ever seem to remember what triggered the episode, for lack of a better term. I have come to see and accept these experiences as simply a gift. And I have wondered if anyone else has ever learned to trigger these unbelievable journeys?
There are 3 comments for Triggering the 'zone' by John R Struck

Art and sport
by Rick Rogers, St. Albert, AB, Canada

I've been in quite a number of classes, workshops, and life drawing sessions where drawing and painting with time pressure was part of the process. I've noticed is that there are many similarities between sport and art. There is nothing like pressure to bring out the best in you. In sport, when the gun fires or the opportunity to score occurs, there is an extra boost of pressure, and sometimes the body and mind rise immediately to the occasion. Things happen faster and easier than you expect, when you are in the right state of mind and warmed up.
It seems to me that the benefits of this time pressure with art have to do primarily with letting go of the attempt of the perfect stroke, and recognizing that your better and best strokes come from the "flow" of a warmed-up mind and body. Doing several fast sketches in rapid succession, helps me to get into that "flow" zone a lot quicker. I'm not sure that I am concentrating or focusing any more fully just because of the time pressure, because my first sketches of a session are often terrible. But the neurons and muscles start to react a bit faster each time, and shortly (usually) I'm in that zone. I hope with time to be like the Olympic athlete that drops into that zone on a moment's notice.

Don't compete
by George R Robertson, Mississauga, ON, Canada

If we substitute 'painter' for 'archer,' this quote from Zen Master Ying-an sure applies to me. I started out 'competing' and it's been a long road back. "It is like the case of archers: if they start out competing, they'll never achieve good marksmanship. It is only after long practice without thought of winning or losing that they can hit the target. If even a single thought of winning and losing abides in the heart, you will be chained by winning and losing." — Zen Master Ying-an (d: 1163)
There is 1 comment for Don't compete by George R Robertson

A new discipline
by Kristina Zallinger, Hamden, CT, USA

I will try to turn over the hourglass while writing this comment as I focus on my delivery of verbiage to you. What a concept! As an abstract expressionist, at the onset of the painting, after the white on my canvas has disappeared, I work quickly as I lay in multitudes of colors until I am ready to "pounce" on the detail. If I were to "turn the hourglass over," I would have to stop the painting there. Unfinished, as my psyche determines, just laid in. I think that this discipline would be good for me! A fast approach to ultimate expression. It sounds exhausting! My focus would be challenged by this newly acquired information. Thanks, Robert. I will indulge myself in this "timely" exercise!
There are 3 comments for A new discipline by Kristina Zallinger

The ultimate built-in timer
by Jennifer Young, Richmond, VA, USA

This talk of focus brings to my mind the act of plein air painting. It has a built-in timer called the moving sun (or is it the rotating earth?) Granted, one has more time than 37 minutes, but the shifting light requires a similar focused attention and "thinking on your feet" without the endless noodling that can sometimes happen in the studio. I do use a conventional timer in the studio, but it's to address a slightly different problem — that of 'hyper-focus.' It seems, once I get started, I lock on and forget to take breaks! I have actually developed shoulder tendonitis because of my tendency towards over-use of certain muscles and repetitive motions for extended periods of time. I have to set a timer to take breaks and stretch every half-hour. It's a bit of an annoyance if you're flying high "in the zone," but it does force me to step back, away from the easel to assess my work more often.
There is 1 comment for The ultimate built-in timer by Jennifer Young

Women in workshops
by Claudia Roulier, Idledale, CO, USA

Robert, I noticed in the photo of your workshop group there are mostly women. Do you think there is a reason for this, or is it just happenstance?
(RG note) Thanks, Claudia. In most places 80% of people taking painting workshops are women. 68% of artists who read my letters are women. An estimated 72% of people who have paints and call themselves painters are women. The great artists of the 21st century are going to be women.
There are 7 comments for Women in workshops by Claudia Roulier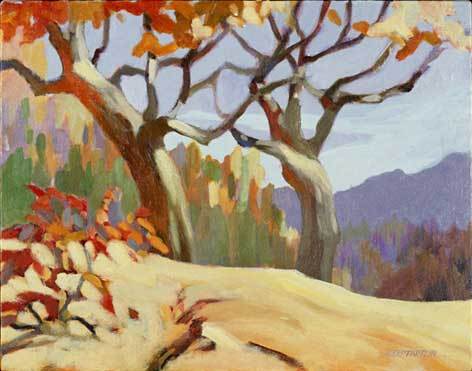 Twin Oaks
acrylic painting, 14 x 11 inches
by Bob McPartlin, BC, Canada

You may be interested to know that artists from every state in the USA, every province in Canada, and at least 115 countries worldwide have visited these pages since January 1, 2013.
That includes Rev Sedgwick Heskett of Amherst, MA, USA, who wrote, "The basic training of magic is focused intention and sustained attention. I've found this to apply in all areas where magic occurs: the kitchen, the writing desk, the chapel, the athletic field, the family, and, I gather, the easel. Training that attention through successively longer sprints seems to be the way to go, until the conscious application of attention becomes habit, and then it all feels like… well, magic."
And also Stella Reinwald of Santa Fe, NM, USA, who wrote, "The idea of a timed, brief painting exercise is very instructive and revelatory but I wonder at ascribing its success to 'focus' and 'attention.' Might not the acuity of vision that results spring more from yielding to intuition and ingrained training rather than attention — shooting from the hip rather than taking careful aim? Of course, there is a time to take careful aim and a time to just let it fly. What's great about the latter approach in art is that missing the target, even multiple times in a row, is not disaster."
And also Katherine Tyrrell of London, UK, who wrote, "What I love best is sketching people who are not models who are liable to move at any time and you never know when. That really exercises and stretches the brain cells which underpin 'focus.' "
And also Gaye Adams of Sorrento, BC, Canada, who wrote, "I am sure you and countless numbers of your subscribers may be aware of the 'Daily Painting' community. The idea is to paint, as a studio warm-up, small paintings from life. I don't do it every day, but I'm amazed at the learning miracle I'm experiencing. I haven't painted one any larger than 6″ x 8″ and maybe I won't. The point is that it is a small painting, a small resource and time commitment, and an exercise in absolute focus for that time period. It's like a meditation, really, and I'm loving it."
Archived Comments
Enjoy the past comments below for The miracles of attention and focus…
No Featured Workshop
No Featured Workshop